Posted by By Akogun Akomolafe at 13 April, at 15 : 16 PM Print






by

Africa: Time to develop a sense of history and stop groveling
Imagine it if you can: the European Union invite the leader of the State of Israel, and schedule the meeting in a city adorn with statues of Adolf Hitler. The Israeli leader attended the meeting, wine and dine with his hosts, allowed himself to be driven around the city in stretch limousines, from where he could not but gaze at the numerous statues of the Man who killed six million Jews.
If your mind reel at the incredulity, you are not alone.
Whatever one say about them, Israelis have enough self-respect not to allow themselves to be grossly insulted.
Not so, our rulers in Africa.
From April 3 to 4 2014, African leaders summoned to a meeting by the EU went and attended the meeting at Europe's capital, Brussels.
For reasons best known to them Europeans choose the capital of Belgium as their headquarters, that is their business.
It, however, becomes our business when we see Brussels bristles with portraits and statues of King Leopold II, the monster directly responsible for the death of ten million Africans in the Congo.
Their crimes: unable to speedily produce enough of the wealth that Belgium flaunt at the world.
"I felt the same on a recent trip to Brussels, which in many ways is the political capital of Europe. Grandiose statues of King Leopold 11 adorn Belgium of a man who turned his African "Congo Free State" into a massive labour camp, made a fortune for himself from the harvest of its wild rubber, and contributed in a large way to the death of perhaps 10 million innocent Africans, and sewed the seeds of a troubled country for generations to come.
"Of all Europe's colonial histories, the slaughter in what is now the Democratic Republic of Congo was unique in its aims. While the exploitation of much of Africa, Asia and Latin America happened under a flimsy guise of state-sponsored enlightenment, the Congo was Leopold's personal property. From 1885 to 1908, he ran it as a factory staffed with disposable workers whose only purpose was to produce more ivory and rubber to fund his ever-grander palaces, statues and monuments." – http://world.time.com/2013/09/18/skeletons-in-king-leopolds-closet-colonial-era-belgian-museum-grapples-with-bloody-past/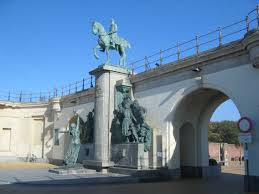 It shows not only utter heartlessness and abject absence of historical sensibilities, but gross disrespect to Africans that all of EU protocol did not see anything wrong, in asking our leaders to attend a meeting where they cannot but see the man that killed so many of us!
If the Belgians/Europeans do not know better, our leaders, if only they have studied their history, ought not to be so bereft of their historical responsibilities not to have insisted on a change of venue.
Sadly, African leaders were, as usual, ill-equipped to deal with the exigencies of the time.
Very sadly, the mental capacities of most of our current crop of leaders leave much to be desire.
Among the most incongruous things I found during my sojourn in Europe, apart from the rampant and illogical, almost pathological racism, is the absence of any history knowledge among Europeans.
During my school days, we made it our business to study history, especially world history. In contrast, little is taught to people in Europe that do not celebrate Europe.
Another baffling thing is the pomp and ceremony Europeans accord calamities that befell them, while they totally neglect the vast (God knows that they are truly vast] tragedies Europe has visited upon the non-White World.
Example is the Netherlands where on the 5th of May every year, the Monarch will be join by officials to celebrate their Liberation Day. The Nazis conquered and occupied the country for about five years, and that was enough reason for the Dutch to make a major production of it annually. The Dutch, however, set no date aside to remember the victims of their centuries of despoliation around the world. While every Dutch child is taught about the Nazi occupation and atrocities, they are not told the Dutch truly bestial atrocities in South Africa, Indonesia and in Surinam – including the roasting alive of slaves.
I read Walter Rodney classic, "How Europe Underdeveloped Africa," before I first went to Belgium.
As I watched the big palaces and the smug faces of the Belgians, I cannot but recall that it was Africa resources and African BLOOD that made all the imposing buildings, avenues and the glittering wealth possible.
"In the same way we may say that the imperialist states would make a great mistake and commit an unspeakable injustice if they contended themselves with withdrawing from our soil the military cohorts, and the administrative and managerial services whose function was to discover the wealth of the country, to extract it and send it off to the mother countries. We are not blinded by the moral reparation of national independence; nor are we fed by it. THE WEALTH OF THE IMPERIAL COUNTRIES ARE OUR WEALTH TOO. On the universal plane this affirmation, you may be sure, should on no account be taken to signify that we feel ourselves affected by the creations of Western arts and techniques. For in every concrete way Europe has stuffed herself inordinately with the gold and raw materials of the colonial countries; Latin America, China, and Africa. From all these continents, under whose eyes Europe today raises up her tower of opulence, there has flowed out for centuries toward that same Europe diamonds and oil, silk and cotton, wood and exotic products. Europe is literally the creation of the third world. The wealth which smothers her is that which was stolen from the underdeveloped peoples. The ports of Holland, the docks of Bordeaux and Liverpool were specialized in the negro slave trade, and owe their renown to millions of deported slaves. So when we hear the head of a European state declared with his hand on his heart that he must come to the aid of the poor underdeveloped peoples, we do not tremble with gratitude. Quite the contrary; we say to ourselves: 'it's a just reparation which will be paid to us.'" Frantz Fanon
Apart from the insulting setting, methinks that the time has come for African leaders to stop ridiculing us as perpetual beggars.
It galls these days to still read about Europe trying to aid Africa like we are some cripples.
It is time we stop pretending that Europe ever aided or is now aiding Africa.
It is time African leaders stop their abject groveling, and stop allowing people that should come to us as supplicants to walk over us like some important potentates.
It might make Europeans happy to go around the world celebrating themselves, and wrapping their selfish and greedy pursuits of their interests in humanitarian halo, but we certainly have no business to turn ourselves into their Cheerleaders.
African leaders should come out and tell us what help exactly we have received from Europe for the past six hundred years apart from slavery, colonialism and neo-colonialism that they today packaged as Globalisation, that should make us continue to look up to Europe for succor.
There is a saying that physicians should first of all heal themselves. Our elders say that if someone promises to buy you a dress, you should first look at what he is wearing.
When we look at Europe today, do we see a people that can help anyone?
With what exactly can Europe aid Africa?
The truth is that Europe need Africa more than we will ever need them. Unlike resource-deprived Europe, Africa has enough to be self-sufficient.
France will ground to a halt without Niger's uranium which powers half of her electricity need – http://pambazuka.org/en/category/features/61420
If only people will study their history.
Today, Europeans go around the world telling the brazen lie that their breaking out of the alpine caves was to rescue humanity and bestow civilization.
We do not intend to poke fun at anyone, but who will study the history of 14th and 15th century and see a Europe that was in any shape to civilize anyone?
Europe, a place that constantly lost one-third to one-half of its population to plagues and famines today claim it was the Pioneer of Civilizations!
Readers can read the inanities contained in the resolution of the EU-AU meeting here: http://www.european-council.europa.eu/eu-africa-summit-2014
We no longer ought to be thrilled by sanctimonious declarations of hypocrites.
When we look at Britain today, we don't see a country that is in any shape or form to help another country.
We see only a country that has LOST it big time and, today, in the words of Frantz Fanon, sways between atomic and spiritual disintegration.
The same is true of much of Europe. If the EU is dying to help, why would it not begin with say, Spain, Greece or Portugal where large number of citizens have escaped to, (don't gasp) Mozambique – BBC News – Portugal's unemployed heading to Mozambique 'paradise': http://www.bbc.com/news/world-africa-22025864
If today the leader of, say the UK, tell us that his government is interested in helping Africans, should we not ask with what he is going to help us when he cannot help his own people?
No, you need not take our words for gospel truth, here are some statistics: "The shocking scale of food poverty in Britain is exposed today by new figures showing record numbers of people are reliant on handouts because of punitive benefits sanctions.
More than 900,000 people were given emergency food in the past year, an increase of 163 per cent, according to figures from the Trussell Trust, the biggest food bank charity. The explosion in demand has coincided with an increase in those seeking help following a benefit sanction.
A coalition of anti-poverty charities, including the Trussell Trust, claims the figures show that the UK is breaching international law by violating the human right to food.
Separately, 600 church leaders from all major denominations, including 36 Anglican bishops, are writing to the Government today, calling for urgent action to address hunger among the poor.
The letter will say that Lent has been "a time of sorrowful reflection" on the huge rise of those using food banks. It marks the biggest Christian intervention on UK food poverty in modern times.
…
In total, 913,138 people received three days' emergency food from Trussell Trust food banks in 2013-14, compared with 346,992 in 2012-13
Static incomes, rising living costs, low pay, under-employment and other problems related to welfare reform also contributed to the increased demand, the charity said.
The Trussell Trust chairman, Chris Mould, said the figures were "shocking in 21st century Britain". He added: "Perhaps most worrying of all, this figure is just the tip of the iceberg of UK food poverty. It doesn't include those helped by other emergency food providers, those living in towns where there is no food bank, people who are too ashamed to seek help or the large number of people who are only just coping by eating less and buying cheap food."
The latest Trussell Trust figures show that demand has increased in well-established food banks, refuting Government claims that the opening of new food banks has fuelled demand. Food banks that have been open for three years or more saw an average increase of 51 per cent in the numbers helped in the past year compared with 2012-13.
More than 20 charities including the Trussell Trust, the Child Poverty Action Group and Church Action on Poverty have signed a statement accusing the UK of violating the basic right to food.
"It is our opinion that the UK has violated the human right to food and breached international law.
"This state of affairs is both avoidable and unnecessary. We call on the Government to take immediate action to ensure that the no one in the UK is denied their most basic right to sufficient and adequate food," their common statement says."- http://www.independent.co.uk/news/uk/politics/churches-unite-to-act-on-food-poverty-600-leaders-from-all-denominations-demand-government-uturn-on-punitive-benefits-sanctions-9263035.html
Here is another one: "Britain's child poverty plans are "doomed" to fail as 3.5 million children will be in poverty by 2020, says a watchdog chaired by former health secretary Alan Milburn.
The government's draft strategy for the next three years is a "missed opportunity" and falls far short of what is needed, said the Social Mobility and Child Poverty Commission.
…
Mr Milburn said the draft child poverty strategy was a "missed opportunity" and fell "far short" of what was needed to reduce, or end child poverty in Britain.
He said it was a "farce" and "particularly lamentable" that ministers had been unable to agree on how to measure poverty after rubbishing existing measures. Our new research shows that the gap between the objective of making child poverty history and the reality is becoming ever wider." – http://www.bbc.com/news/education-27734513
Yet, another one: "The number of British youngsters living in poverty will reach 5 million by the end of the decade unless politicians take their promises to eradicate child poverty seriously, the charity Save the Children has warned.
In an outspoken attack on the political establishment the charity accuses all the main parties of lacking the credibility and willpower to deliver on their shared legal requirement to radically cut child poverty levels.
It says 5 million children – up from 3.5 million currently – will be living in poverty by 2020 if planned welfare spending cuts go ahead and no action is taken to alleviate the growing cost of living pressures on Britain's poorest families.
Its report, A Fair Start for Every Child, published on Wednesday says: "Politicians have a choice. Either they should recommit to the 2020 targets and outline the necessarily radical strategy for how they will be achieved.
"Or they should admit the targets won't be met and introduce an ambitious interim plan, outlining what can be achieved by 2020, while keeping the longer term plan of eradication with an achievable but ambitious target date.
"We're increasingly worried that unless there is a dramatic change of course we're at risk of writing off the future of millions of British children, giving them an unfair start in life," said Forsyth." http://www.theguardian.com/society/2014/may/28/child-poverty-act-5m-2020-save-children-uk
More shocking statistics: "The UK is the world's six largest economy, yet 1 in 5 of the UK population live below our official poverty line, meaning that they experience life as a daily struggle." – http://policy-practice.oxfam.org.uk/our-work/poverty-in-the-uk
The world has gone past the stage that Europe can continue to lie about helping Africa. We all know the terrible price Africa has paid for the help it receive from Europe. It is time to jettison old habit, abandon old colonial languages and move on to new relationship based on mutual respect and strict pursuance of enlightened self-interests.
In the word of Dr. John Henrik Clarke: "Our enslavement and the rape of the services of our countries helped to lay the basis of present-day capitalism. Again the Europeans have squandered their wealth on stupid wars and conflicts that could have been avoided. They have already proven that they have one mission in mind, irrespective of religion, politics or cultural affiliation and that mission is to dominate the world and all of its resources by any means necessary. Our mission should not be to conquer Europe, but to contain Europe within its borders and let it be known that anything Europe wants from other parts of the world can be had through honorable trade.
If we understand our mission, I think we will become aware of the fact that we are in a position to give the world a new humanity that will bring into being a new world of safety and respect for all people. The Nile River civilizations of Africa gave the world its first humanity, its first belief systems, its first social though and its first philosophy. With the restoration of self-confidence we need to say to ourselves, "If we did it once, we can do it again."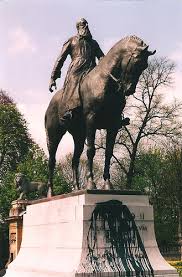 About the Author
Femi Akomolafe is a passionate Pan-Africanist. A columnist for the Accra-based Daily Dispatch newspaper and ModernGhana, and Correspondent for the New African magazine, Femi lives in both Europe and Africa, and writes regularly on Africa-related issues for various newspapers and magazines.
Femi was the producer of the FOCUS ON AFRICANS TV Interview programme for the MultiTV Station.
He is also the Man and Machine Coordinator at Alaye Dot Biz Limited, a Kasoa-based Multimedia organisation that specialises in Audio and Video Production. He loves to shoot and edit video documentaries.
His highly-acclaimed books ("Africa: Destroyed by the gods," "Africa: It shall be well," "18 African Fables & Moonlight Stories" and "Ghana: Basic Facts + More") are available for sales at the following bookshops/offices:
Freedom Bookshop, near Apollo Theatre, Accra.
The Daily Dispatch Office, Labone – Accra
WEB Dubois Pan-African Centre, Accra
Ghana Writers Association office, PAWA House, Roman Ridge, Accra.
African Kitchen in Amsterdam Bijlmer
Where to buy them online:
On Lulu Books:
18 African Fables & Moonlight Stories https://goo.gl/Skohtn
Ghana: Basic Facts + More: https://goo.gl/73ni99
Africa: Destroyed by the gods: https://goo.gl/HHmFfr
Africa: It shall be well: https://goo.gl/KIMcIm
Africa: it shall be well
on Kindle books: https://www.createspace.com/4820404
on Amazon books: http://goo.gl/QeFxbl
on Lulu Books: https://goo.gl/SQeoKD
Africa: Destroyed by the gods
on Kindle books: https://www.createspace.com/4811974
on Amazon books: http://goo.gl/1z97ND
on Lulu Books: http://goo.gl/KIMcIm
My Lulu Books page: http://www.lulu.com/spotlight/FemiAkomolafe
Get free promotional materials here:
Africa: it shall be well: http://alaye.biz/africa-it-shall-be-well-introduction-in-pdf/
A FREE Chapter of 'Africa: It shall be well' could be downloaded here: http://alaye.biz/africa-it-shall-be-well-a-free-chapter/
Africa: Destroyed by the gods (How religiosity destroyed Africa) http://alaye.biz/africa-destroyed-by-the-gods-introduction/
A FREE Chapter of 'Africa: Destroyed by the gods' could be downloaded here: http://alaye.biz/africa-destroyed-by-the-gods-free-chapter/
Contact Femi:

Femi's Blog: www.alaye.biz/category/blog
Website: www.alaye.biz
Femi on Amazon https://www.amazon.com/author/femiakomolafe
Twitter: www.twitter.com/ekitiparapo
Facebook:https://www.facebook.com/alayeclearsound;
Gmail+: https://plus.google.com/112798710915807967908;
LinkedIn: www.linkedin.com/in/femiakomolafe
Email: fakomolafe@gmail.com
My Profile on New African magazine: http://newafricanmagazine.com/tag/femi-akomolafe/
Kindly help me share the books' links with your friends and, grin, please purchase your copies.
Comradely,
Femi Akomolafe





by

Alayedotbiz, Blog, Interviews, News, Polemics, Random Musings, Satire Africa and Europe, Belgium's atrocities in Africa, colonisation, femi akomolafe, How Europe underdeveloped Africa, King Leopold, Leopold king of Belgium, slavery