Posted by By Akogun Akomolafe at 28 June, at 09 : 51 AM Print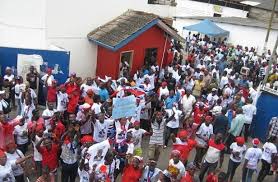 Warning: count(): Parameter must be an array or an object that implements Countable in /home/alaye/public_html/wp-content/themes/Video/single_blog.php on line 56

Ghana: How to snatch defeat from the jaws of victory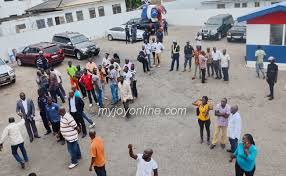 Femi, I am anguished!
What is distressing you, my very good friend?
I have not slept since last week. I am so fucking tired, Femi!
Ha, what happened? Why do you need to go scatological, dearest friend? But try and look at the positive side. At least, insomnia will cure your snoring. Or so the experts say.
Femi, my brother, this is no joking matter. I am dead serious – no pun intended.
I am sorry that you are in such a nasty funk. What is eating you up, my good comrade?
I have spent the last days in the northern part our blessed republic…
Oh! I always sleep beautifully whenever I visit the northern regions. What kept you awake? Were you unable to entice one of our beautiful Northern Stars with their wonderful smiles and inviting dispositions? Alhau Akbar…
Femi, please be patient and let me lie down before you bury me. Our people are angry. They are baying for blood. Femi, we have lost it big time.
Ha! Simmer down, good friend, simmer down. It is not only in the north that our people are baying for blood. Many of our people in the south have lost their jobs due to the unsmart moves by companies who are not able to take advantage of Dumsor, as our glorious president rightly told us.
Femi, stop it. I am not talking about the ordinary Ghanaians. I am talking about members of our party, the NPP. You talk of beautiful Northern Stars when our house is on fire, I mean literally, figuratively, philosophically, ideologically, politically and whichever other 'lly' you care to consider. Our party is in distress, total disarray. As Fela once put it, 'everything don scatter scatter.' Our party members are up in arms. The great party we built through intense sweat face palpable existential threat, and all you can talk about is sex with Northern Stars. My political future is imperiled, and you try to make a joke of it. And I consider you a good friend. Et tu, Femi?
I am sorry, Comrade. I truly I am. But what exactly happened?
Femi, where on earth have you been? Don't you watch the news, don't you read the newspapers. How about radio? Femi, we are in terrible state. I honestly don't know what to do.
It can't be that hopeless…
Fem, please don't patronize me. Allow me to lick my wounds as I watch my glorious party tear itself apart, and sentence itself into political limbo, if not oblivion, from which it might never recover. Things are bad, Femi. Things are terrible. Yesterday, I was almost lynched by people from whom I have experienced nothing but the best of courtesies and generosities. Our glorious party is divided. It is doomed. Can you believe that just while the rank and file start to believe in our chances to regain power, some section of our party member have embarked on internecine warfare that will ensure that we do not smell power for the foreseeable future, at least not in Ghana. I am too old to go and start a political career in another country. I am anguished, my good friend. My situation is so hopeless.
Things cannot be that dire, my friend. I am sure you have enough men and women in your party to bang heads together and whip people in shape to successfully prosecute next year elections. A year is a long time in politics.
I thank you for that, my good friend. But, Femi, at my age, I no longer can afford to keep on dreaming. Things have reached such abysmal level that I no longer can kid myself that that the rot in our party is patchable. We are beyond redemption. It appears that the gods have cursed us. We cannot get anything right. We appeared to have crossed the Rubicon this time. Battle lines have been drawn, the first blood shed. You know that few things excite our people than the sight of drawn blood. Strong lines have been drawn in the sand and people have unsheathed their swords. Things have fallen apart and the center can no longer hold. Do you know the most inexcusable thing about the whole disaster befalling my party?
Tell me.
Next year elections present us with the best opportunity to oust the current ruling party. Things have never look so rosy for our party. We have a government in power that has lost its track. We have a government that has bankrupted the country with heavy borrowing with little to show for it. We have a ruling party that has become arrogant and complacent, clueless and totally bereft of vision. Our economy is in shambles, despite the rosy pictures the managers continue to paint. Many of our citizens are voting with their feet, and our country has been officially declared the nation with the highest number of experts in foreign land. Despite all the propaganda it has embarked on, the government can no longer hide the fact that the economy has collapsed. Our currency has become almost like a Monopoly pseudo-money. The unemployment level cry to high heavens. More and more businesses are collapsing, laying off thousands and thousands of hardworking Ghanaians. No one can shy away from the bitter fact that we run our economy that now rely solely on the mercy of foreigners and the largesse of foreign banks. Without an IMF support, we would have been declared HIPC long time ago…
But, my friend, the same accusations were leveled against your party when you guys ran the country…
Stop it there, Femi. Stop there. That is most unfair. Since the dawn of our country's history, we never had a more incompetent and a more corrupt government than the current one. Where have you been, Femi, where have you been? Tell me if you were not in the country when all the truly gargantuan corruption cases were unearthed. SADA, GREEDA, Woyome all happened under this government. Let's not compared apples with tomatoes, Femi. But that is not main palaver. That is not what is giving me sleepless nights.
You were talking about the internal wrangling in your party…
Wrangling? Femi, get serious. We now talk of MURDER. Blue, fiendish murder of a Regional Chairman of our party. That is what we talk about here. It is beyond wrangling. It is even beyond normal politics. We talk criminal act here. Can you imagine what this villainous act is doing to my great party, Femi?
It must be terrible…
Terrible? You begged the question, Femi. Terrible is just too mild a word to use here. This thing is tearing us apart. Our man has had to cancel a well-planned and well-calibrated European Tour and hurried back home…
I read about it…
Femi, can you imagine what that will do to our image among our teeming supporters in the Diaspora? We are letting them down. We are letting them down, big time. Ah! This cannot have come at a worse time…
There is no good time for murder.
You do not need to rub it in. Do you think that we have not realise that? I told you the whole Party Executives have been meeting non-stop ever since that dastardly act. This is one crime too big. How do we recover from this monstrous calamity? How do we convince the good people of Ghana that we are serious about providing them with an alternative, more decent and more competent governance when we appear incapable of putting our own house in order? How? Femi, how? Do you know the most disturbing thing in all this, Femi?
No, please tell me.
We are the architects of our own misfortunes. All these are totally unnecessary, self-inflicted wounds. The good people of Ghana can deal with every manner of political chicanery and even tomfoolery, but they draw a line on political violence. The good people of Ghana abhor political assassination. We claim to be the party of legality, of rule of law and all that. Our party boast of some of the finest legal brains in the land, yet we appear to be the most lawless party in the country. It doesn't bode well. It doesn't at all. Oh, excuse me, hold on while I answer the phone… hello Femi, are you still there. Sorry, I have to rush to another meeting. Wish your friend and his party the best of luck. Thank you for lending me your ears.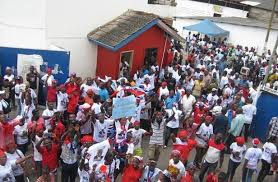 About the Author
Femi Akomolafe is a passionate Pan-Africanist. A columnist for the Accra-based Daily Dispatch newspaper and Correspondent for the New African magazine. Femi lives in both Europe and Africa, and writes regularly on Africa-related issues for various newspapers and magazines.
Femi was the producer of the FOCUS ON AFRICANS TV Interview programme for the MultiTV Station.
He is also the CEO of Alaye Dot Biz Limited Dot Biz, a Kasoa-based Multimedia organisation that specialises in Audio and Video Production. He loves to shoot and edit video documentaries.
His highly-acclaimed books ("Africa: Destroyed by the gods," "Africa: It shall be well," "18 African Fables & Moonlight Stories" and "Ghana: Basic Facts + More") are now available for sales at the following bookshops/offices:
Freedom Bookshop, near Apollo Theatre, Accra.
The Daily Dispatch Office, Labone – Accra
WEB Dubois Pan-African Centre, Accra
Ghana Writers Association office, PAWA House, Roman Ridge, Accra.
African Kitchen in Amsterdam Bijlmer
Where to buy them online:
On Lulu Books:
18 African Fables & Moonlight Stories https://goo.gl/Skohtn
Ghana: Basic Facts + More: https://goo.gl/73ni99
Africa: Destroyed by the gods: https://goo.gl/HHmFfr
Africa: It shall be well: https://goo.gl/KIMcIm
Africa: it shall be well
on Kindle books: https://www.createspace.com/4820404
on Amazon books: http://goo.gl/QeFxbl
on Lulu Books: https://goo.gl/SQeoKD
Africa: Destroyed by the gods
on Kindle books: https://www.createspace.com/4811974
on Amazon books: http://goo.gl/1z97ND
on Lulu Books: http://goo.gl/KIMcIm
My Lulu Books page: http://www.lulu.com/spotlight/FemiAkomolafe
Get free promotional materials here:
Africa: it shall be well: http://alaye.biz/africa-it-shall-be-well-introduction-in-pdf/
A FREE Chapter of 'Africa: It shall be well' could be downloaded here: http://alaye.biz/africa-it-shall-be-well-a-free-chapter/
Africa: Destroyed by the gods (How religiosity destroyed Africa) http://alaye.biz/africa-destroyed-by-the-gods-introduction/
A FREE Chapter of 'Africa: Destroyed by the gods' could be downloaded here: http://alaye.biz/africa-destroyed-by-the-gods-free-chapter/
Contact Femi:

Femi's Blog: www.alaye.biz/category/blog
Website: www.alaye.biz
Femi on Amazon https://www.amazon.com/author/femiakomolafe
Twitter: www.twitter.com/ekitiparapo
Facebook:https://www.facebook.com/alayeclearsound;
Gmail+: https://plus.google.com/112798710915807967908;
LinkedIn: www.linkedin.com/in/femiakomolafe
Email: fakomolafe@gmail.com
Kindly help me share the books' links with your friends and, grin, please purchase your copies.
Comradely,
Femi Akomolafe




by

Alayedotbiz, Blog, interview, Miscs, News, Polemics, Random Musings, Satire african politics, Akufo-Addo, ghana politics, governance in Africa, New Patriotic Paty, NPP