Posted by By Akogun Akomolafe at 8 August, at 17 : 12 PM Print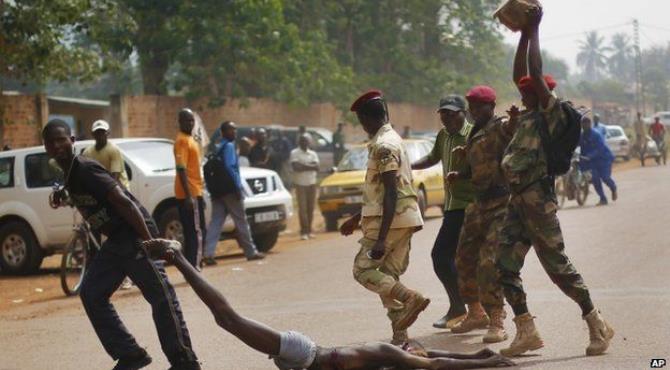 Dateline Ghana: One lynching too many
[published in the New African magazine, Aug / Sept, 2017 edition]
On Tuesday, May 29th, Ghanaians woke up to the news of the horrific lynching of a Captain (posthumously promoted to Major) of the Ghana Army, Maxwell Adam Mahama.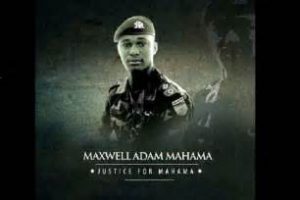 A soldier in the 5th Infantry Battalion (5BN) at Burma Camp in Accra, the Captain commanded a detachment of soldiers at Denkyira-Obuasi, in the Upper Denkyira West District of the Central region, officially deployed for duties in the Upper Wassa Forest Reserve, to guard against illegal mining, or Galamsey, said to be rampant in the area.
It was alleged that the Captain went for a dawn jogging along a road in town when he met his untimely death.
According to reports, a woman who saw his service pistol mistaken him for an armed robber and alerted other people and they organized a mob attack. The young Captain, father of two, was stoned to death and his body set on fire.
Predictably, soldiers were incensed by the killing of Major Mahama. It was reported that irate soldiers demanded that Military police should take over the investigation. A high-powered fact-finding team, led by the Chief of Army Staff was dispatched to town.
The Director of Public Relations, Ghana Armed Forces (GAF) Col. Aggrey Quarshie ought to allay fear about reprisal "We are not going to expect that they [troops] will go and be attacking the community. We will leave the security agencies that are responsible for investigating such things to do that and we hope that all the culprits will be picked up and brought to book. So we expect the community members to help us arrest all the culprits".
As it turned out, the murdered soldier was a cousin of former president John Mahama, who spent Father's Day with the bereaved family.
There was huge condemnation of the fiendish murder as shocked Ghanaians galvanized themselves to speak out.
Former President Jerry John Rawlings released a statement where he advised the security agencies to inspire confidence in the populace by acting swiftly when crimes are committed to avert such acts by civilians.
Ghanaians were outraged and shamed as videos of the horrific killing went viral on social media. The government scurried to douse the anger. The Captain was posthumously promoted to Major. A foundation was set up in his name and government announced that it will erect a statue in his honour in the town where he met his death.
Horrifying as it was, the major's death was not an isolated case. In fact, lynching and mob action occur in the country with alarming regularity.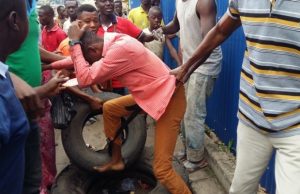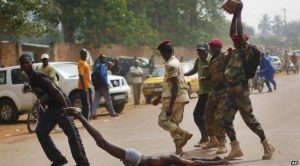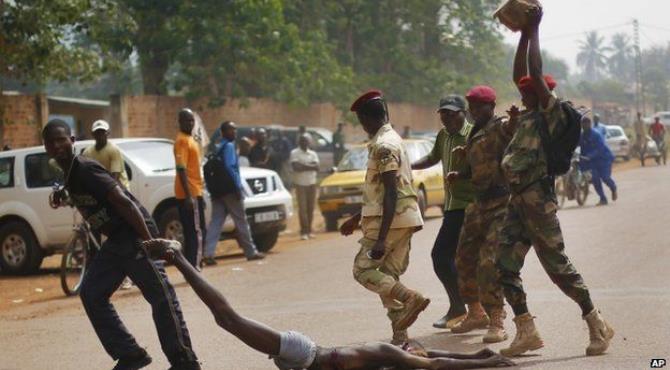 Few months before this incident, the nation was shocked by the spectacle of a young woman being stripped naked and abused by a mob in Kumasi. She was allegedly caught attempting to steal from a shop owner in the PZ Area in Adum, Kumasi. The allegation was later found to be false.
And just a day before the death of the Major, a 67-year old widow, Yenboka Kenna, mother of four, was accused of witchcraft at Yenboka Kenna, a town in Pelungu in the Nabdam District of the Upper East Region and lynched. She had closed from Church and went to the Pelungu market to transact business at a shed where she plaits hair for living. An irate mob accused her of witchcraft and killed her
Few years ago, in the port city of Tema, a 72-year-old grandmother, Ama Hemmah, was burnt by a mob at the port city of Tema Site 15, after A pastor pronounced her a Witch. She was tortured and drenched in kerosene before her body was set ablaze.
Ghana has endured some barbarity in her checkered history, pockmarked by brutal military dictatorships. Today, the country enjoys democratic rule, but it appears that for many citizens only the 'freedom' in their country's motto is worth remembering. Many do not care about the 'and Justice' half of the motto. The country is rife with serious indiscipline. Many citizens have scant regard for established rule or authority. Travellers to the country cannot but marvel at the level of general indiscipline.
Elderly Ghanaians scratch their heads and wondered where things went awry for their once proud, decent and disciplined land. Motorists in Ghana believe that traffic rules are mere suggestions, so they drive anyway they please. The result is maximum chaos on the road. People put up illegal structures wherever they fancy, resulting in cities turning into huge, unplanned ghettoes. Citizens also pay little heed to environmental and sanitation regulations. They dispose of their waste all over town. The result is choked gutter which, almost every year, resulted in severe flooding, occasionally claiming lives.
There is little doubt that corruption plays a big role in the degeneration of values. Corruption is pervasive and there is little to suggest that fighting the canker rank high in government's list of priorities.
Of recent, Ghanaians have been vociferating loudly against the activities of illegal gold mining in several parts of the country, which has resulted in serious degradation of the environment. Farm lands, vegetation, major water bodies have all been badly polluted. Citizens want to know why the illegal activities appear to be carried out with impunity.
The deleterious activities of illegal mining have become so acute that experts say that urgent action must be taken before some of the environmental degradation become irreversible.
A study by the Commission of Human Rights and Administrative Justice (CHRAJ) in 2007 revealed that 'many rivers and streams which previously, provided water for the mining communities have been wrecked, polluted and dried up.'
The Ghana Water Company has had to shut down some water treatment plants because their filters cannot cope with the high level of pollutants.
There are fears that unless urgent remedial actions taken to safe some of the country's rivers the country might soon have to import drinking water.
As police investigation into the murder continues, several reports of what actually transpired made the round in the county where gossip-mongering has been fine-tuned into art form. What is not in debate is that the murder of the soldier was connected with the issue of illegal mining, or galamsey in local parlance. The late Captain and his men were said to be officially deployed to fight the menace.
Although many Ghanaians blame foreigners, the truth is that illegal mining activities are carried out by both foreign and local miners.
Per law, small-scale mining is reserved exclusively for Ghanaian nationals. What happened is that locals who obtained the licenses and got land concessions travel to China and partnered with Chinese who came with machines and finance.
Many of the arrested Chinese protested their innocence and claimed that they were lawfully invited into the country. They claimed that their permits, including for guns were legally procured.
Ghana spends about 70 percent of budget to run the machinery of government, citizens are right to ask why their governmental agencies, like the Police, Armed Forces, Para-military services, the Environmental Protection Agency, Water Resources Commission, Forestry Commission and District Assemblies, Ministers and Presidents did nothing as their environment was polluted, probably beyond redemption.
About the Author
Femi Akomolafe is a passionate Pan-Africanist. A columnist for the Accra-based Daily Dispatch newspaper and ModernGhana, and Correspondent for the New African magazine, Femi lives in both Europe and Africa, and writes regularly on Africa-related issues for various newspapers and magazines.
Femi was the producer of the FOCUS ON AFRICANS TV Interview programme for the MultiTV Station.
He is also the Man and Machine Coordinator at Alaye Dot Biz Limited, a Kasoa-based Multimedia organisation that specialises in Audio and Video Production. He loves to shoot and edit video documentaries.
His highly-acclaimed books ("Africa: Destroyed by the gods," "Africa: It shall be well," "18 African Fables & Moonlight Stories" and "Ghana: Basic Facts + More") are available for sales at the following bookshops/offices:
Freedom Bookshop, near Apollo Theatre, Accra.
The Daily Dispatch Office, Labone – Accra
WEB Dubois Pan-African Centre, Accra
Ghana Writers Association office, PAWA House, Roman Ridge, Accra.
African Kitchen in Amsterdam Bijlmer
Where to buy them online:
On Lulu Books:
18 African Fables & Moonlight Stories https://goo.gl/Skohtn
Ghana: Basic Facts + More: https://goo.gl/73ni99
Africa: Destroyed by the gods: https://goo.gl/HHmFfr
Africa: It shall be well: https://goo.gl/KIMcIm
Africa: it shall be well
on Kindle books: https://www.createspace.com/4820404
on Amazon books: http://goo.gl/QeFxbl
on Lulu Books: https://goo.gl/SQeoKD
Africa: Destroyed by the gods
on Kindle books: https://www.createspace.com/4811974
on Amazon books: http://goo.gl/1z97ND
on Lulu Books: http://goo.gl/KIMcIm
My Lulu Books page: http://www.lulu.com/spotlight/FemiAkomolafe
Get free promotional materials here:
Africa: it shall be well: http://alaye.biz/africa-it-shall-be-well-introduction-in-pdf/
A FREE Chapter of 'Africa: It shall be well' could be downloaded here: http://alaye.biz/africa-it-shall-be-well-a-free-chapter/
Africa: Destroyed by the gods (How religiosity destroyed Africa) http://alaye.biz/africa-destroyed-by-the-gods-introduction/
A FREE Chapter of 'Africa: Destroyed by the gods' could be downloaded here: http://alaye.biz/africa-destroyed-by-the-gods-free-chapter/
Contact Femi:

Femi's Blog: www.alaye.biz/category/blog
Website: www.alaye.biz
Femi on Amazon https://www.amazon.com/author/femiakomolafe
Twitter: www.twitter.com/ekitiparapo
Facebook:https://www.facebook.com/alayeclearsound;
Gmail+: https://plus.google.com/112798710915807967908;
LinkedIn: www.linkedin.com/in/femiakomolafe
Email: fakomolafe@gmail.com
My Profile on New African magazine: http://newafricanmagazine.com/tag/femi-akomolafe/
Kindly help me share the books' links with your friends and, grin, please purchase your copies.
Comradely,
Femi Akomolafe




by

Alayedotbiz, Polemics, Random Musings African Bloggers, African Freelance Journalists, African Journalists, African Vloggers, African writers, AkogunTV, alaye, Alaye Dot Biz Limited, Alayebaba, alayewebtv, Dateline Ghana: one lynching too many, femi akomolafe, Femi Akomolafe books, Femi Akomolafe's Writings & Books, Insightful African Political Analyses, lyncing in Ghana, Multimedia Company in Ghana, pan-african, Pan-African Film & Video Productions, Pan-African Freelance Writer, pan-africanism, Provocative