Posted by By Akogun Akomolafe at 3 June, at 12 : 12 PM Print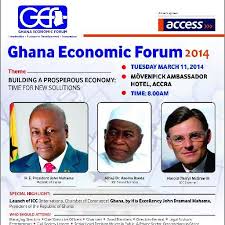 Warning: count(): Parameter must be an array or an object that implements Countable in /home/alaye/public_html/wp-content/themes/Video/single_blog.php on line 56

Random Musings: Economic Forum, Cabinet Reshuffle and other Issues Arising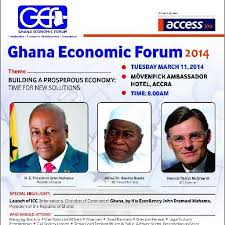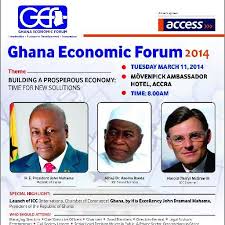 Please, read and share with these buttons:






by

Hey, Femi, my brother. Greetings. It has been a while. Where have you been, why have you been silent? I have missed you, big time!
Hmmmmmm
There you go with your hmmmmmms. What happened to you? You suddenly went AWOL, while all the interesting things keep happenings in our dear land. I missed you, paaa!
Dear land?
Yes, our dear and blessed republic. Mother Ghana. Oma Ghana!
I don't blame you. Our Elders say the dog that is hungry does not play with the one that is bellyful.
You are and your proverbs. Bellyfull and hungry dogs, what is that one supposed to mean?
It means that those of us that are partaking in the good lives of your dear and blessed republic should be left alone to suffer in peace.
Wow! I knew you are an insufferable contrarian, but what happened to put you in such a nasty funk this blessed day?
Blesse day?
Why are you in such a nasty funk today?
I beg, leave me alone. Let me be. Do you know the last time I had electricity?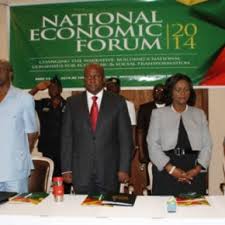 Did they cut your light?
Very funny. Didn't they have Dumsor Dumsor where you live?
Ha! You know I have an automatic generator.
Oh, little wonder you can wax lyrical about blessed days, dear and blessed republics. For your information, there will be nothing so blessed if you have spent three days without electricity, and had to sleep in searing heat and battle with armies of mosquitoes.
Oh!
Yes, oh! Without anyone telling us anything, the light has been off for four nights and four days, going five. And you tell me about some dear and blessed republic. Which republic is blessed that cannot produce water and electricity for its people, after almost sixty years of self-government. Tell me?
I beg, don't chop my head. Me I no dey work for government. But can't you see that our government is trying. Didn't you follow the proceedings of the Economic Forum called to address the type of issues you are raising? Didn't you read the communique that was released? Didn't you hear about the recommendations that were designed and was meant to take us to economic Alujanah? Let's learn to give kudos when they are deserved.
You cannot be serious, are you?
Of course, I am. Do you doubt the integrity of the ….
Youuuuuuuuuuu! I beg leave me alooooooooooooone. I am surprised that people like you still exist. What is so special about the communique they released that made you so giddy with excitement? What is so spectacular about the whole Senchi Declaration? Tell me, what is new single thing they introduced or say? And are they not the same dated ideas from the same men and women who have been pontificating to us all these years?
That is not fair…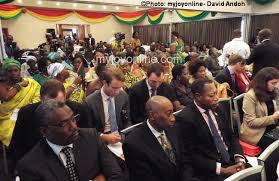 Please, please. What is not fair? I will tell you what is not fair. What is not fair is to have people come and bamboozle us with flatteries during election time, only to fail to perform. They turn around to tell us the ungodly lie that only god can solve our problem. When that didn't happen, they then call an assemblage of the same Phd-wielders whose ideas got us into the fine mess, in the first place. They wined and dined themselves silly for three days and released a declaration which made morons like yourself very sated. I say that it is time we citizens get angry, no, make that MAD. It is time we all get MAD at the non- performance of those that get our votes and continue to perform below par. Yes, sir. That is what is not fair. It is not fair that people continue to take fat pay, get big offices, big jeeps and police escorts and sirens to drive us off the road, and continue to perform abysmally. Between the NPP and the NDC, we have had 23 year of uninterrupted civilian government. How come we still face challenges with life's basic like water electricity? It is either both parties are not serious or they are criminally incompetent. This is what should agitate the citizens and make all of us hop MAD! My brother, we are the butt of international jokes. Sixty years after our first president proclaimed to the world that the Blackman is capable of managing his own affairs, our women still fetch water with Kufuor gallons. Our electricity is still patchy, with officials giving us the silliest of excuses why they cannot provide what is basic to most societies nowadays. In the meantime, our political and spiritual elite keep making obstreperous noises about a goblin in the sky coming to take care of things. They keep telling us the same damned stupid lies that should make us to want to spit in their ugly faces. Do we have no shame at all?
Serious, Femi, you rant a lot. But why won't you give praises where it is due? The government has admitted that it made some mistakes and it is doing its utmost to rectify them. That is why it called the Forum to look for way forward. We cannot continue to harp back to the past; we have to face the future.
You! Face future, what future? The same bleak future with no end at the end of the tunnel? You, what future are we creating that after fifty something years, we still do not have light wand water in our homes? It looks like you don't read what I write. Our elders say that the eye that will last you till dusk does not begin to ooze pus at dawn. What did the assemblage of PhDs at Senchi came up with that was unique or so brilliant? The whole thing was one gigantic time waster. I will tell you why. The same time that our brilliant brains were announcing their communique, it was silently reported that while our dear republic, to borrow your fanciful term, made US$400 from sales of our crude oil, one US firm, Cosmos, made US$2 billion…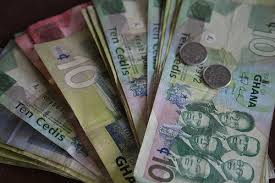 And what is wrong with that. The profits were divided according to agreed shares…
Really! You don't see anything wrong with that?
No, I don't and try and try to calm down, otherwise you will burst an artery or two.
Me, calm down! I am Ok, I am ok! But you cannot be serious at all. You cannot be serious if you cannot see anything wrong in the situation whereby you own your mineral wealth, a foreign company brings its machines to extract them, and you get about a quarter of the profit…
You cannot eat your mineral wealth which remains lump of earth and clay unless they are extracted…
And the foreign company can eat its machines? I cannot believe that I am hearing this from you, of all people.
That is no reason to get so agitated. It is simple economics, really. It has to do with laws of supply and demand; the immutable economic market forces at work.
And they told you that the laws were made by nature and not by some greedy capitalists. Even war-torn Afghanistan receive 87% in its oil deal with China.
You can rave and rant all you want, it will not change the facts on the ground. The fact is that Ghana is on the move. The government is doing all its best to address the challenges that face the country. It is Better Ghana Agenda. E de be k3k3.
You are insufferable. The government must love people like you. Cheerful in the midst of all the sufferation and indignities thrown at them.
No, no indignities were thrown at me. It is just that unlike you, I admit to the inability of government to solve all human problems.
No one ask any government to solve all human problems. No, no, we do not ask for the moon, not even for a space suit. We ask for potable water. We ask for electricity, so that we can work and earn our own living. What we ask is that those that govern us should provide us with simple, basic infrastructures, so that we can make our own contributions to the development of our country. How do we do that when our energies are sapped from looking for water and electricity? Generating and providing electricity is no longer rocket science. Most countries have achieved self-sufficiency in both. What is galling is that we keep on making the same mistakes all over. Nature generously gave us abundant sunshine all year round. Yet, our managers keep relying on finite fossil fuel to plan our electricity schemes. They come out to blame little or too much water at our Hydro-Electric Dams. Were they to be serious, the NDC and the NPP have had ample time to solve the electricity problem. Ditto the water crises. It is patently ridiculous to see our women dodging busy traffic in our nation's capital with basins of water on their heads? It is time we rediscover our sense of shame, which we appear to have lost. The rains are here again and our people are already perishing from flood. Presidents since dawn of time have come out to make the same lamentations; yet nothing has been done. Today, Accra has become and open eyesore, one giant garbage dump. Our officials are too short-sighted to plan how to manage our waste…
Femi, just try to understand that our president is doing his best. He has just announced a new Cabinet reshuffle to address the issues you complain about. We have to give him time. He cannot be expec….
Stop right there, my friend. Na Cabinet reshuffle we go chop? The man is into the first half of his presidency, and we should dance for joy because he has announced a reshuffle Cabinet, and sack some people, that he should never have appointed in the first place. I tell you what. So long as we think of governance as means of providing jobs for the boys, our country shall continue to remain mired in under-development. Mr. Lee Kwan Yee told us his story of how he turned Singapore into a First World in two decades. The trick, Mr. Lee told us, is to employ the best brains in the country into the civil service. The best must be drafted into the civil service and the Cabinet. How do you employ a fresh graduate into a cabinet position and expect him to perform? What ideas can he contribute? What experience do the men and women Mr. President appointed into his cabinet brought into government? Ok, some of them are adorned with fanciful buttocks, bosoms and…
Ha, you. Looks like you cannot get enough of those beautiful asses.
Ok, ok, I admit I am very partial to those types of things. But as I was saying…
I guess I know enough of what you have been saying. I got a meeting to catch. Au revoir as we say in Kasoa.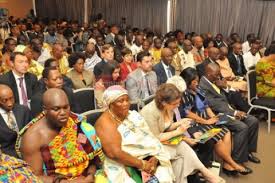 About the Author
Femi Akomolafe is a passionate Pan-Africanist. A columnist for the Accra-based Daily Dispatch newspaper and Correspondent for the New African magazine. Femi lives in both Europe and Africa, and writes regularly on Africa-related issues for various newspapers and magazines.
Femi was the producer of the FOCUS ON AFRICANS TV Interview programme for the MultiTV Station.
He is also the CEO of Alaye Dot Biz Limited Dot Biz, a Kasoa-based Multimedia organisation that specialises in Audio and Video Production. He loves to shoot and edit video documentaries.
His highly-acclaimed books ("Africa: Destroyed by the gods," "Africa: It shall be well," "18 African Fables & Moonlight Stories" and "Ghana: Basic Facts + More") are now available for sales at the following bookshops/offices:
Freedom Bookshop, near Apollo Theatre, Accra.
The Daily Dispatch Office, Labone – Accra
WEB Dubois Pan-African Centre, Accra
Ghana Writers Association office, PAWA House, Roman Ridge, Accra.
African Kitchen in Amsterdam Bijlmer
Where to buy them online:
On Lulu Books:
18 African Fables & Moonlight Stories https://goo.gl/Skohtn
Ghana: Basic Facts + More: https://goo.gl/73ni99
Africa: Destroyed by the gods: https://goo.gl/HHmFfr
Africa: It shall be well: https://goo.gl/KIMcIm
Africa: it shall be well
on Kindle books: https://www.createspace.com/4820404
on Amazon books: http://goo.gl/QeFxbl
on Lulu Books: https://goo.gl/SQeoKD
Africa: Destroyed by the gods
on Kindle books: https://www.createspace.com/4811974
on Amazon books: http://goo.gl/1z97ND
on Lulu Books: http://goo.gl/KIMcIm
My Lulu Books page: http://www.lulu.com/spotlight/FemiAkomolafe
Get free promotional materials here:
Africa: it shall be well: http://alaye.biz/africa-it-shall-be-well-introduction-in-pdf/
A FREE Chapter of 'Africa: It shall be well' could be downloaded here: http://alaye.biz/africa-it-shall-be-well-a-free-chapter/
Africa: Destroyed by the gods (How religiosity destroyed Africa) http://alaye.biz/africa-destroyed-by-the-gods-introduction/
A FREE Chapter of 'Africa: Destroyed by the gods' could be downloaded here: http://alaye.biz/africa-destroyed-by-the-gods-free-chapter/
Contact Femi:

Femi's Blog: www.alaye.biz/category/blog
Website: www.alaye.biz
Femi on Amazon https://www.amazon.com/author/femiakomolafe
Twitter: www.twitter.com/ekitiparapo
Facebook:https://www.facebook.com/alayeclearsound;
Gmail+: https://plus.google.com/112798710915807967908;
LinkedIn: www.linkedin.com/in/femiakomolafe
Email: fakomolafe@gmail.com
Kindly help me share the books' links with your friends and, grin, please purchase your copies.
Comradely,
Femi Akomolafe






by





by

Alayedotbiz, Blog, News, Polemics, Random Musings, Satire, Uncategorized corruption in ghana, femi akomolafe, ghana politics, Ghanaian politics, Humour in Ghana politics, Polemics, satire, Satires in Ghana