Posted by By Akogun Akomolafe at 13 November, at 13 : 49 PM Print

Warning: count(): Parameter must be an array or an object that implements Countable in /home/alaye/public_html/wp-content/themes/Video/single_blog.php on line 56







by

Chinese Restaurant, pardon, Ghana Parliament
"Find out just what any people will quietly submit to and you have the exact measure of the injustice and wrong which will be imposed on them." – Frederick Douglass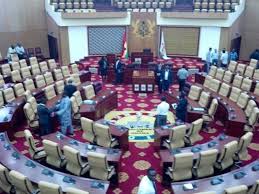 Hello. Mr Femi?
Yes.
Is that Mr Femi Akomolafe?
Hello, yes. Speaking.
Greetings, sir. Please sir, do you think that we are serious in this country at all?
What do you mean? Who are you?
Sorry, Sir. Can you hear me, sir?
Yes, yes. I can hear you. With whom am I speaking?
Sorry, Sir. Pardon me, sir. Good afternoon, sir. Kwabena Ofori is my name, sir. I am a student at KASSEC. That is Kasoa Senior Secondary School, sir. I am the president of the Pan-African Society here, sir. We are just having a debate here and we need to consult with you.
Really. Over what?
Over whether or not you think that we Ghanaians, no, we Africans, are serious at all.
It all depend on how you look at it, young man. Some of us are serious, very serious. Some of us do lag seriously behind. That is true.
No, sir, I meant in how we conduct our affairs, personal and national in this country, on this continent?
I am sorry, young man, I'm not a sociologists, so I really cannot make informed comments.
But, sir do you remember Kwame Nkrumah's quote?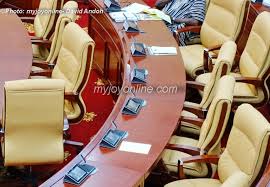 Ah! That is a nice one. The great man has so many memorable quotes, to which one do you refer, specifically?
Sir, I meant the one where he said we are ready to manage our affairs. I quote him here, sir: "Seeing you in this… it doesn't matter how far my eye goes, I can see that you are here in your millions and my last warning to you is that you are to stand firm behind us so that we can prove to the world that when the African is given a chance he can show the world that he is somebody! We have awakened. We will not sleep anymore. Today, from now on, there is a new African in the world! That new African is ready to fight his own battles and show that after all, the black man is capable of managing his own affairs. We are going to demonstrate to the world, to the other nations, that we are prepared to lay our own foundation." End quote.
Ah, that one. Of course, I quite remember that one very clearly. Who can forget that speech? It has been quoted so often, if only by people with absolutely no intention to follow its tenets. From his Independence Speech, I think.
Yes, yes, sir. It was from the Independence Speech of the Osagyefo, sir. Do you know for how long we students have been home here over the teachers' strike, sir?
I don't remember clearly, but it must be some weeks now.
Seven weeks, sir. Seven good weeks, we have been left to rot because of strike over pay by our teachers, sir.
I am sorry to hear that, young man. But what has that got to do with your question about our lack of seriousness. I…
Sorry to interrupt, sir. I was coming to that. The reason we, I, called was to ask you what your own take is over the importation of Chinese furniture by the parliament.
Oh, that?
Yes, sir. We think that it is a great affront to our national psyche for our elected officials to display such profligacy and such callousness at a time many civil servants are striking over pay. More especially when the county is begging for IMF bailout. Are our rulers beyond irony? Sir, can't those parliamentarians see how utterly unconscionable their action, coming at this particular time, really is?
I see what you mean. I understand where you are coming from…
Sir, do you think that our leader are serious, sir?
I am sure they will say that they are.
But, sir, seriously. Have you travel to Kumasi recently.
No, why?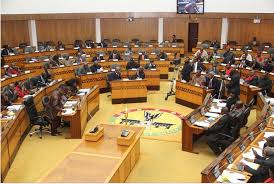 Sir, it will show you how totally unserious we are as a people, as a nation. We cannot connect the two most important cities in our country, yet all our leaders can think about is their personal comfort. It is an affront, sir. Accra to Kumasi is less than three hundred kilometers, but it takes more than six hours to travel because of the deplorable condition of the road. Our leaders cannot think of ways to improve that stretch of the most important artery of our national economic backbone, yet they joyously lavished money to buy crappy furniture form China. It is galling, sir. It is galling.
I agree with you, it was not the best move.
It was a stupid move, sir. It is imbecilic. And it is unpatriotic. What do our leaders take us for? How do they think the rest of the world will look at us? Sixty year after our so called independence, we cannot manufacture common chairs for our parliamentarians. We have to run to China for ordinary chairs. It is a shame, sir. It is a shame. We have big, big timbers in most regions of our country. We have millions of our young people out there in the sun looking for any form of employment. Yet our leaders go and borrow money to buy chairs from China. Those that rule us told us that we should patronize Made in Ghana goods, yet at every opportunity, they rush for imported items. And some of them try to insult us with inane excuses that we do not have the capacity to build chairs in Ghana. Sir, that is the most asinine excuse I have heard in a long time. Sixty years after self-government, one of the leaders we have in this country had the temerity to tell us that we lack the capacity to manufacture common chairs! Were that to be so, I say that it is time we hand our so-called Independence back to the British. Ha, sir. We have leaders who will feel happy only when they are attired in foreign garments, tool around in foreign cars and sit on Chinese chairs in parliament. It is a shame, sir. It is terrible, sir.
Yes, it sure is a terrible shame.
Sir, do you know what is most painful to me, to us, Sir?
I am sure you will tell me.
Sir, our parliamentarians committed the sacrilege just few days after the people of Burkina Faso sent a powerful, unmistakable message to the world that the masses in Africa are fed up with the status quo. They burnt down the parliament, sir. They burned it down. Do you know what makes this so galling, sir?
Take your time, young man. Take your time.
It is so galling that twenty seven years ago when a young army captain in Burkina Faso showed the world that Africans can begin to take care of themselves, our shameless parliamentarians are ridiculing us as mindless consumers. I talk of Thomas Sankara.
I know of him. May the ancestors rest his patriotic soul.
Sir, Thomas Sankara dressed in only cloths made in his country and from the cotton grew by his people. He stopped all foreign aid and told his people to depend on themselves. Sir, we know how Sankara gave priority to education and launched a nation-wide literacy campaign that saw many Burkinabes attending schools for the first time in their lives. School attendance doubled in the first two years of his government. His public health programme saw to the vaccination of 2.5 million children against meningitis, yellow fever and measles. Under the programme to "tie the nation together," he launched ambitious road and rail construction projects. To halt the growing desertification of the Sahel, Sankara oversaw the planting over ten million trees. He doubled his country's wheat production. He encouraged every village to build a medical dispensary, and had over 350 communities construct their own schools using their own labour.
He certainly did his best. He tried.
Sir, if an ordinary army captain can do all those things, what exactly is wrong with all our book-long intellectuals, with every manner of degrees oozing from their ears? Our leaders can speak English grammar from here to Australia, yet they cannot organize shit. I am sorry for that, sir. Our rulers lack the mental capacity to think beyond begging and borrowing, and tying us to the apron string of the historic oppressors of our continent. We are angry, sir.
I see that. I see that.
Sir, what type of people do we have as leaders in this country? Why can't they think of the national interests for once in their wretched lives? We have children born in this country who have never seen electricity in her life? We have children who do not know what pipe-borne water taste like. We have people in our blessed republic living in conditions so deplorable that they will be deemed unfit for animals in some countries. We have communities in this country that are totally cut off because of lack of road. We face so many challenges in the land, sir. All these should agitate the minds of those that rule over us. But, no sir, they do not consider those things worthy of their concern. Their main concern is their personal, selfish interests. Our country is so far behind other people that there is not even a basis for comparison, yet our leaders are not concerned. They awarded themselves fantastic salaries and emoluments. The action of the parliamentarians will not be so nauseating if we were to see them doing their best to contribute to national development. Apart from spewing insult at each other, the so-called honorables do little more than to ratify loan agreements. None of them have moved a single motion on any topic that will help move the nation forward. At the end of their dishonorable tenure, they go home with fantastic ex-gratia as though we have something to be grateful to them for.
You are correct, young man. Our leaders have not shown much interests in tackling the problems we face.
Sir, I know that it is not a nice thing to say, sir. But I wish that the Chinese chairs will collapse and break some unpatriotic backs. I am sorry to bother you with my, sorry, our worries, sir.

About the Author
Femi Akomolafe is a passionate Pan-Africanist. A columnist for the Accra-based Daily Dispatch newspaper and Correspondent for the New African magazine. Femi lives in both Europe and Africa, and writes regularly on Africa-related issues for various newspapers and magazines.
Femi was the producer of the FOCUS ON AFRICANS TV Interview programme for the MultiTV Station.
He is also the CEO of Alaye Dot Biz Limited Dot Biz, a Kasoa-based Multimedia organisation that specialises in Audio and Video Production. He loves to shoot and edit video documentaries.
His highly-acclaimed books ("Africa: Destroyed by the gods," "Africa: It shall be well," "18 African Fables & Moonlight Stories" and "Ghana: Basic Facts + More") are now available for sales at the following bookshops/offices:
Freedom Bookshop, near Apollo Theatre, Accra.
The Daily Dispatch Office, Labone – Accra
WEB Dubois Pan-African Centre, Accra
Ghana Writers Association office, PAWA House, Roman Ridge, Accra.
African Kitchen in Amsterdam Bijlmer
Where to buy them online:
On Lulu Books:
18 African Fables & Moonlight Stories https://goo.gl/Skohtn
Ghana: Basic Facts + More: https://goo.gl/73ni99
Africa: Destroyed by the gods: https://goo.gl/HHmFfr
Africa: It shall be well: https://goo.gl/KIMcIm
Africa: it shall be well
on Kindle books: https://www.createspace.com/4820404
on Amazon books: http://goo.gl/QeFxbl
on Lulu Books: https://goo.gl/SQeoKD
Africa: Destroyed by the gods
on Kindle books: https://www.createspace.com/4811974
on Amazon books: http://goo.gl/1z97ND
on Lulu Books: http://goo.gl/KIMcIm
My Lulu Books page: http://www.lulu.com/spotlight/FemiAkomolafe
Get free promotional materials here:
Africa: it shall be well: http://alaye.biz/africa-it-shall-be-well-introduction-in-pdf/
A FREE Chapter of 'Africa: It shall be well' could be downloaded here: http://alaye.biz/africa-it-shall-be-well-a-free-chapter/
Africa: Destroyed by the gods (How religiosity destroyed Africa) http://alaye.biz/africa-destroyed-by-the-gods-introduction/
A FREE Chapter of 'Africa: Destroyed by the gods' could be downloaded here: http://alaye.biz/africa-destroyed-by-the-gods-free-chapter/
Contact Femi:

Femi's Blog: www.alaye.biz/category/blog
Website: www.alaye.biz
Femi on Amazon https://www.amazon.com/author/femiakomolafe
Twitter: www.twitter.com/ekitiparapo
Facebook:https://www.facebook.com/alayeclearsound;
Gmail+: https://plus.google.com/112798710915807967908;
LinkedIn: www.linkedin.com/in/femiakomolafe
Email: fakomolafe@gmail.com
Kindly help me share the books' links with your friends and, grin, please purchase your copies.
Comradely,
Femi Akomolafe




by

Alayedotbiz, Blog, Interviews, Miscs, News, Polemics, Random Musings, Satire, Uncategorized chinese furniture in ghana parlaiment, corruption in ghana, femi akomolafe, ghana parliament, ghana politics