Posted by By Akogun Akomolafe at 5 November, at 13 : 50 PM Print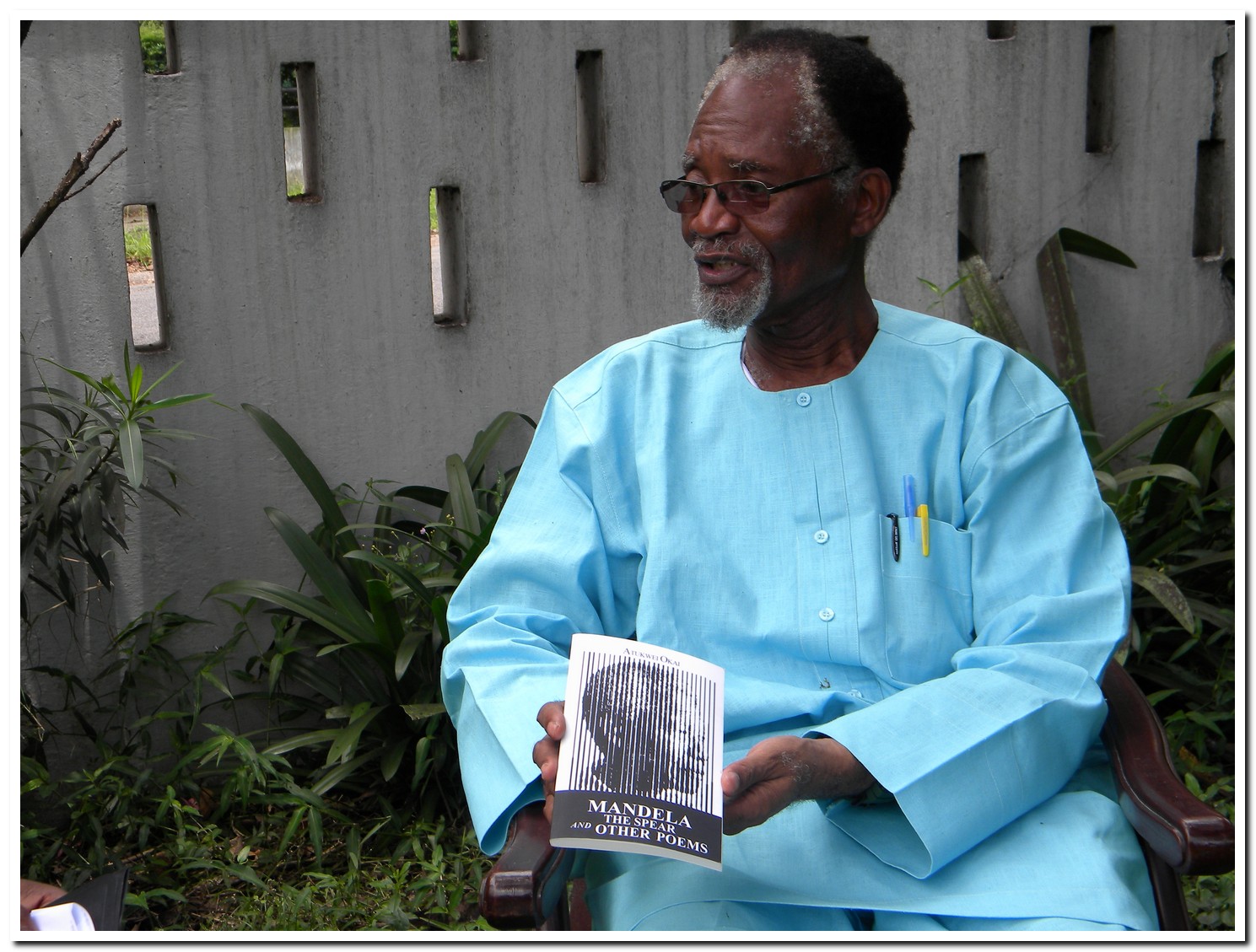 Warning: count(): Parameter must be an array or an object that implements Countable in /home/alaye/public_html/wp-content/themes/Video/single_blog.php on line 56






by

Interview with Professor Atukwei Okai
Secretary -General Pan-African Writers Association (PAWA)
Published in New African magazine, November 2014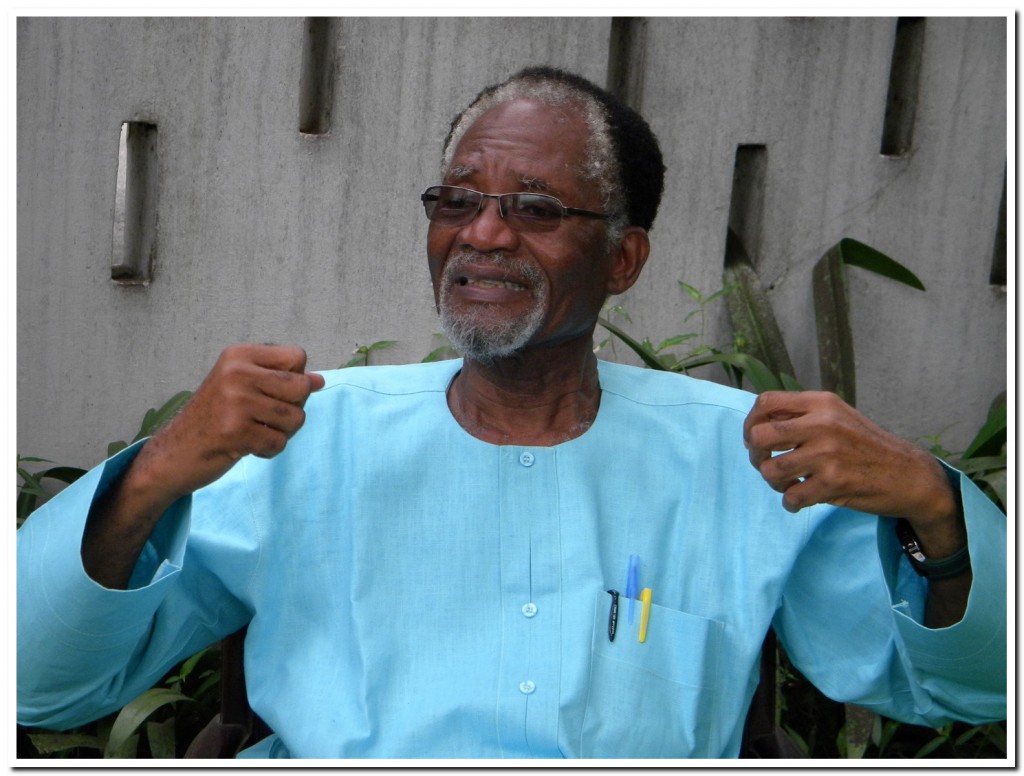 Professor Atukwei Okai is one of Africa's literary giants. He is also the Secretary-General of the Pan African Writers Association [PAWA]. Femi Akomolafe went to interview him at his office in Accra.
PAWA House, Accra, September 25, 2014
1. You are one of Africa's towering literary icons, kindly tell us what sparked your interest in literature.
Ans: I was lucky to have grown up in a literary home. My father was a school headmaster in Gambaga in the Northern Region, and he loved books. I grew up and had my formative years in Gambaga. I attended the school where my father was the head. It was a unique school where the five hundred pupils were encouraged to recite the Lord's Prayer in their own languages. And we all participated in whatever language was chosen. You can imagine the pride I enjoyed when fifty or so years later, I chanted parts of the Lord's Prayer in Yoruba to an amazed audience in Lagos, during the presentation of my poem, "Fanfare for Oduduwa".
Northern Ghana of those days was a paradise. It was a pristine, natural environment where people led natural life. The people got all their needs from nature – from the food they ate, to the drinks, to the clothes they wore, to the materials they used to build their houses. It was for them a life of total self-sufficiency. Nothing was imported.
My school had a great library with many books, this allowed me to read to my heart's content.
That type of environment not only nurtured but also inspired one to be creative. I was lucky and blessed indeed.
2. What was the literary scene in Ghana like in those days?
Ans: The literary scene was blossoming in those days; it was vibrant.
I was a member of three libraries – the British Council Library, the American USIS Library and the Accra Central Library, in addition to my secondary school library. I wanted to find out as much as possible about poetry.
I read widely and I wrote prodigiously.
3. You were a member of the Ghana Society of Writers (precursor to the current Ghana Association of Writers), you even became an official at a very early age. Can you tell us the story?
Ans: I became a member at age sixteen, when it was founded in 1957.
The youngest member, I was then at the Accra High School. When I finished school in 1960, to help me earn some income, I assisted the Society's secretary, Miss Cecile Mchardy, who was the secretary to Commander Jackson, working on the Akosombo Project. I was put in charge of the distribution of the maiden issue of the society's literary journal, perhaps the country's first, The Okyeame Magazine.
It was quite an exciting time in my life. Imagine as a young boy being surrounded with so many books, and to be in the company of literary giants like Michael Dei- Anang, J.H. Kwabena Nketia, Efua Sutherland the late Kofi Awonoor, Efua Sutherland, Crakye Denteh, Kwesi Brew, Geombeeyi Adali-Mortty, Kofi Awoonor, Cameron Duodu and many others.
Another kind mentor was Madam Dorothy Padmore, the wife of Mr. George Padmore, whom I visited in their home. On some evenings, I would sit by her under the skies as she critiqued some of my published poems while her husband , Dr. Nkrumah's famous friend and colleague, George Padmore , sat by reading large foreign newspapers.
In June, 1971 I was elected Secretary of the Society. I left in December 1971 to take up my scholarship to the Gorky Literary Institute in Moscow.
4. You went to study in the former Soviet Union, what informed that decision?
Ans: I was on a mission to research and fashion a new kind of poetry that my people would be able to relate to. I discovered Russian poetry which answered my needs.
Therefore, when the President, Kwame Nkrumah, came back from his tour of the Eastern Bloc in 1961 and announced that he had secured one thousand scholarships for Ghanaians in various disciplines, I applied for a scholarship to Moscow and was successful.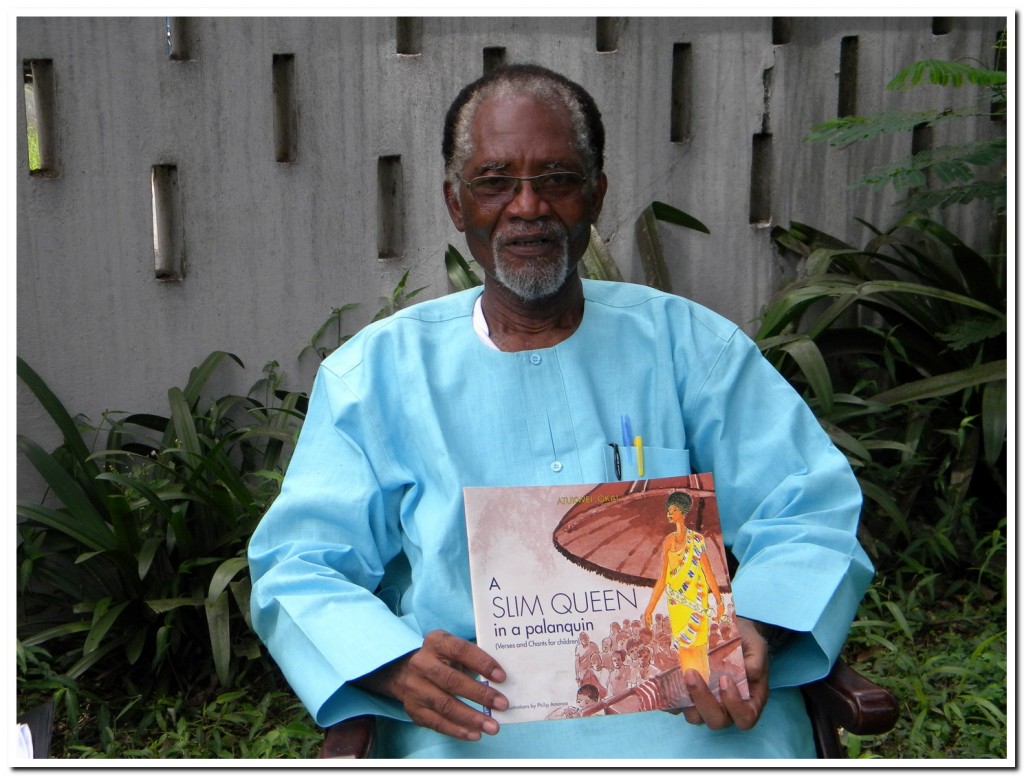 5. Can you share with us your experience as a student in the Soviet Union?
Ans: Russians love books and they adore literary people. The people read voraciously.
They believe that money should not be a barrier between man and enlightenment, and that the development of the individual is the development of the nation. They see education as good investment.
There were writers' cottages all over the country. There were great publishing houses that churned out books in voluminous quantities. Vast resources were put at the disposal of the artists and the writers so that they could concentrate on their literary creations.
The facilities, owned by the Soviet Writer's Union, was paid for by percentage deducted from every literary material sold in the country. As a student with published works, (from which percentages had been deducted) I was entitled to free tickets for flights to and from the writers' cottages. I took full advantage.
6. You met some of the greatest writers of the Soviet era, can you tell us some of them.
Ans: We were introduced to the works of great writers like Pushkin, Lermontov, Dostoevsky, Leo Tolstoy, Anton Chekov, Nikolai Gogol and Mayakovsky. I got to meet giants such as Konstantin Simonov, Mikhail Sholokhov, Pavel Antakolsky, Evgeniy Dolmatosky and Olga Berlgolts. The young but famous writers were Andrei Poperichny, Bella Akhmadulina, Yevgenii Yevtlushenko and Andrei Vonessensky, among others.
I also met in 1964 the legendary African artist from Ethiopia, Afewerk Tekle, as well as the Mozambican poet, Marcelino Dos Santos, Ngugi Wa Thiongo, and Okot P' Bitek, all major African writers and poets.
In 1967 the Gorky Literary Institute was honored with a visit from Stanley Kunitz, the US Poet Laureate Consultant in Poetry to the Library of Congress. He came into our class and I had the privilege of reciting one of my poems for him. We became friends. Besides giving a reading of and a seminar on my poetry at his Literature Graduate Class at Columbia University, New York, I had the honour of recording two hours of my poetry for the US Library of Congress.
7. You were in the Soviet when Ghana's first coup that overthrew the government of Kwame Nkrumah. You were a beneficiary of a scholarship from that regime, what impact did the coup directly have on you?
Ans: Personally for me, it created uncertainty about my future. I was a beneficiary of a scholarship and had gone to acquire the knowledge I thought would enable me to also contribute my quota to nation-building. I had finished my studies and was preparing to go back home in 1967. Then the coup had happened in 1966. My classmates from the Soviet Union were already given their employment letters, and some advised that I seek employment in the Soviet Union, which I could have done. They were very anxious about my going back to a country that had just experienced a military coup.
But I allayed their fears by saying that I was just a student with no political tags whatsoever, and that the worst they could do to me was make me starve. I returned to Ghana
8. On returning home, Ghanaians who studied in the Soviet Union were ostracized by the new regime. There were some persecutions. What were your own experiences?
Ans: It was a most despondent time of my life. It was indeed a very low period for me. I was already a writer and broadcaster of some note before I went to the Soviet Union. It galled greatly that those of us that went to study in the former Eastern Bloc were tarred by the general suspicion attached to socialism in those days. We were not politicians and we did not get our scholarships on our political affiliations. We were young Ghanaians with passion to help build the country.
I wrote application upon application for employment; not a single organization even bothered to reply me. The situation was so scandalous that the late Jawa Apronti (of blessed memory), wrote an article in the Evening News newspaper, "Can't We Use This Man?"
I finally got called up by the GBC, and went to the interview with several people. I was the only person out of the lot that was denied employment. On enquiry, I was told that the CID had collected my file and had not return it.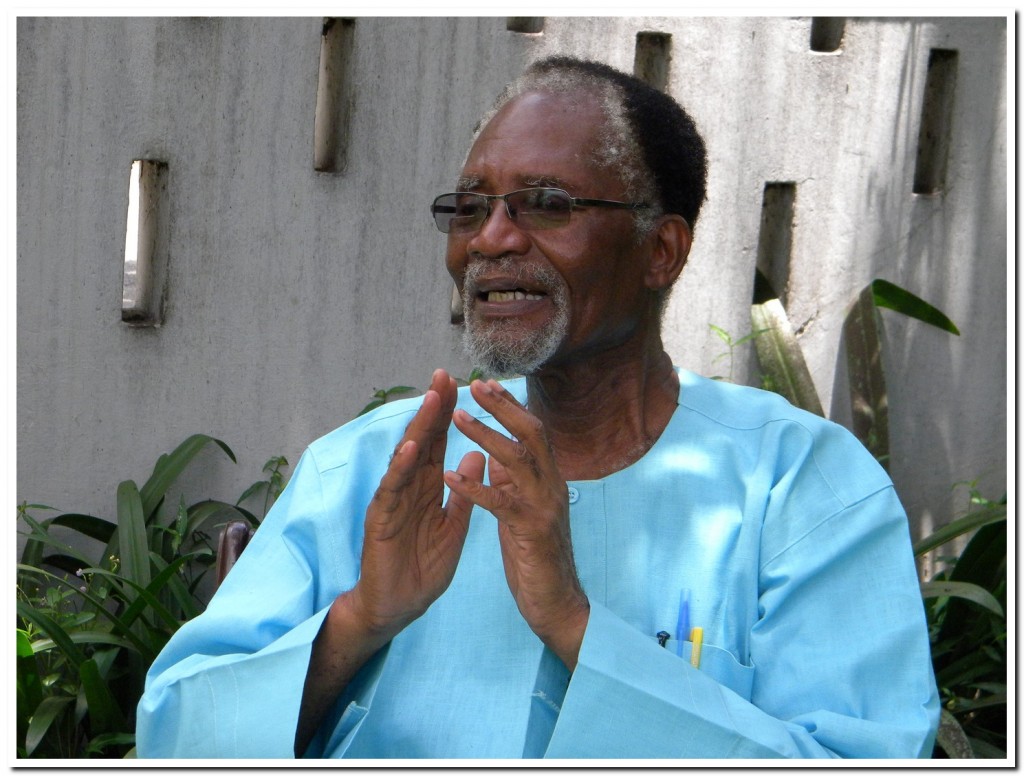 9. Despite your qualifications and your huge talent in the arts, you couldn't get a job and had to depend on stipends from your mother. How did you cope with such experiences?
Ans: It was tough, very tough. Imagine a highly-qualified person like myself roaming the streets of Accra, while colleagues with whom I had studied, were gainfully employed.
Imagine trekking around the city on your foot in the sun. It was sometimes friends and former colleagues driving their own cars who stopped by to offer you a lift.
My situation was dire, and I don't know how I would have survived were it not for the generosity of my mother. And by Grace of God, every morning she gave me two shillings, which was just something to have in the pocket, just in case, as I went from office to office. At one point, I roamed Accra the whole day on empty stomach. It was harrowing.
10. Your passport was seized and you almost lost the chance of a scholarship to a British university, how did you finally resolve it?
Ans: I had a scholarship for the University of London. But on returning from the Soviet Union, my passport had been seized by the BNI at the Accra Airport and it had not been returned to me. Time was running out for me to leave, lest I lose the scholarship.
I decided on direct confrontation. I went to the police headquarters and demanded to see the IGP. I was ushered into his office. He smiled and asked: "How do you do, Mr. Okai?"
I replied: "Sir, I am not fine." When he asked me why, I narrated my story to him.
Lo and behold, right there and then, he pressed a button, summoned an officer and asked him if he knew me. The officer answered: "Yes, sir!" And he asked him to go and get my passport for me.
That was how that case was resolved. Just like that!
11. Let us talk on what made you what you are today – your poetry. I must confess that it was your poems that made me change my mind about poetry. The poems we were introduced to during my school days put me off with their hard to understand convoluted languages, and imageries to which I cannot relate intelligently. Reading your poems is like living a real story told by a master story teller. What is the trick?
Ans: The trick is simply that an artist must first question why he wants to become an artist. That is fundamental. Artists are crucial to a people's recollection of themselves. They are the custodians of a people's collective memories.
In the Soviet Union, the poets declaimed their poems.
I thought, hey look, we also do the same in Africa. Our Griots and Praise-singers perform exactly the same roles. Then it clicked
The people are so in love with literature that in the early 1960's about five thousand people in Moscow filled a stadium for four hours, in the freezing cold listening to poetry recited by the hugely popular and revolutionary young poets, Yevgenyii Yevtushenko and Andrei Voznessenky.
I am a great admirer of Kwame Nkrumah. I am astounded by his elaborate vision for Ghana, for Africa.
Nkrumah believed that the Blackman was capable of taking care of his own affairs. That lit a fire in me. My burning ambition was to do for African literature and for poetry, what the Osagyefo had done for Africa in the realm of politics. I wanted to de-mystify poetry and make it accessible to the common people. I knew it was a monumental task I set for myself but I set my sight on achieving it.
12. You also have a collection of children poems, why the interests in children?
Ans: My interest was kindled when my wife, Beatrice, and I went to look for books for our children and we couldn't find any written by a Ghanaian or African for African children. All we saw were foreign books written for children in other climes.
I recognized this is an opportunity and a challenge! I said: You are a writer, do something about the gap. That was how it started and so far, I have published three volumes of verses and chants for children: "The Anthill in the Sea", "A Slim Queen In A Palanquin" and "A Pawpaw On A Mango Tree".
13. Has anyone ever told you that you bear a striking resemblance to the Nigerian Nobel Laureate, Wole Soyinka?
Ans: Not only have I been told several times, but I have also experienced it many times without number. Even in Nigeria, people have mistaken me for Wole.
One time, I was in Lagos for a function where a book about Wole Soyinka was to be launched, at the end journalists rushed after me, shouting "Professor Soyinka, Professor Soyinka!" Shouting all manner of questions.
Some years back, I had an accident and was hospitalized for several months. Wole came to the hospital to see me. One of the nurses who was at the reception rushed to tell me: "Your brother is coming to see you." When that my brother appeared, it was Wole!
Another incident happened at the Eko hotel in Lagos where I was spending some time with the manager, trying to get a reduced room rate. The man said: "Look my brother, instead of the foreign rate, what I'm offering you is the local rate, just because you so resemble Wole Soyinka."
It happens all the time; Wole and I have good chuckles over them.
He also experienced same in Ghana. He was at an insurance company in Accra when the receptionist welcomed him with, "Hello, Mr. Atukwei"! Soyinka then answered and said: "Oh hello! Has he got any benefits here?
Wole has such wonderful sense of humour about such occurrences.
14. You are the Secretary- General of the Pan Africa Writers Association (PAWA), can you tell us more about the organisation?
Ans: Pan-African Writers Association (PAWA) is the umbrella organisation for all African national writers associations.
The idea was born of the fact that in unity lies true power. On their own, the national associations have little power or influence, but as a continental body, we carry more leverage.
It started around 1985 when we (various national associations) set up an international preparatory committee (IPC), charged to establish PAWA. We then made a tour of African countries and went to the OAU headquarters where we met officials and put our case across. We were advised to attend a meeting of African Ministers of Culture that was to take place that year in Ouagadougou, the capital of Burkina Faso.
We went there, addressed the conference of ministers and informed them of our plans. They gave us enthusiastic support. PAWA was founded in 1989.
Our aims and objectives are to bring African writers together, and fight for the rights and the interests of writers on the African continent.
In 1991, the Conference of African Ministers of Education and Culture meeting in Coutonou, Benin, upon a proposal by PAWA, resolved to establish 7th November, the birthday of PAWA, as INTERNATIONAL AFRICAN WRITERS' DAY to be celebrated throughout the continent, in order to allow the African people a moment of pause for the reflection on and the celebration of the contribution of African writers to the development of the continent.
In 1992, the Government of Ghana granted Full Diplomatic status to the PAWA Secretariat. The highlight of our calendar is the PAWA ANNUAL LECTURE where noted African writers come to give lectures.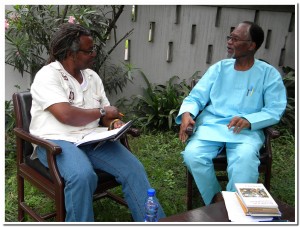 15. Sadly, the reading habit is dying off in Ghana, Africa, as in many other places, what do you think can be done to revive it?
Ans: Yes, it is sad. Reading is crucial, in fact even critical to national development. How do you develop a country without an educated mass of people?
The impressive achievements we see in other societies reflect the investment they have made in education.
The lack of interest in reading needs to be seriously addressed and tackled at the highest levels; a re-education of our minds with regards to the necessity of reading, needs to happen.
We need to establish libraries and stock them with books so that we can revive the culture of reading in our people.
Government should encourage local publishers to publish more books by providing them with incentives that will make them stay in business. Parents should make sure their children balance the use of technological devices with the reading of books.
Literature should be made compulsory and every school must set up a Literary Club.
What advice do you have for those of us with unwritten stories in our skulls?
Ans: Read, read and read. Read other people's work to get an idea of how it is done. Then start to write your own story.
As a beginner don't worry too much about structures, plots or such like. Just put to paper the ideas that flow into your head.
First, write the stories in their raw state; then let other writers or the editor guide you into putting them into shape. The practice of this is essential to the process, which becomes a habit; a lifestyle; your blueprint to immortalizing your souls-print's purpose.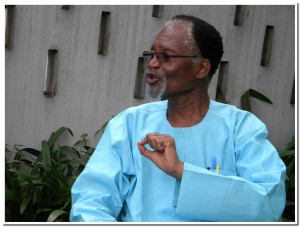 About the Author
Femi Akomolafe is a passionate Pan-Africanist. A columnist for the Accra-based Daily Dispatch newspaper and Correspondent for the New African magazine. Femi lives in both Europe and Africa, and writes regularly on Africa-related issues for various newspapers and magazines.
Femi was the producer of the FOCUS ON AFRICANS TV Interview programme for the MultiTV Station.
He is also the CEO of Alaye Dot Biz Limited Dot Biz, a Kasoa-based Multimedia organisation that specialises in Audio and Video Production. He loves to shoot and edit video documentaries.
His highly-acclaimed books ("Africa: Destroyed by the gods," "Africa: It shall be well," "18 African Fables & Moonlight Stories" and "Ghana: Basic Facts + More") are now available for sales at the following bookshops/offices:
Freedom Bookshop, near Apollo Theatre, Accra.
The Daily Dispatch Office, Labone – Accra
WEB Dubois Pan-African Centre, Accra
Ghana Writers Association office, PAWA House, Roman Ridge, Accra.
African Kitchen in Amsterdam Bijlmer
Where to buy them online:
On Lulu Books:
18 African Fables & Moonlight Stories https://goo.gl/Skohtn
Ghana: Basic Facts + More: https://goo.gl/73ni99
Africa: Destroyed by the gods: https://goo.gl/HHmFfr
Africa: It shall be well: https://goo.gl/KIMcIm
Africa: it shall be well
on Kindle books: https://www.createspace.com/4820404
on Amazon books: http://goo.gl/QeFxbl
on Lulu Books: https://goo.gl/SQeoKD
Africa: Destroyed by the gods
on Kindle books: https://www.createspace.com/4811974
on Amazon books: http://goo.gl/1z97ND
on Lulu Books: http://goo.gl/KIMcIm
My Lulu Books page: http://www.lulu.com/spotlight/FemiAkomolafe
Get free promotional materials here:
Africa: it shall be well: http://alaye.biz/africa-it-shall-be-well-introduction-in-pdf/
A FREE Chapter of 'Africa: It shall be well' could be downloaded here: http://alaye.biz/africa-it-shall-be-well-a-free-chapter/
Africa: Destroyed by the gods (How religiosity destroyed Africa) http://alaye.biz/africa-destroyed-by-the-gods-introduction/
A FREE Chapter of 'Africa: Destroyed by the gods' could be downloaded here: http://alaye.biz/africa-destroyed-by-the-gods-free-chapter/
Contact Femi:

Femi's Blog: www.alaye.biz/category/blog
Website: www.alaye.biz
Femi on Amazon https://www.amazon.com/author/femiakomolafe
Twitter: www.twitter.com/ekitiparapo
Facebook:https://www.facebook.com/alayeclearsound;
Gmail+: https://plus.google.com/112798710915807967908;
LinkedIn: www.linkedin.com/in/femiakomolafe
Email: fakomolafe@gmail.com
Kindly help me share the books' links with your friends and, grin, please purchase your copies.
Comradely,
Femi Akomolafe





by

Alayedotbiz, Blog, Book Review, Interviews, News, Polemics, Satire, Short Stories, Uncategorized african poets, African writers, femi akomolafe, ghana literary icons, ghana writers, pan african writers association, professor atukwei okai