Posted by By Akogun Akomolafe at 29 August, at 08 : 00 AM Print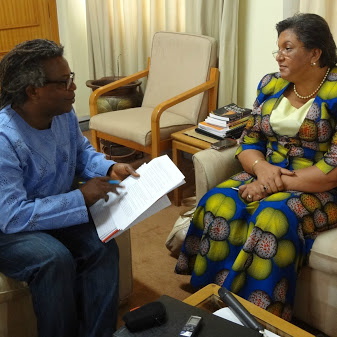 Interview with Minister Hanna Tetteh
(published in the New African magazine)





by

Among the brightest stars in Ghana's political firmament today is undoubtedly the newly-appointed Foreign Minister, Madam Hanna Tetteh.
A woman of keen intellect and amazing communication skills, Hanna Tetteh has managed to cut her teeth in Ghana's cut-throat political clime without attracting negative publicity.
Soft-spoken, articulate and very astute, Madam Hanna Tetteh brilliant oratorical skills have endeared her to many who have listened to her bright, analytical, almost dispassionate defense of major party and government policies.
Never one to raise her voice or lose her composure in debates or arguments, Madam Hanna Tetteh remains a rare gem in Ghana politics where political arguments are mere shouting matches, and politicians make their marks only by heaping fiery, disparaging insults on their opponents.
In a country where people appear incapable of making points without making loud noises, she manages to espouse positions without raising her voice or lacing her comments with insults.
Her incisive and sharp-witted ripostes make acrimonious abuses totally unnecessary.
Born on 31st May 1967 at Szged Hungary and a Legal Practitioner by profession, Madam Hanna Tetteh, a relatively-newcomer to politics, has risen to the top echelon of Ghanaian politics with dizzying speed.
Hanna Tetteh is a native of Obrachire in the Awutu Senya West District of the Central Region.
She attended Wesley Girls High School, Cape Coast from 1978 to 1985. She went on to obtain a Bachelor of Law (LLB) degree at the University of Ghana in 1989.
She graduated from the Ghana Law School in 1992.
Her working experiences include stints at the International Federation of Women Lawyers (FIDA); the private legal practice of Ansa-Asare & Co. Hencil Chambers; Commission on Human Rights & Administrative Justice (CHRAJ) and Ghana Agro Food Company Ltd.
She joined politics as a member of the National Democratic Congress (NDC) and was elected as Member of Parliament for the then Awutu Senya District in December 2000.
As Member of Parliament, she served on various parliamentary committees.
She left politics and returned to the Ghana Agro Food Company in 2005, where she worked until the late President John Evans Atta Mills appointed her to oversee the Communication Directorate of his campaign in 2008.
Madam Tetteh managed to successfully sell her candidate without recourse to negative run-downs on opponents or using insults.
An apparently grateful Professor Mills appointed her Minister for Trade and Industry.
Madam Tetteh repeated the communication feat in the 2011 elections which saw a relatively newcomer defeat the solidly Establishment Figure of the main opposition leader, Nana Dankwa Akufo-Addo.
She also contested and won back her (now) Awutu Senya West Parliamentary seat in the 2011 elections.
Few were surprised when, in the first batch of Ministers he announced in early January, the newly-elected President of Ghana, John Dramani Mahama, announced his choice of Hanna Tetteh as his Minister for Foreign Affairs and Regional Integration.
She scaled through parliamentary vetting with ease.
Femi Akomolafe met with her in her office in Accra and had an interview with her.
Here are excerpts:
QUESTIONS:
Congratulations on your appointment as Minister for Foreign Affairs and Regional Integration. You are also an elected Member of Parliament, how do you intend to simultaneously represent your constituency in parliament while serving as the country's foreign minister, which will entail your travelling frequently?
Ans: I see no problem here as I have a very good structure in place to ensure that my constituents' needs are properly catered for.
Currently, my constituents visit me in my home in the village. But I intend, shortly, to set up an office in Awutu Beraku (the constituency/district capital) which will be more easily accessible and convenient.
However, we have very active party structures through which I am able to get to know the concerns of my Constituents and engage with them and address their needs.
I make sure that I keep my appointments with my constituents, and I also make it a duty that on the days assigned to my constituency affairs, I'm there without fail. I hold regular meetings with them, listen to their problems and try to find ways to resolve them.
Of course, I am also accessible by phone calls, text, and email.
The important thing is to have a very good rapport and understanding with my people and to make sure that they have access to me as often as possible.
My constituents know that I'm always available for them, and also that I do my utmost to promote their interests.
My ministerial position will not in any way weaken my commitment to serve my constituency.
2. You were moved from the Trade Ministry to the Foreign Affairs Ministry, what are some of the qualifications you bring into the job?
Ans: What I bring to the job is what I always bring to any job to which I'm assigned: complete dedication and total commitment.
I try to do any assigned job to the best of my abilities.
What I do is to set myself clearly defined goals and objectives and assemble competent support staff to help me achieve them.
3. Minister, what, to you, are going to be the major objectives of Ghana's foreign policy and how do you intend to pursue them?
Ans: Our foreign policy objectives are spelled out clearly in our constitution. They include our promoting the political, economic and social interests of our country, Ghana, whilst seeking a conflict-free international environment.
Our foreign policy objectives include the promotion of our national interests and also the implementations of our regional and international treaty obligations to which we have appended our signature.
It also entails offering protection to our citizens wherever they find themselves outside our borders.
4. Your counterpart in the US, Senator John Kerry, recently said that Foreign Policy is, essentially, Economic Policy. Is this a view you share and, if so, how do you intend to pursue Ghana's economic interests?
Ans: If by that he meant expecting economic benefits from every policy, then I don't think I'll agree with him. It is not in every relationship that one should expect economic benefits.
I think that foreign policies sometimes go beyond the pursuance of narrow, parochial economic interests.
There are situations one needs to promote a policy in which one does not expect economic gains or benefits.
We live in an interconnected world in which political and social policies are pursued even when it is not in one's economic interests.
For example, we have had our troops in peace-keeping operations where we have absolutely nothing to gain.
Sometimes one has to look beyond economics in pursuing certain policy objectives.
5. Talking about economic interests, your portfolio includes Regional Integration. In 1975, Ghana joined fifteen other countries to form the Economic Community of West Africa, ECOWAS, which advocated among other things an economic union. Close to forty years later, ECOWAS citizens still face considerable difficulties when they travel around. In the meantime, the East Africans have formed their own union with free movement, free residency and all. They are close to launching a common currency. What are, in your views, responsible for the failure of ECOWAS to live up to the expectations of its citizens, and what do you intend to do to speed things up?
Ans: It is true that ECOWAS has not delivered as we all would like to see. But then we have to look at why that is.
As we all know, we have all the protocols signed and all that. But how many of the sixteen countries have had their parliaments ratified the ECOWAS Treaties in order to give it the force required for implementation?
The agreements and protocols not only have to be ratified, but they have to be incorporated into the national or "municipal" laws in order to ensure that they are implemented.
By "municipal" laws, I do not mean local government legislation, it is a term used to indicate that the legal provisions are also contained in a country's national laws so that the national law enforcement structures – police, immigration, the court's system etc. are used to enforce them.
What ECOWAS need is a greater commitment on the part of member states to enforce all the protocols and not to pick and choose.
What I can tell you is that we in Ghana have faithfully ratified all the ECOWAS treaties to which we appended our signature to and we have codified them into our laws.
They have become part of our laws and we have faithfully adhered to them.
For example, we do not charge any tariff on goods manufactured in ECOWAS states.
A prime example is Unilever which sell their products freely in Ghana as long as they are manufactured in an ECOWAS country.
The trouble arises when the other states ratify the treaties but fail to incorporate them into their laws so that they can start to implement them.
While at the Ministry of Trade, I tried to convince my colleague Ministers from the sub-region that it makes better sense to implement already agreed agreements and treaties than spend time talking about grandiose plans that will not see the light of the day.
Maybe we in Ghana are lucky because we have a vibrant and strong civil society advocacy groups that promote certain interests. We in government hold regular dialogues with stakeholders such as the Association of Ghana Industries; we listen to them tell us their concerns and we try to address them.
Citizens of the other ECOWAS states that want to take advantage of the provisions of the ECOWAS treaties should try and lobby their governments to have their parliaments ratified the treaties that they have signed.
It is no use blaming leaders when citizens refused to take it upon themselves to agitate and promote their own interests.
It is time for our people to realize that good governance, like look services, are demand-driven.
We all should try and contribute to the improvements we want to see
6. Since Independence and apart from a brief period in 1967, Africa has always been at the centerpiece of Ghana's foreign policy, would you continue this African-centered foreign policy or do you intend to shift the focus elsewhere?
Ans: Africa will always remain the centerpiece of our foreign policy if only because we know that we are one people.
Since our interests are so closely interlinked in Africa, it is ultimately in our interests to promote peace and security on the continent, because we realize that we cannot be safe as long as problems exist on the continent.
If we take the example of Mali. Should the situation there escalate, we will have a serious refugee problem in Ghana, because the only place we can expect them to go is to the most stable country in the sub-region.
Experience has taught us that we are adversely affected by any hiccup in the ECOWAS sub-region.
A good example was provided during the crises in la Cote d'Ivoire. Many refugees simply trekked across the border to seek refuge in Ghana.
We cannot afford to be complacent until we manage to find solutions to the problems of insecurity and other challenges on the continent.
7. Interestingly, you moved from the Ministry of Trade to that of Foreign Affairs. It is said that intra-African trade represents only ten percent of the continent's total trade, why do you think we still have this rather embarrassing situation in Africa and what are you, our leaders, going to do to rectify this gross anomaly?
Ans: Again, it all has to do with implementation. All the treaties are already there to guarantee the free flow of people, goods, and services.
But what happens when Ghana try to keep faith with the provisions but the other states refuse to implement them?
We have situations where some countries slapped duties on goods manufactured in Ghana because they said that they did not believe that Ghana has the capacity to manufacture such high-quality goods.
We also have had a situation whereby a Ghanaian manufacturer shipped goods to an ECOWAS country, and that country's officials insisted on coming here to do an on-site inspection of the factory. In the meantime, the goods are attracting demurrage at the ports. By the time, the bureaucrats have finished with their paper and leg-work, the shipping costs would have driven the prices up considerably.
We also have situations whereby local manufacturers lobbied their home governments to ban certain goods where they enjoy monopolies. Since they are local and have the political and the economic clout to lobby their governments, they get their ways to the detrimental of all.
Those are the types of challenges we face.
Lack of implementation of existing treaty obligations is what is crippling inter-African trade.
But there is little ECOWAS or the African Union (AU) can do until and unless the treaties are fully ratified by the parliaments in Africa.
8. Minister, it is most embarrassing for those of us Africans who travel outside the continent. In Europe for example, we travel around without encountering border posts, but then we come to our own continent, we are confronted with borders that do not make much sense. We see our leaders meet yearly and sign protocols and agreements, yet the borders remain. What do you think are the major impediments to removing the borders, and what are you going to do to try and remove them?
Ans: It still all bore down to the absence of implementation mechanism. There are enough treaties to guarantee the free movement of people, but they are yet to be passed into laws by national governments.
Citizens should put pressure on their home governments so that their parliaments can pass all the treaties they have signed into laws.
9. Minister, Africa currently seems to be in turmoil and with French Soldiers in Mali, NATO forces operating off the Somali coast and the US AFRICOM ringing the continent with bases, there are talks of re-colonisation. How do you view the new developments on the continent?
Ans: I do not share that assessment. We must remember that the French were invited by the government of Mali when it realized that it lacks the capacity to counter the existential threat posed by the rebels.
The rebels breached the agreements brokered by ECOWAS and directly threaten the capital, Bamako. That was when the French were called in. ECOWAS has also contributed troops.
10. Ghana's founding president, Kwame Nkrumah, pursued a vigorous Foreign Policy that gave Ghana global leverage totally out of proportion to her size, should we expect a robust foreign policy from you also?
Ans: You have to recognize that the dynamics of those times are totally different from what we have today.
The problems that Nkrumah grappled with was the total decolonization of Africa which was then under colonialism by European powers. He was successful in providing the platform for every African liberation movement to set up shop in Accra. That made Ghana the Mecca for every liberation fighter.
Today, the struggles we face in Africa today are of a totally different dimension and they call for a totally different approach.
We shall continue to pursue policies that best promote the interests of Ghana and of Africa to the best of our abilities.
11. There have been complaints about ill-treatment Ghanaians suffer at some foreign embassies. This range from discourtesies, lack of sitting facilities to the issue of non-refund of money paid for visas that are refused. Are you aware of these complaints and how do you intend to address them?
Ans: Yes, I'm aware of some of these complaints, especially in the areas of lack of provision of sitting facilities.
What we intend doing is to let foreign diplomats in Ghana know that we expected our citizens to be treated with the same respect and dignity we accord their citizens at our embassies in their countries.
On the non-refund of refused visa fees, there is little we can do in that regard as the fees are processing charges.
Applicants are made aware that payment of fees does not necessarily guarantee the issuance of visas.
At our embassies, we also charge non-refundable visa-processing fees.
12. Going back to the situation in Mali, why do you think that it took the intervention of the French to wake our leaders in Africa up, and what do you think African leaders should do to forestall such interventions by outside powers?
Ans: It all boils down to capacity. It is not that we did not want to do something about the situation in Mali, but you have to know that it takes time and money to build the capacity to intervene militarily in another country, especially one as big as Mali.
Take for example when Ghana decided alongside other ECOWAS countries to send an intervention force to Mali, the soldiers have to be trained and kitted for desert warfare.
The terrain in which our soldiers are trained is totally different from the desert terrain of northern Mali. The kits they require in Mali are different from what they normally wear here.
ECOWAS military people were still organizing their forces when the rebels moved south and threatened Bamako; that was when the government of Mali called on the French for help.
Again, even though the United Nations Security Council sanctioned the intervention, it did not address the question of funding. It takes money to send soldiers to battle.
So, in the case of our struggling economies in West Africa, we just cannot wake up in the morning and decide to go and intervene without thinking about where the money will come from.
As democratic states, we also cannot spend money outside what our parliaments have approved.
And how do we get parliamentary approval without first convincing our people that it is a war worth fighting for with their money?
Shifting the financial resources allocated to one sector to another is not a very easy thing to do in a democracy. We first must convince our people why we do the things that we do, especially in foreign forages where the policies don't have a direct bearing on them.
Intervention is not as easy as it seems.
13. Kwame Nkrumah also advocated the setting up of an African High Command to take care of the security situations on the continent. Given the numbers of wars, mini-wars, coup d'etats, rebellions, foreign incursions/interventions etc, we have had with all the violence and the waste, do you think that is the time our leaders revisit Nkrumah's idea?
Ans: It is, of course, a very lofty idea. But the question remains: how do we fund it?
There were costs involved and that does not only include their kit. Even when such forces are formed within the national army structure, there will still be cost involved, and for developing countries that can be a challenge.
For instance, those units will still have to train together periodically, an institutional arrangement for coordination will have to be agreed and implemented.
They also need to be armed and supported with all the logistics an army needs to move – weapons, transport, engineering support, medical support etc.,
Therefore, notwithstanding a situation where the soldiers remain part of the national army, there will still have to be dedicated resources set aside for such operations, and the costs of supporting any specific military activity are quite enormous.
Which is the reason why I am of the view that before we engage in any military intervention we must define the reasons for our supporting or being part of such an intervention and justify the need for this expenditure.
Keeping a standby intervention force is a desirable goal, but with our present economic priorities, it would not be the top on the list of priorities at the present time.
14. Minister, successive governments have paid what could be described as lip service to the question of the Ghanaian Diaspora. This is a very huge talent of highly educated men and women the country could tap into to fast-track her developmental agenda. What are you going to do in regard to the Ghanaian Diaspora?
Ans: I honestly do not believe that Ghanaians in the Diaspora are entitled to any special dispensation.
What we shall try to do as a government is to try and create a viable environment for every Ghanaian, irrespective of where they reside, to realise his or her full potentials.
I also have heard the Diasporan clamour to be given certain entitlements because they said that they have helped with remittances and such.
I don't think that citizens are entitled to special treatment on the basis of remittances that were sent to mainly family members and for their personal expenses.
However, what is important is to engage with them to see how an appropriate means for them to be able to contribute to national development could be arrived at.
What I think is that it is very important to engage with them, and have a structured dialogue to see how best this can be done.
I think that there can be incentives for them in return for direct contributions to national development and progress. They could do this by contributing with skills they have acquired.
I am not at all against incentives that make it interesting and worth their while to contribute more formally and directly to our growth and development. It would make a world of difference!
For instance, if some of our medical professionals outside could be encouraged to come and work in our hospitals from time to time and make it possible for people to have specialist medical care, and for that to happen the terms of this kind of assistance/contribution would have to be defined, and the incentives to be given must be clear
This is not the only area where I think Ghanaians in the diaspora can make a contribution; it is just an example.
This kind of arrangement can only be arrived at through a process of dialogue/discussion and agreement and that is what I meant by I would be having an "engagement" with Ghanaians in the diaspora on this matter.
I just don't believe that the basis for any special consideration should be remittances to friends and family.
15. A former government adopted what it called the Joseph Project which was to aid Diasporan Africans who want to come and settle in Ghana. Many people that came to praise the government, but complain about frustration by bureaucrats whom, they say, frustrate their attempt to gain Ghanaian nationality, and integrate into the Ghanaian society. How do you intend to address their concerns?
Ans: The Joseph Project was among numerous projects governments have tried in order to promote better relations between and among Africans.
Another one is the Pan African festival of arts and culture, PANAFEST – the yearly cultural event that draws Africans from all over the world.
We recognize that we Africans are one people and try to promote all the things that will foster a sense of belonging among Africans.
It appears though as there are such highly unrealistic expectations from some of our Disaporan brothers and sisters.
For whatever reasons, it appears that some of them harbor unrealistic expectations when they come here either as tourists or to seek residency.
We shouldn't forget that about five hundred years separate us and lot of things have happened in between.
Africa has changed and they also have imbibed other cultures, and it is not very realistic to harbor some romantic notions of an Africa that was caught in a time warp.
What I think we have is the situation where because of some unrealistic expectations, some of them became disenchanted when these expectations failed to materialized.
Many of them chose to stay and they are very welcome. What we try to do is to hold regular dialogue with their representative's here and see how we can improve the relationship.
We also try to talk to the Ghana Investment Promotion Council (GIPC) to see how to better facilitate things for those that chose to stay and invest in Ghana. I believe that the Ministry of Culture and Creative Arts is also helping in that area.
16. Madam, Africa remains the only continent without a permanent seat on the United Nations Security Council. Some Africans view this with great embarrassment, especially when they see the UK and France as members. Do you think that it is time Africa demand a seat on the UNSC as of right, and how do you think the continent should pursue this demand and ensure that it is met?
Ans: I don't think that it should be limited to only a demand for a seat on the Security Council, however desirable that might be.
The whole United Nation system needs a complete overhaul.
The world has moved far beyond the situations that existed in the 1940s, and we cannot have institutions created to solve problems of fifty to sixty year ago addressing contemporary problems.
What we would like to see is a reformed United Nations that can democratically address today's exigencies.
17. What type of Africa do you envision in, say, twenty to fifty years? How do you think we can realize this dream?
Ans: Like every African, I'd like to see a politically-stable and economically-prosperous Africa that we all could be proud of.
And it will take our collective efforts to realize it.
18. You formally joined politics in 2000, thirteen years later, you are the Foreign Minister. That's meteoric rise by any standard. Do you have presidential ambitions?
Ans: The short and long answer is NO.
19. On a personal note, what are your own plans are for the future?
Ans: My immediate plan is to continue to do my best in the areas of my assigned responsibilities. That is all I could say for now.
20. Honourable Minister, I thank you very much for your time. On a final note, may I ask what single legacy would you like to be remembered for as Ghana's Foreign Minister?
Ans: I did not enter the public service in order to leave one legacy. What I would like to be remembered for is one that did her best to contribute her best to the development of her country.
About the Author
Femi Akomolafe is a passionate Pan-Africanist. A columnist for the Accra-based Daily Dispatch newspaper and ModernGhana, and Correspondent for the New African magazine, Femi lives in both Europe and Africa and writes regularly on Africa-related issues for various newspapers and magazines.
Femi was the producer of the FOCUS ON AFRICANS TV Interview programme for the MultiTV Station.
He is also the Man and Machine Coordinator at Alaye Dot Biz Limited, a Kasoa-based Multimedia organization that specializes in Audio and Video Production. He loves to shoot and edit video documentaries.
His highly-acclaimed books ("Africa: Destroyed by the gods," "Africa: It shall be well," "18 African Fables & Moonlight Stories" and "Ghana: Basic Facts + More") are available for sales at the following bookshops/offices:
Freedom Bookshop, near Apollo Theatre, Accra.
WEB Dubois Pan-African Centre, Accra
Ghana Writers Association office, PAWA House, Roman Ridge, Accra.
Afia Beach Hotel, Accra
Where to buy them online:
On Lulu Books:
18 African Fables & Moonlight Stories https://goo.gl/Skohtn
Ghana: Basic Facts + More: https://goo.gl/73ni99
Africa: Destroyed by the gods: https://goo.gl/HHmFfr
Africa: It shall be well: https://goo.gl/KIMcIm
Africa: it shall be well
on Kindle books: https://www.createspace.com/4820404
on Amazon books: http://goo.gl/QeFxbl
on Lulu Books: https://goo.gl/SQeoKD
Africa: Destroyed by the gods
on Kindle books: https://www.createspace.com/4811974
18 African Fables & Short Stories: https://goo.gl/s9tWAf
on Amazon books: http://goo.gl/1z97ND
on Lulu Books: http://goo.gl/KIMcIm
My Lulu Books page: http://www.lulu.com/spotlight/FemiAkomolafe
Get free promotional materials here:
Africa: it shall be well: http://alaye.biz/africa-it-shall-be-well-introduction-in-pdf/
A FREE Chapter of 'Africa: It shall be well' can be downloaded here: http://alaye.biz/africa-it-shall-be-well-a-free-chapter/
Africa: Destroyed by the gods (How religiosity destroyed Africa) http://alaye.biz/africa-destroyed-by-the-gods-introduction/
A FREE Chapter of 'Africa: Destroyed by the gods' can be downloaded here: http://alaye.biz/africa-destroyed-by-the-gods-free-chapter/
Femi's Blog: www.alaye.biz/category/blog
Websites: www.alaye.biz ; www.akogun.tv
Femi on Amazon https://www.amazon.com/author/femiakomolafe
Femi Akomolafe's Lulu Books page: http://www.lulu.com/spotlight/FemiAkomolafe
Twitter: www.twitter.com/ekitiparapo
Facebook: https://www.facebook.com/FemiAlaye
Gmail+: https://plus.google.com/112798710915807967908;
LinkedIn: www.linkedin.com/in/femiakomolafe;
YouTube Channel: https://www.youtube.com/user/fakomolafe
Email: fakomolafe@gmail.com
Profile on New African magazine: http://newafricanmagazine.com/tag/femi-akomolafe/





by

Alayedotbiz, Blog, Interviews, News, Polemics femi akomolafe, ghaian officals, ghana governmnet, ghana minister for foreign affairs, ghana politics, Hannah Tetteh