Posted by By Akogun Akomolafe at 12 December, at 08 : 46 AM Print





by

Hey, Femi, how did you enjoy your holiday? Me, I went to relax in the village. Thank God, it was a Friday. So, mankind just combined it with the weekend to go and chill in the village; to recharge batteries, so to speak.
Which holiday do you talk about?
You! Didn't you hear about the Farmer's Day?
Farmer's day? No, I didn't hear. What is it about?
You are something. Our government declared a holiday to celebrate our hard-working farmers who do their best to feed the country.
Ha.
Ha, what? You!
I thought we are fed by the food we imported from outside our shores.
What do you mean?
I remember reading somewhere where our president bemoaned our spending about 500 or is it 600 million dollars on rice imports. He also mentioned the amount we spent on importing chicken, tomato and other stuffs. It was said our rice comes from Asia; our sugar from Brazil; our chicken and beef from Holland; out Tomato from Italy and even our Kotomire now comes from La Cote d'Ivoire. Mr. President counseled that we should try and cut back…
What has that got to do with celebrating our Farmer's Day?
I am confused.
You! What is confusing you?
I am confused because, on the one hand, our president said that we should do more to grow the food that we eat. On the other hand, you are telling me that the government declared a holiday to celebrate farmers who are feeding us.
I don't get you.
Ha. If our farmers are feeding us, we will not be spending so much money on food imports, and our president will not be exhorting us to grow more food. Will he now?
What has that got to do with holiday?
You still don't get it. If our farmers are feeding us, we will not be spending a big chunk of our budget on food imports. And if they are not feeding us, why the need to declare a holiday to celebrate them?
You are true Contrarian. Do you think that you know better than our government?
There you go, again. You move the goal post. I didn't say anything about knowing any better than any government. I asked you a simple logical question and you flew a tangent. You have not been reading what I have been writing about our Dear Republic, have you?
What did you write about?
Ha! The question is not I wrote about, the proper question is what I have not written about. My theme is our lack of seriousness as a people and as a nation…
That is a gross insult. What do you mean?
If only you will listen to my explanation. I maintain that we are not a serious people. Almost everything we do suggest a serious pathological aberration. Abnormality, if you wish. In general, we behave like retarded children. Very few of what we do suggest matured reasoning or seriousness. I meant that in general. In our personal and national life, we believe like people with warped brains. I give you examples. Which normal human being, with all is faculties in the right places, will decide to wake up in the middle of the night, wake his neighbours up, just because he wanted to pray to his god? Which sane human being in this age still believe that jumping up in churches is an antidote to hunger? Which species of human beings, apart from us, will think that it is acceptable that a church will block off a large stretch of an International Road as happen every week at Kalabule near Kasoa? In which other land, apart from our Blessed Republic, will the Chief of Police drive citizens off road with his siren, rather than direct his men to make sure that the traffic flow smoothly. Now coming to your Farmer's Day, is it not comical that we did not see the huge irony in our rolling out drums to celebrate a sham? How do we think other people will look at us? They only will shake their heads in utter disbelief and say: "There he goes again. He cannot feed himself, yet he dance with joy. He borrowed money from left, right and center to import food, but think nothing of declaring a holiday to celebrate his farmers." Whichever way we throw it around, the Farmer's Day is an ill-thought out and ill-advised and a complete waste of human resources. We have absolutely nothing to celebrate…
So, do you argue then that our government should neither encourage nor motivate our farmers?
I argue no such thing. But perhaps you will tell us how a holiday whereby elite speechify themselves into stupor motivates farmers. I have been to remote parts of Ghana where the real farmers stay. I have seen the shocking poverty in which they live. I have seen the primitive tools they still use to practice their trade. I have seen the poor, impassable roads on which they have to transport their produce. I have seen our farmers in tatters, slaving upward of sixteen hours a day, doing their best to grow stuffs. I have seen them and their families eking out primitive existence from very harsh environment, using the same crude implement their forebears used eons ago. I also have seen our Ministers in charge of Agriculture, dressed up in their best Saville Row suits, tool around in their big jeeps to make speeches about what they are going to do to transform agriculture in this country. Year in year out, they keep on making the same promises with absolutely no intention of keeping them. I have also been to some of our universities where our Agric Professors can theorize from here Jupiter, yet they make zero impact on the practical side of things. I have also noticed our banks demanding an arm and foot before they will support the Agric sector. What it all boils down to is that, as usual, we believe in chasing shadows instead of dealing with essence. Rather for our leaders to sit down, devise short, medium and long term plans for our Agric sector. They believe in cosmetics. They understood our psychology as feeble-minded people who do not like to exert our brain in any endeavor. They know that we like nothing better than frivolities. So, they throw a holiday in our faces and we dance with joy. In many of my writings, I gave the examples of the tiny North European country of the Netherlands which earn about US$36billion from Agric alone. There is only one Minister at the Dutch Ministry of Agriculture, yet Agric is a booming business in the Low Country. In Ghana, we have three Ministers, yet we cannot feed ourselves. Apart from pushing papers and making useless speeches, what do these Ministers do? These are legitimate questions we citizens ought to be asking those that govern us. What remit did Mr. President gave to his Ministers when he appointed them? Were they made to draw up plans with a Timeline of when to achieve them? If not, why not?
Are you saying that our government is not trying?
I don't know how many times I've been asked that imbecilic question. I am tired of telling people that the business of governing a nation is far too important to be left in the hands of those who came only to try. No, it ought not to be. We are in the fine mess we are today, because we keep on praising those that came to power with absolutely no plans. We all know what it takes to grow rice, cassava, tomatoes and all the foods we consume. We have the land and we have the unemployed youth all over the place. What stopped our Ministers from drawing up plans to make us self-sufficient in food in say, six-months, one-year or three years? With very good plans, that should be very feasible thing to do. What stopped our leaders from making a holistic plans to transform our Agric sector? What plans do our Ministry of Science of Technology have to make modern implements and equipment available to our farmers? What stopped our leaders from using students, under supervision of the Ghana Army Corps of Engineers, from constructing irrigation all over the country? Honestly, I wish we will start to get serious.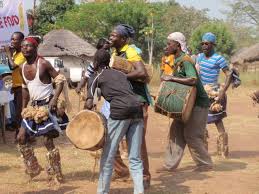 About the Author
Femi Akomolafe is a passionate Pan-Africanist. A columnist for the Accra-based Daily Dispatch newspaper and Correspondent for the New African magazine. Femi lives in both Europe and Africa, and writes regularly on Africa-related issues for various newspapers and magazines.
Femi was the producer of the FOCUS ON AFRICANS TV Interview programme for the MultiTV Station.
He is also the CEO of Alaye Dot Biz Limited Dot Biz, a Kasoa-based Multimedia organisation that specialises in Audio and Video Production. He loves to shoot and edit video documentaries.
His highly-acclaimed books ("Africa: Destroyed by the gods," "Africa: It shall be well," "18 African Fables & Moonlight Stories" and "Ghana: Basic Facts + More") are now available for sales at the following bookshops/offices:
Freedom Bookshop, near Apollo Theatre, Accra.
The Daily Dispatch Office, Labone – Accra
WEB Dubois Pan-African Centre, Accra
Ghana Writers Association office, PAWA House, Roman Ridge, Accra.
African Kitchen in Amsterdam Bijlmer
Where to buy them online:
On Lulu Books:
18 African Fables & Moonlight Stories https://goo.gl/Skohtn
Ghana: Basic Facts + More: https://goo.gl/73ni99
Africa: Destroyed by the gods: https://goo.gl/HHmFfr
Africa: It shall be well: https://goo.gl/KIMcIm
Africa: it shall be well
on Kindle books: https://www.createspace.com/4820404
on Amazon books: http://goo.gl/QeFxbl
on Lulu Books: https://goo.gl/SQeoKD
Africa: Destroyed by the gods
on Kindle books: https://www.createspace.com/4811974
on Amazon books: http://goo.gl/1z97ND
on Lulu Books: http://goo.gl/KIMcIm
My Lulu Books page: http://www.lulu.com/spotlight/FemiAkomolafe
Get free promotional materials here:
Africa: it shall be well: http://alaye.biz/africa-it-shall-be-well-introduction-in-pdf/
A FREE Chapter of 'Africa: It shall be well' could be downloaded here: http://alaye.biz/africa-it-shall-be-well-a-free-chapter/
Africa: Destroyed by the gods (How religiosity destroyed Africa) http://alaye.biz/africa-destroyed-by-the-gods-introduction/
A FREE Chapter of 'Africa: Destroyed by the gods' could be downloaded here: http://alaye.biz/africa-destroyed-by-the-gods-free-chapter/
Contact Femi:

Femi's Blog: www.alaye.biz/category/blog
Website: www.alaye.biz
Femi on Amazon https://www.amazon.com/author/femiakomolafe
Twitter: www.twitter.com/ekitiparapo
Facebook:https://www.facebook.com/alayeclearsound;
Gmail+: https://plus.google.com/112798710915807967908;
LinkedIn: www.linkedin.com/in/femiakomolafe
Email: fakomolafe@gmail.com
Kindly help me share the books' links with your friends and, grin, please purchase your copies.
Comradely,
Femi Akomolafe





by

Alayedotbiz, Blog, News, Polemics, Random Musings, Satire femi akomolafe, Ghana celebrate farmer's day, Ghana's Farmer's Day, public holidays in ghana