Posted by By Akogun Akomolafe at 18 June, at 02 : 50 AM Print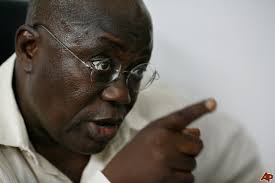 Warning: count(): Parameter must be an array or an object that implements Countable in /home/alaye/public_html/wp-content/themes/Video/single_blog.php on line 56

Ghana – uproar over proposed American Base
(published in the New African magazine, June 2018)
Ghana is a paradox: the people love foreign, especially Western things, yet they remain resolutely patriotic.
Few things move Ghanaians to anger than perceived assault on their sovereignty. Which makes it all the more baffling that their elderly president, Nana Akufo-Addo, will agree to a Military Deal with the United States that many citizens believe dangerously encroached on their country's authority.
News that the Cabinet approved a Memorandum of Understanding and recommended that Parliament ratify the agreement to allow the US forces and their equipment unhindered access to Ghana sent the normally placid citizens into great anger.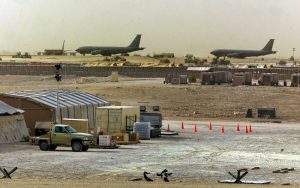 Per the agreement, the members of the US military will be allowed to enter Ghana with only their military ID cards and will be exempted from paying tax on the equipment they bring into the country. That is just the teaser.
In addition, US Forces will not only be authorized to set their own telecommunication system, they will also be allowed to use Ghana's radio spectrum free of charge.
Ghana will also furnish without rental or similar costs to the US all agreed facilities and areas including those jointly used by the United States Forces and Ghana.
They (US forces and their contractors) will be allowed to undertake construction activities to make alterations and improvements to agreed facilities and areas. They will also be authorized to control entry to the facilities meant for the exclusive use of their forces.
Article 8 stipulates that Ghana will bear the cost of providing security for the US Forces.
Article 12 of the agreement remove restraints on movements of United States Army personnel in Ghana, and Article 13, allowed them to drive in Ghana without driving licenses
Per Article 15 of the agreement, American Law will be used in disputes involving members of the US Forces.
Perhaps more troubling, the agreement did not state a termination point, which means that it would exist in perpetuity and be binding on successive governments,
Attempt at rationalization by officials that Ghana would receive US$20 million only added to the fire as enraged citizens demanded why their beloved republic is being sold for a paltry sum. Critics pointed out that there is no mention of any monetary compensation in the agreement.
The Minority caucus in Parliament was the first to raise alarm, in a statement, the group lambasted the secrecy that surrounded the agreement and the surreptitious manner in which it was introduced in parliament. The group added: "…More fundamentally, we find it difficult to appreciate how the Akufo Addo government could enter into an agreement from which the country derives virtually nothing. We take note of claims by Defence Minister, Dominic Nitiwul, that an amount of US$ 20 million would be given to the Ghana Armed Forces as part of regular support.
We fail to see how this amount can qualify as the direct benefit that we are deriving as a nation from this agreement which is so disproportionally skewed in favor of the United States of America. In any event, the quoted amount would be woefully inadequate to compensate for the huge sacrifices that Ghana is making under this agreement and the total surrender of our sovereignty. It further makes a complete mockery of the much-vaunted "Ghana beyond Aid" slogan of President Akufo Addo.
We wish to stress that the primary interest of any truly free State as Ghana, is the preservation of its sovereignty and the autonomy of its people. The proposed agreement denigrates both, as well as the authority of our government and laws.
In light of the above, we demand an immediate withdrawal of the agreement from Parliament pending the holding of broad consultations and a thorough national discussion involving all relevant stakeholders.
In its current form, this agreement completely betrays the interest of Ghana."
The General Secretary of the main opposition party, the National Democratic Congress, Asiedu Nketia, said: "We wish to state here and now that if President Akufo-Addo and his NPP administration proceed to ratify the agreement despite protests and public sentiments, the NDC administration which will assume the reins of government in 2021, will suspend the agreement and initiate a far-reaching review."
Civil organizations and the students' apex body, the National Union of Ghana Students (NUGS) joined the condemnation of the agreement. A mammoth protest against the agreement was staged in the capital, Accra.
A law lecturer, Justice Sai Put was caustic in his condemnation: "A lot of people can't read. Of those who can read, many don't. Of the few who do read, many don't read much. Of the handful who read much, some can't analyze. Look what we have here:
You have an agreement in front of you. The agreement tells you that the army of another country will come into your town. They'll occupy some places access to which will be controlled by them (not you). They'll import military equipment which even your security agencies can't inspect, let alone authorize. Forget about your tax authorities – they can't even levy. The army will operate the equipment and drive them in your streets without your license. The laws of your country don't apply to them.
All this means you have no independent means of knowing what they do in your country in order for you to even regulate them. On top of that, no court under the sun can review what they do. And the relationship is such that use of force will not end in your favor. And there's no foreseeable end to the relationship.
Yet, someone looks into your face and tells you that it is not a military base; and you're there nodding your head, and you think you're alright? There should be no problem if, after a careful assessment, you decide that an American military presence is the path out of your third world shithole circumstances. Just know and be bold, proud and honest about what you're doing. That's all."
A pan Africanist and Kwame Nkrumah Chair at the Institute of African Studies, University of Ghana, Professor Horace G. Campbell, said: "If the President of the United States of America called Africans a shithole country and the Ghana government will go and sign an agreement with such a government, then the Ghana people must act and say what kind of government do they have?"
Through its embassy in Accra, the U.S. government denied claims that it intends building a military base in Ghana. in a statement on Tuesday, 20 March 2018, said: "The United States Embassy wishes to underscore that the United States has not requested, nor does it plan to establish a military base or bases in Ghana.
The current Status of Forces Agreement (SOFA) between the United States of America and the Republic of Ghana, is approximately 20 years old. It does not cover the current range and volume of bilateral exercises and assistance."
The agreement is not without its supporters. Frontline journalist Kwaku Baako said that there is nothing new in the agreement and it was an elongation of the one the previous governments under the NDC. He said: This is nothing new, but these NDC liars and propagandists want Ghanaians to believe that. The agreement we are talking about was first signed in 1998 and recently in 2015 by NDC's Hannah Tetteh and is now only up for renewal."
When finally, President Nana Akufo-Addo spoke on the agreement, it was not to assuage the fears of his compatriots or explain the rationale behind it. Instead, he launched a scathing attack on his opponents. Speaking on prime national television, the president said: "And how else would we have exposed the unspeakable hypocrisy of the fraternity of some frontline politicians, who make a habit of running with the hares and hunting with the hounds, who secretly wallow in the largesse of the United States of America, whilst, at the same time, promote anti-American sentiments to a populist constituency? Submitting this Agreement to open scrutiny now allows us to clear the unhealthy fog that has clouded our relations with the United States of America.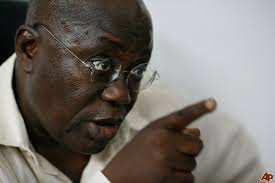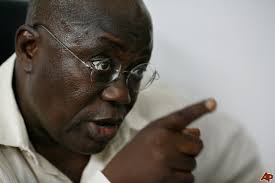 Surely, this is the kind of cynical manipulation by reckless self-seekers, which, in the fullness of time, the people of Ghana will acknowledge and condemn. And I am sure that as the facts become clear and widely available, and as the people come to terms with the evidence, they will reject the falsehood and deliberate attempts to destabilize our peaceful country. Truth is sacrosanct.
So let me state with the clearest affirmation that Ghana has not offered a military base and will not offer a military base to the United States of America. Indeed, the United States of America has not made any request for such consideration and, consistent with our established foreign policy, we will not consider any such request. However, in consideration of the realities of our circumstances and the challenges to peace in our region in our time, we have deemed it prudent to continue the Co-operation Agreement with the United States of America. It is our firm belief that the Agreement will help enhance our defence capability and offer an important layer of support in our common effort to protect the peace in our region.
Fellow Ghanaians, let me conclude by saying how outraged I am by the defamatory comments from my political opponents, some of whose patriotism can be so easily questioned, that the sovereignty of this country has been sold by my government and myself. I will never be the President that will compromise or sell the sovereignty of our country. I respect deeply the memory of the great patriots whose sacrifice and toil brought about our independence and freedom. I have stood with you, the Ghanaian people, all my adult life, fighting for our individual and collective rights. Everything I have done, since assuming the great honor and privilege of serving you as President of the Republic, demonstrates that I remain focused on building a self-reliant, free, prosperous Ghana, which will be able to make her own unique contribution to the growth and development of Africa and the world."
Academics Dr. Etse Sikanku and Frank Kofi Boadi, scored the president low: "He employed denial. He denied the purported intention to establish a military base but simply doing so without getting into the substantive reasons as to why he arrived at this conclusion did not sound convincing enough."
Ironically, Ghana's first president, Kwame Nkrumah warned against the type of agreement Ghana just signed. In a speech to the National Assembly on the ratification of the OAU Charter June 21, 1963, Nkrumah said: "Proposals of aid need to be examined with care. Most of all, we must beware of any kind of military help, for it can so easily place us in the hands of foreign powers and make them, in effect, arbiters of our fate.
Apart from drawing us into their orbit, they become intimately familiar with details of our defence structure and its strength. They can even become the designers of our defence structure and place us completely at their mercy.
Aid of this kind, even when ostensibly free, can be most dangerous and costly in its consequences."
And in his book, 'Africa Must Unite', Nkrumah warned: "If we do not unite and combine our military resources for common defence, our individual States, out of a sense of insecurity, may be drawn into making defence pacts with foreign powers which may endanger the security of us all".
PS: Link to the full version of the agreement.
About the Author
Femi Akomolafe is a passionate Pan-Africanist. A columnist for the Accra-based Daily Dispatch newspaper and ModernGhana, and Correspondent for the New African magazine, Femi lives in both Europe and Africa and writes regularly on Africa-related issues for various newspapers and magazines.
Femi was the producer of the FOCUS ON AFRICANS TV Interview programme for the MultiTV Station.
He is also the Man and Machine Coordinator at Alaye Dot Biz Limited, a Kasoa-based Multimedia organization that specializes in Audio and Video Production. He loves to shoot and edit video documentaries.
His highly-acclaimed books ("Africa: Destroyed by the gods," "Africa: It shall be well," "18 African Fables & Moonlight Stories" and "Ghana: Basic Facts + More") are available for sales at the following bookshops/offices:
Freedom Bookshop, near Apollo Theatre, Accra.
WEB Dubois Pan-African Centre, Accra
Ghana Writers Association office, PAWA House, Roman Ridge, Accra.
Afia Beach Hotel, Accra
Where to buy them online:
On Lulu Books:
18 African Fables & Moonlight Stories https://goo.gl/Skohtn
Ghana: Basic Facts + More: https://goo.gl/73ni99
Africa: Destroyed by the gods: https://goo.gl/HHmFfr
Africa: It shall be well: https://goo.gl/KIMcIm
Africa: it shall be well
on Kindle books: https://www.createspace.com/4820404
on Amazon books: http://goo.gl/QeFxbl
on Lulu Books: https://goo.gl/SQeoKD
Africa: Destroyed by the gods
on Kindle books: https://www.createspace.com/4811974
18 African Fables & Short Stories: https://goo.gl/s9tWAf
on Amazon books: http://goo.gl/1z97ND
on Lulu Books: http://goo.gl/KIMcIm
My Lulu Books page: http://www.lulu.com/spotlight/FemiAkomolafe
Get free promotional materials here:
Africa: it shall be well: http://alaye.biz/africa-it-shall-be-well-introduction-in-pdf/
A FREE Chapter of 'Africa: It shall be well' can be downloaded here: http://alaye.biz/africa-it-shall-be-well-a-free-chapter/
Africa: Destroyed by the gods (How religiosity destroyed Africa) http://alaye.biz/africa-destroyed-by-the-gods-introduction/
A FREE Chapter of 'Africa: Destroyed by the gods' can be downloaded here: http://alaye.biz/africa-destroyed-by-the-gods-free-chapter/
Femi's Blog: www.alaye.biz/category/blog
Website: www.alaye.biz
Femi on Amazon https://www.amazon.com/author/femiakomolafe
Femi Akomolafe's Lulu Books page: http://www.lulu.com/spotlight/FemiAkomolafe
Twitter: www.twitter.com/ekitiparapo
Facebook: https://www.facebook.com/FemiAlaye
Gmail+: https://plus.google.com/112798710915807967908;
LinkedIn: www.linkedin.com/in/femiakomolafe;
YouTube Channel: https://www.youtube.com/user/fakomolafe
Email: fakomolafe@gmail.com
Profile on New African magazine: http://newafricanmagazine.com/tag/femi-akomolafe/




by

Blog alayewebtv, articles by Femi Akomolafe, femi akomolafe, Femi Akomolafe books, Femi Akomolafe writings, Ghana – uproar over proposed American Base