Posted by By Akogun Akomolafe at 26 December, at 04 : 00 AM Print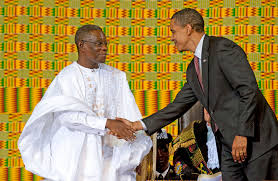 Warning: count(): Parameter must be an array or an object that implements Countable in /home/alaye/public_html/wp-content/themes/Video/single_blog.php on line 56







by

Brother Obama's Visit To Ghana – The Nigerian Perspectives
(a satire by Femi Femi Akomolafe)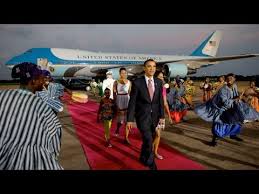 Good people, Great Nation
Good listeners, welcome back to Nigerian Television NewsFile. I am Iyiola Oba, your moderator today. Today's programme will be dominated by the upcoming visit of the president of the United States, Brother Barack Obama, to Africa. The US State Department has released the information that he will be visiting Africa in the month of July in the year of our Lord 2009. Specifically, President, Brother Obama will be going to Ghana. Our neighbor and rival for influence in the West African sub-region. To African watchers, this is regarded as a big snub to Nigeria. Coming a few months after the G20 meeting in which our nation was also excluded, many analysts are of the opinion that the fortunes of Nigeria are waning in the international fora. President Yar'dua expressed his disappointment at the non-invitation of Nigeria to the G20 meeting. The latest diplomatic snub will surely upset the Nigerian government. To help us unravel why our country, the so-called Giant of Africa, is being ignored — to use a mild phrase — by the international community, we have two accomplished Nigerians in our studio. First, we have Chief Alhaji Dr. Professor Engineer Deacon Architect Senator Ambassador Bello Akanni. An accomplished diplomat and a very versatile professional, he was our ambassador to the U.S. in the 1980s. We also have Comrade Chuks Anyaoli, a trade unionist and leader of the Nigeria Road Sanitation Technologists (NRST). Comrade Anyaoli is a well traveled Civil Rights and Environmental Activist. Welcome, gentlemen.
Thank you.
Thank you.
Ambassador, if we may begin with you. Why do you think that the international community is ignoring us?
Thank you, Mr. Moderator. First, I must take serious exception to your categorization of our great and highly esteemed nation as the so-called Giant of Africa. We are not so called. We evidently are the giant of Africa. Ordained by God and attested to by the global inference of our unique pre-eminence on the continent. Our superior population figure, the ponderous continental leadership credentials garnered over the years by our nation's totally selfless contribution to the continent. The unstinting help and solace bestowed by our nation on Africa over the years…
Mr. Moderator, can you ask the man to get straight to the point?
Look, young man, such rascality is totally out of place. We are not here discussing how to clean streets and de-silt gutters.
I thought that we were invited to talk about why President Obama refused to come to Nigeria.
Yes, Mr. Ambassador, if you can give us your insight…
I was coming to that before I was so peremptorily, so recklessly, so rudely and so rascally interrupted by a loutish, common, garden-variety of the human specie…
Na me you dey call rascal, you this thick-necked obese son of mammy-water? Barawo bansa! Corrupt man like! You chop government, look at his belly… (Nigerian curse-fest)
Gentlemen, please, let's keep things in order. Please listeners, bear with us. Gentlemen, we are here to discuss the very important issue of our nation's standing in the comity of nations. Comrade Anyaoli, kindly let the ambassador give us his views. You shall have the opportunity to have your say. Senator Ambassador, please.
Thank you. In analyzing the global and continental ramifications of the visit of a US president to any part of the words, we have to be very mindful of some very pertinent geopolitical as well as the geostrategic considerations that informed such visits. We ought also to be mindful of the fact that the U.S. remains the world's only superpower whose decisions, actions, or non-actions consequently directly impact on our lives where ever we are on this earth. It is in light of such superior inter-global thinking that we should posit such visit and our nation's international obligations within the framework of globalization and continental imperatives…
Hmm, thank you Professor Ambassador for those very insightful analyses. But why is the American president going to Ghana instead of coming to Nigeria?
Yes, I was coming to that…
Mr. Moderator, won't you allow me also to talk or is he the only one you invited?
Sorry, Comrade Anyaoli, what is your take on why the American president is not coming to Nigeria?
Mr. Moderator, why should the American president come to this yeye (Nigerian slang for nonsense or rubbish) country? You think sey the Americans dey craze? Master, where do we even begin to talk about this thing? Can his plane land at our airports that lack the most basic of navigational equipment and where there are no lights? Do you want Mr. Obama to come and sleep in darkness or do you expect him to bring his own generators and water treatment plant? Since we have no fuel, do you expect him to bring his own refinery? My brother, don't talk. Do you want him to be waylaid by armed robbers or have his life snuffed out by the trigger-happy brigands we call police around here? Or do you want him to come and be kidnapped for ransom by the Delta militants? Do you want him to come to a country where our famous 419 guys will happily separate him from his hard-earned income? Or do you want him to come and be swindled by the thieves we call legislators at the National Assembly? Or do you think that he should come and waste his time visiting our comatose president? My brother, I will not even advise my dog to visit Nigeria not to mention the whole president of the United States of America. Allah Kiaye (God forbid)!
Thank you, Mr. Anyaoli for giving us your own perspectives. If we may return to you Engineer Senator Ambassador, what do you think of the reasons adduced by Mr. Anyaoli?
Come on, now! You do not expect me to dignify such verbal ejaculations with comments, do you? What arrant nonsense! That type of gutter-snipish verbal diarrhea belongs in side-street ogogoro (Nigerian gin) bar and not in a dignified studio. Be that as it may, as to the question as to why President Obama refuses to include our country on his itinerary, we can surmise and situate it in the global strategic extenuations informed by American national security deliberations and considerations. Since we are not privy to the innards of the Obama administration, we can merely conjecturise the hypothesis that the over-riding and aver-arching global American interests informed the choice of Ghana over Nigeria.
Mr. Ambassador, we are very grateful for your insightful analyses. Now to the question of the choice of Ghana, Mr. Anyaoli, why do you think that the Americans choose to send their president to Ghana?
Thank you, Mr. Moderator. Aside from Nigeria, Ghana is one country that I know very well. My brother, you only need to go to that land of Nkrumah, and you'll be amazed. When we were young, the saying was to see Paris and die. You only need to travel to Ghana and see how well people are managing the little resources that they have. Twenty-something years ago, Ghanaians were flocking to Nigeria in droves. Now go to Ghana and see, the reverse is now the case. Ghanaians have rebuilt their country. Their government is stable and elections are occasions for joy and celebration unlike in this accursed land of ours, where they are occasions for inter-tribal wars. In Ghana, traffic lights work and people obey them. The cities are clean and orderly and you'll not see police harassing or beating ordinary citizens up, unlike in Nigeria where our police operate on a 'shoot-to-kill' basis. Although not as rich as Nigeria, Ghana is managing very well with the little it has. What we shouldn't forget or lose sight of is that the Americans have embassies in both countries and they would have been crazy to advise their president to choose Nigeria over Ghana.
Another soporific ejaculation! We are not engaged in primary school debates here. We were called upon to reflect and provide insightful, coherent, and cogent intellectual dispositions not some agbero (touts) verbal effusions. That aside, we move to the considerations of what informed the choice of Ghana. In this context, it's best to consider the ideological cum philosophical manifestations inherent in foreign policy choices. Analysing the historical trajectory of each nation's evolution, Ghana consequently brandishes more robust Pan-Africanist credentials than Nigeria, thanks to Kwame Nkrumah. But Nigeria has long partnered the U.S. in both regional, continental, as well as on the global fora. We are the U.S.'s second trading partner in Africa. Fully fifty percent of Nigeria's oil export goes to the U.S. So, even in narrowly-defined economic contextualization, Nigeria is best positioned to host the U.S. or any world leader. Our eminent position clearly provides ample justification. It can only be a matter of great regret that the American decided on Ghana.
Sorry, Mr. Moderator, I don't understand all the grammar this man dey use. From what I gathered he still believes that Nigeria should continue to live on old glory. It's true that Nigeria used to be regarded as the Giant of Africa. Master, please help me tell him that that was very long time ago. Other countries have picked themselves and have raced ahead with the trophy. It was our own Nobel Laureate Wole Soyinka who aptly described Nigeria as the Open Sore of Africa. That we are even having this discussion shows our capacity for self-deception. We are like the proverbial man who continues to admire himself while others are regarding him with utter disdain. What are we talking about? There is a full-blown war going on right in the Niger Delta and we are bemoaning ourselves because the US president decided to give us a wide berth. Whole villages are being wiped out in the Delta. One of the RepresentaTHIEVES (Nigerians slang for the Representatives) a National legislooter (Nigerian parlance for legislator) openly called for the extermination of twenty million Nigerians, and we are talking about the American come acalling? The man with the big grammar said that Nigeria supplies the U.S. with oil. He failed to mention that even in the oil sector our fortune is dwindling fast. Angola has overtaken us. And for his information, Ghana will start to export oil in about two years. The difference between us and the Americans is that they have the capacity to think far ahead. While we continue to live in ancient glories of the 1970s, they are thinking about where they are going to be in twenty, even fifty years' time.
To round up, can you gentlemen give us your ideas about the way forward?
Thank you. Nigeria is best positioned as far as Africa is concerned to partner important powers like the US. The allusions to domestic hiccups here and there are no sufficient grounds for denying Nigeria is rightful place in the comity of nations. We have successfully played our part and discharged our international as well as bilateral obligations honorably. President Obama's decision to overflow Nigeria airspace is of course a matter of great regret given the adulation Nigerians have for him and the esteem in which our government holds him. It is on record that Nigerians raised money for his election and many of our compatriots partied well after his electoral success. We share in his glory and we wish him well. We harbor no animosity whatever.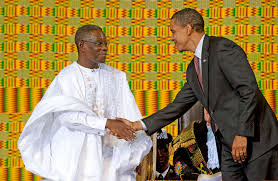 Mr. Moderator, I thank you for calling this meeting. I think that our lot will only improve in this country when we learn to tell the truth, however bitter. This man is part and parcel of the problems facing this country. He has all the degrees and the titles in the world but he cannot make himself to be understood clearly. He keeps throwing big grammar around to confuse people. It is a very simple question: why is President Obama not coming to Nigeria? The answer is equally simple: He is not coming because Americans do not send their president to rotten countries like Nigeria. Simple. He said that Nigerians contributed money to his campaign. That should tell you something about the Nigerians. Ghanaians will not line up to contribute to an American election simply because American laws forbade foreigners from contributing money to their elections. And unlike Nigerians, Ghanaians do not believe that laws are mere suggestions.
* * * * *
PS: In a bizarre twist to Brother Obama's visit to Ghana on July 11, the ruling party in Nigeria has accused the US Embassy in Nigeria of colluding with opposition parties in a grand conspiracy that has regime change atop its agenda.
This was how the Nigeria daily ThisDay reported it in its May 29, 2009 edition: "The ruling Peoples Democratic Party (PDP) yesterday accused the United States government and its embassy in Nigeria of conspiracy and plotting with opposition groups to destabilise the country.
Specifically, the party said that part of the plot is for the US Embassy to organise a meeting between the pro-democracy groups in Nigeria and President Barack Obama in Ghana, where the groups would seek to persuade the US President that the administration of President Umaru Yar'Adua is "illegitimate."
President Obama is expected in Ghana on July 11.
The statement also said the masterminds of the "conspiracy and plot" include a "failed" presidential candidate, two former Speakers, a former Senate president and "a sprinkling of political hangers-on."
In a statement signed by the Deputy National Chairman of PDP, Dr. Bello Harilu Mohammed, the party said: "Incontrovertible information available to us also revealed that after their meeting in Kaduna, they approached the American Embassy to facilitate their plans to meet with President Obama in Ghana but they were advised to include civil society organisations in their proposed diabolical delegation as a way of portraying themselves as credible elder statesmen."
PDP also said the aim of the visit to see Obama is to disrupt the existing trade relations between the United States and Nigeria, thereby worsening the already precarious state of the economy in the face of dwindling oil revenue and the global financial meltdown. PDP urged the US "not to, by any acts of omission or commission, promote the evil plans of these unpatriotic politicians against a democratically elected government as such would raise questions about its respect for the sovereignty of other countries and the international doctrine of non-interference in the internal affairs of other sovereign nations."
The party said President Obama knows that due process and the rule of law are cardinal tenets of democracy and acceptable political behaviour anywhere in the world. "President Obama is a product of an electoral process that evolved over time just as our President Umaru Musa Yar'Adua has kick-started enduring electoral reforms in Nigeria, a process which his Administration is fully committed to fulfil (fulfilling) in the shortest possible time. The advent of the Obama era is therefore a necessary tonic to our on-going electoral reforms and the development of strong democracies in Nigeria, Africa and other developing countries," PDP said.
The party also said the attempt by Nigeria's political leaders to cause "incalculable damage" to the Nigerian economy and its peace-loving people at this critical time is "a disservice" to a country from which most of them who have held one political office or another in the immediate past and have immensely benefited. "It is indeed shameful that these dishonourable politicians did not realise that the advice given to them by the American Embassy to include civil society organisations in their team was actually exposing their irrelevance to the political process as such views are only worthy of consideration if expressed through a respectable forum as a civil society organisation," the statement stated.
PDP described as disturbing that "the American Embassy in Nigeria has chosen to lend itself to such a high-level political conspiracy against the Government and people of Nigeria while at the same time enjoying the hospitality of its host.
"This, to us, is hair-raising and we urge the relevant authorities in the United States to commence investigations although we are mindful that the Embassy may have been misguided by the calibre of the people involved in this plot. But we hasten to note that we do not expect the Embassy to be involved willy-nilly in such an organised conspiracy against the political and economic well-being of the Nigerian nation."
PDP also appealed to organisers of the meeting with President Obama to shun acts capable of undermining the nation's democracy, which could endanger the collective destiny of Nigerians.
According to the statement, "this time in our history calls for total dedication to the growth and development of our nation. All divisive tendencies should be discouraged. Promoters of chaos and violence should be taken from our midst and handed over to security agencies. This is the only way to go."
PDP called on security agencies in the country to wade in immediately and commence necessary investigation into the matter and several others "which we have exposed in the past."
About the Author
Femi Akomolafe is a passionate Pan-Africanist. A columnist for the Accra-based Daily Dispatch newspaper and Correspondent for the New African magazine. Femi lives in both Europe and Africa, and writes regularly on Africa-related issues for various newspapers and magazines.
Femi was the producer of the FOCUS ON AFRICANS TV Interview programme for the MultiTV Station.
He is also the CEO of Alaye Dot Biz Limited Dot Biz, a Kasoa-based Multimedia organisation that specialises in Audio and Video Production. He loves to shoot and edit video documentaries.
His highly-acclaimed books ("Africa: Destroyed by the gods," "Africa: It shall be well," "18 African Fables & Moonlight Stories" and "Ghana: Basic Facts + More") are now available for sales at the following bookshops/offices:
Freedom Bookshop, near Apollo Theatre, Accra.
The Daily Dispatch Office, Labone – Accra
WEB Dubois Pan-African Centre, Accra
Ghana Writers Association office, PAWA House, Roman Ridge, Accra.
African Kitchen in Amsterdam Bijlmer
Where to buy them online:
On Lulu Books:
18 African Fables & Moonlight Stories https://goo.gl/Skohtn
Ghana: Basic Facts + More: https://goo.gl/73ni99
Africa: Destroyed by the gods: https://goo.gl/HHmFfr
Africa: It shall be well: https://goo.gl/KIMcIm
Africa: it shall be well
on Kindle books: https://www.createspace.com/4820404
on Amazon books: http://goo.gl/QeFxbl
on Lulu Books: https://goo.gl/SQeoKD
Africa: Destroyed by the gods
on Kindle books: https://www.createspace.com/4811974
on Amazon books: http://goo.gl/1z97ND
on Lulu Books: http://goo.gl/KIMcIm
My Lulu Books page: http://www.lulu.com/spotlight/FemiAkomolafe
Get free promotional materials here:
Africa: it shall be well: http://alaye.biz/africa-it-shall-be-well-introduction-in-pdf/
A FREE Chapter of 'Africa: It shall be well' could be downloaded here: http://alaye.biz/africa-it-shall-be-well-a-free-chapter/
Africa: Destroyed by the gods (How religiosity destroyed Africa) http://alaye.biz/africa-destroyed-by-the-gods-introduction/
A FREE Chapter of 'Africa: Destroyed by the gods' could be downloaded here: http://alaye.biz/africa-destroyed-by-the-gods-free-chapter/
Contact Femi:

Femi's Blog: www.alaye.biz/category/blog
Website: www.alaye.biz
Femi on Amazon https://www.amazon.com/author/femiakomolafe
Twitter: www.twitter.com/ekitiparapo
Facebook:https://www.facebook.com/alayeclearsound;
Gmail+: https://plus.google.com/112798710915807967908;
LinkedIn: www.linkedin.com/in/femiakomolafe
Email: fakomolafe@gmail.com
Kindly help me share the books' links with your friends and, grin, please purchase your copies.
Comradely,
Femi Akomolafe




by

Blog, Comedy, Miscs, News, Polemics, Random Musings, Satire african blogger, akomolafe, alaye dot biz, articles by Femi Akomolafe, Books by Femi Akomolafe, Brother Obama's Visit To Ghana - The Nigerian Perspectives, corruption in africa, femi akomolafe, Femi Akomolafe books, pan-africanism