Posted by By Akogun Akomolafe at 14 July, at 17 : 16 PM Print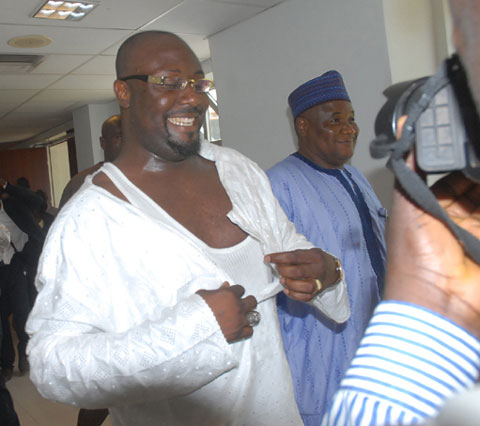 Nigeria: Much Ado about Certificates
Per the Nigerian Constitution, the only educational requirement to contest most elections is a secondary School certificate. It therefore baffles greatly why politicians become embroil in certificate scandals.
On Monday, 20th March, Nigeria's foremost investigative media, SaharaReporters (SR) broke the airwaves with allegation that one of the country's most flamboyant lawmakers, Senator Dino Melaye, forged his Bachelor's degree from the Ahmadu Bello University, (ABU), Zaria.
Senator Melaye is no ordinary lawmaker. He attracts and relishes controversy. His profile describes him as an activist, and he appears to love his carefully-cultivated image of a Macho-man. The senator is not above going physical, as he once, very proudly, came out of a duel with torn cloths. He beamed with pride. His former wife went public with pictures of serious domestic violence. Second wife tenure lasted all of six months before she took to her heels. There were other women who claimed assaults, lack of support and demanded paternity support and test.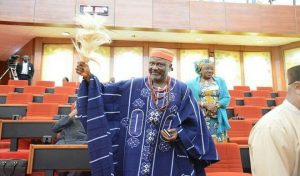 SR alleged that Senator Melaye, only made three credits in Christian Religious Studies (C5), Agricultural Science (A3) and Biology (C6). He took 6 other subjects including English Language (P8), Mathematics (P8), Chemistry (P8), Economics (P7) and Physics (F9), in his West African Examination Council (WAEC) result. The name on the result was: Daniel Jonah O. Melaiye.
More grievous than simple examination failure is that with such poor performance, the senator did not have the minimum required credits to gain admission into a Nigerian university.
Mr. Melaye boasted of having six or seven degrees.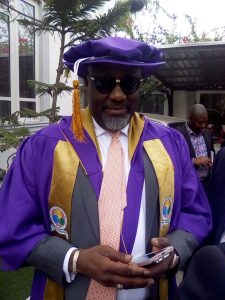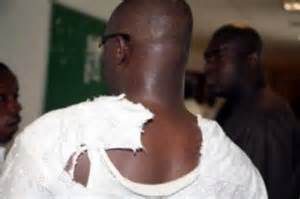 SR queried how a Senator, who did not have the minimum educational requirements to enter a Nigerian university, came in possession of a Bachelor's and other degrees?
Melaye was not the first official to be tainted with allegation of certificate or other forgeries.
Sample: Former Speaker of the House of Representatives, Salisu Buhari, was also alleged to have forged his birth and other certificates. The minimum age required to become Representative is 30. Born in 1970, he claimed to be 36 years old when he contested in 1999. He claimed to have graduated with a degree in Business Administration from The University of Toronto in Canada. The school denied that he was ever a student.
Exposed and disgraced in 2000, he broke down in teary apologies: "I apologise to you. I apologise to the nation. I apologise to my family and friends for all the distress I have caused them. I was misled in error by my zeal to serve the nation. I hope the nation will forgive me and give me the opportunity to serve again."
Few months to the 2015 presidential poll, current president Buhari was accused of forging his secondary school certificate.
A citizen, Nnamdi Nwokocha-Ahaaiwe, asked a court to disqualify Buhari from running for president, because he did not have the minimum qualification required to contest for presidential election.
Buhari defended himself and said that he sat for the University of Cambridge/WASSCE Examination in 1961, with the examination number 8280002, which he reportedly passed in the Second Division.
A Federal High Court in Abuja adjourned the suit indefinitely.
Former President Goodluck Jonathan was also tainted with a whiff of a certificate scandal. His accuser was no less a personage than former President Olusegun Obasanjo who alleged that: "Even Jonathan did not finish his PhD course, but when it was presented, we stated that it does not matter but many people did not know because it was a PDP thing."
Jonathan reportedly holds a BSc in Zoology; an MSc in Hydrobiology and Fisheries Biology; and a PhD in Zoology, all from the University of Port Harcourt in Rivers State.
When a civil society organisation filed a request for Jonathan's academic records through the Freedom of Information law, the university declined, with the reply: "The Management of the university has carefully considered your request vis-a-vis the FOI Act. It is my instruction to inform you that your request does not come within the relevant provisions of the FOI Act for its practicability or for the university to provide such details as requested. Details of the PhD Degree of President Goodluck Jonathan in the University of Port Harcourt cannot therefore be made available to you."
Jonathan's Minister of Aviation, Stella Oduah, claimed that she went to St. Paul College, Lawrenceville in Virginia, US, from 1978 to 1982, where she supposedly obtained a master's degree in 1983. The trouble is that St. Paul's College did not run a master's programme.
Her claim of an honorary doctoral degree in Business Administration from Pacific Christian University based in Glendale, was also debunked, as the institution had been closed due to loss of accreditation.
Ekiti State Governor, Ayodele Fayose, claimed that he was an alumnus of the Ibadan Polytechnic, Ibadan, and earned a Higher National Diploma certificate. The authorities of the school initially denied that he was ever a student of the polytechnic, and alleged that the certificate he claimed belonged to another person.
For reasons unknown, the polytechnic later changed its story and admitted that Fayose was a graduate of the school.
Fayose's counterpart in Edo state, Adams Oshiomhole, also had his academic claims challenged Oshiomhole claimed that he attended Iyamoh Primary School, Iyamoh, from 1957 to 1962. The school was not established until 1963. His name was also missing from the list of 1965 graduates of the Blessed Martins Secondary Modern School, where he purportedly graduated in 1965.
Oshiomhole successor, Godwin Obaseki, also had accusation of forgery leveled against him.
Evan(s) Enwerem tenure as Senate President was cut short by accusations of forgery and perjury. Accused by some of his fellow senators of using a fake name and falsifying his academic records, he was removed as the senate president, but he remained a senator until 2003. He died in 2007.
Another senator, Andy Uba, claimed to have attended California State University, Los Angeles, where he said he obtained "Ba, p.hd, dpa award." His claim to a doctoral degree from Buxton University in the United Kingdom, was discredited as nonsense as the institution, with address in Portugal, only run unaccredited online degrees.
Professor Maurice Iwu headed the Nigerian Independent Electoral Commission (INEC) between 2005 and 2010, and his academic qualification was also called into question. His accuser was also SR, which asked how the ex-INEC boss could obtain his undergraduate, master's and PhD degrees from University of Bradford between 1972 and 1978, while his LinkedIn profile indicated that he attended "Lagos University" between 1972 and 1977.
Former Director General of the Nigerian Stock Exchange, Okereke-Onyiuke, also had her share of certificate shenanigans. Enquiries at the CUNY's Graduate School, where she allegedly earned a PhD, got this response from the school's Director of Student Services and Senior Registrar, Vincent De Luca: "A thorough search of our electronic and paper files for the names, Ndi Leche Okereke, Ndi Okereke, Ndi Okereke-Onyiuke and Ndi Lechi Okereke–Onyiuke was conducted. No record was found that Ms. Ndi Okereke–Onyiuke ever enrolled in the PhD programme in Business or received a PhD in Business at The Graduate Centre."
Forgery is a criminal offense in Nigeria and Nigerians, rightfully, asked, why those who make their laws continue to breach it.
Dino Melaye's case became big issue partly because of the anti-corruption campaign the current government is waging. The tenacity of SR also plays a big role. In past years, big men accused of shenanigans do not even bother to sweat.
Today, they pant and sweat big time.
Typical of the arrogance of the mighty in Nigeria, where the rule of law play second fiddle to connections in high places, Melaye boisterously boasted: "SaharaReporters, please sue me and ABU if it is true that I did not graduate from Zaria. Tell Magu (Nigeria's anti-corruption Czar) to arrest and prosecute me. I'm presently a student of ABU pursuing my seventh degree."
Harvard University and the London School of Economics and Political Science, where he claimed to have graduated said that he attended only seminars, which could not have qualified him for graduation.
Melaye ostentatiously mocked the academic world by wearing a borrowed Ph.D's candidate gown to a plenary of the senate. His colleagues cheered wildly. He later posed with pictures of his receiving his certificate at ABU.
Nigerians disparagingly refer to their Senators as SINators, and their representatives as RepresentaTHIEVES – and with good reasons.
Their disdain an anger will be well understood when it is noted that Nigerians see their MPs as over-compensated and pampered lot, who do not care a hoot about the ordinary citizens
A nation of some 170 million people, Nigeria is a study in mis-governance. Social services provision is abysmal and corruption has become way of life. That, however, did not stop Nigerian legislators from awarding themselves fantastic salaries and emolument. For example, a Nigerian senator earn more than the president of the United States. (NOTE TO EDITOR, please see here: http://saharareporters.com/2010/11/06/nigeria%E2%80%99s-federal-legislator-earns-more-obama-prof-itse-sagay)
A World Bank report says that fully 80% of Nigeria's budget is use to run the machinery of government. Former Governor of the Central Bank of Nigeria, now the Emir of Kano, Lamido Sanusi, put the figures at 70%, and lamented: "
Many Nigerians are calling for the emulation of Senegal which, in 2012, abolished its own Senate. Some of them say that their country should emulate China which, despite its mammoth economy, operates a part-time legislature.
A group of activists have started an online petition that calls for the abolition of the senate: http://www.thepetitionsite.com/578/065/708/we-demand-that-the-nigerian-senate-be-scrapped/
Nice call, but not going to be so easy. Legal experts said that short of a revolution, it is almost impossible to abolish the senate, as the power to alter relevant provisions of the Constitution is vested exclusively in the National Assembly. Few people reasonably expect the parliamentarians to commit harakiri
In 2012, commenting on the rot at the highest levels of government, Nigeria's only Nobel Laureate, Wole Soyinka, said in despair: "One can no longer use the words like disdain and contempt, we have moved beyond that. We are being treated, not even like first or second class or third class citizens, when we are brushed in this way, we are being dehumanized"
About the Author
Femi Akomolafe is a passionate Pan-Africanist. A columnist for the Accra-based Daily Dispatch newspaper and ModernGhana, and Correspondent for the New African magazine. Femi lives in both Europe and Africa, and writes regularly on Africa-related issues for various newspapers and magazines.
Femi was the producer of the FOCUS ON AFRICANS TV Interview programme for the MultiTV Station.
He is also the CEO of Alaye Dot Biz Limited Dot Biz, a Kasoa-based Multimedia organisation that specialises in Audio and Video Production. He loves to shoot and edit video documentaries.
His highly-acclaimed books ("Africa: Destroyed by the gods," "Africa: It shall be well," "18 African Fables & Moonlight Stories" and "Ghana: Basic Facts + More") are now available for sales at the following bookshops/offices:
Freedom Bookshop, near Apollo Theatre, Accra.
The Daily Dispatch Office, Labone – Accra
WEB Dubois Pan-African Centre, Accra
Ghana Writers Association office, PAWA House, Roman Ridge, Accra.
African Kitchen in Amsterdam Bijlmer
Where to buy them online:
On Lulu Books:
18 African Fables & Moonlight Stories https://goo.gl/Skohtn
Ghana: Basic Facts + More: https://goo.gl/73ni99
Africa: Destroyed by the gods: https://goo.gl/HHmFfr
Africa: It shall be well: https://goo.gl/KIMcIm
Africa: it shall be well
on Kindle books: https://www.createspace.com/4820404
on Amazon books: http://goo.gl/QeFxbl
on Lulu Books: https://goo.gl/SQeoKD
Africa: Destroyed by the gods
on Kindle books: https://www.createspace.com/4811974
on Amazon books: http://goo.gl/1z97ND
on Lulu Books: http://goo.gl/KIMcIm
My Lulu Books page: http://www.lulu.com/spotlight/FemiAkomolafe
Get free promotional materials here:
Africa: it shall be well: http://alaye.biz/africa-it-shall-be-well-introduction-in-pdf/
A FREE Chapter of 'Africa: It shall be well' could be downloaded here: http://alaye.biz/africa-it-shall-be-well-a-free-chapter/
Africa: Destroyed by the gods (How religiosity destroyed Africa) http://alaye.biz/africa-destroyed-by-the-gods-introduction/
A FREE Chapter of 'Africa: Destroyed by the gods' could be downloaded here: http://alaye.biz/africa-destroyed-by-the-gods-free-chapter/
Contact Femi:

Femi's Blog: www.alaye.biz/category/blog
Website: www.alaye.biz
Femi on Amazon https://www.amazon.com/author/femiakomolafe
Twitter: www.twitter.com/ekitiparapo
Facebook:https://www.facebook.com/alayeclearsound;
Gmail+: https://plus.google.com/112798710915807967908;
LinkedIn: www.linkedin.com/in/femiakomolafe
Email: fakomolafe@gmail.com
My Profile on New African magazine: http://newafricanmagazine.com/tag/femi-akomolafe/
Kindly help me share the books' links with your friends and, grin, please purchase your copies.
Comradely,
Femi Akomolafe





by

Alayedotbiz, Blog, News, Polemics alaye dot biz, articles by Femi Akomolafe, femi akomolafe, Femi Akomolafe books, Femi Akomolafe writings, Nigeria much ado about certificates