Posted by By Akogun Akomolafe at 11 January, at 20 : 56 PM Print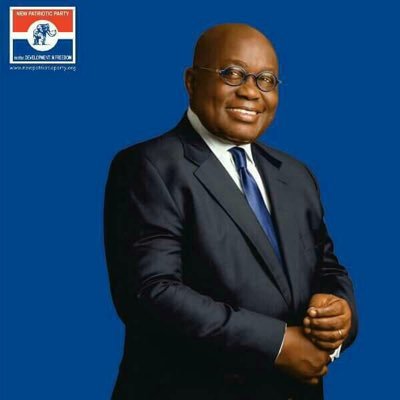 Warning: count(): Parameter must be an array or an object that implements Countable in /home/alaye/public_html/wp-content/themes/Video/single_blog.php on line 56






by

Nana Akufo-Addo's Victory
(published in the January 2017 edition of the New African magazine)
Ghana's President-Elect is a study in perseverance. Few mortals possess his seemingly limitless ability to endure odious insults, in order to achieve a goal. Political scientists will scratch their heads for years to come in trying to find answers to how a 72-old politician, long written off by many pundits, managed to defeat a much younger incumbent, with a margin not seen in Ghana's recent political history.
Ghanaians went to the polls on December 7 to elect a president and the 275 members of parliament. Although seven contestants finally scaled the Electoral Commission's (EC) hurdle, only the incumbent, President John Dramani Mahama, of the National Democratic Congress (NDC), and Nana Dankwa Akufo-Addo of the main opposition New Patriotic Party (NPP), were considered serious contenders.
It was a brutal, no-hold bar campaign with the ruling party sparing no effort or finance in its campaign. Ghana's only Pollster, Ben Ephson, predicted a victory for the NDC's candidate.
Few hours after polls close, many were taken aback when the NPP claimed victory. As Ghanaians groan with anxiety at the slow pace of EC's declaration of results, NPP officials inexplicably continue to jubilate. The EC did not help matters by the lackadaisical attitudes of its officials. Anxious Ghanaians were given the cold shoulders by EC officials who stubbornly refused to tell them what exactly was going on. The EC boss, Charlotte Osei, further raised people's blood pressures by claiming that the commission's server has been hacked and compromised. Citizens breathed a little easier when the Commission came out to later clarify that things were under control.
About 30hours after the close of polls, Ghana's leading media conglomerate, the Multimedia Group (MG), called the election for Nana Akufo-Addo, with a projection that tallied with the NPP's.
MG's flagship radio station, JoyFm, did a yeoman's job. Its analysts surefootedly rolled out excellent charts of information. The charts and graphs were based on real results collected from the pink sheets certified by the EC's own officials at the Collation Centres.
While visibly panicking NDC officials urged that the EC should be allowed to do its job, leading NPP members came out in swagger not seen in a long time, to reassure supporters that their lead was so unassailable that even if the rest of undeclared votes were given to the NDC, their candidate will still emerge president.
A pall of gloom descended on supporters of the ruling party as it became increasingly clear that the battle has been lost. Many of the most active ruling party partisans on cyberspace shut up shop and vamoose. Even the body languages of leading NDC officials bespoke lack of conviction as they sought to reassure their troops that victory is still a possibility.
The die was cast when more media houses joined the MG to call the election for the NPP.
Nana Akuffo-Addo's claim of victory was bolstered when the other five contestants came out to concede to him. International observers, among them Former presidents Thabo Mbeki (South Africa) and the leader of the AU Election Observation Mission, Hifikepunye Lucas Pohamba (Namibia), were said to have insisted on the correct thing been done.
Former UN Secretary General Kofi Annan came out with a loaded statement that all but urged the incumbent to do the honourable thing and concede. Mr. Annan said: "In the spirit of democracy, I call on the losers to concede as quickly as possible to defuse tensions and allay uncertainties. Let me take this opportunity to congratulate the five candidates who have already done so in light of the preliminary results and clear trends."
Finally, the president made the much-awaited phone call to his main rival. His statement read: "My fellow Ghanaians,
My Brothers and Sisters,
A while ago, I phoned Nana Addo Dankwa Akuffo-Addo and offered him my congratulations for emerging the winner of the 2016 Presidential Elections. Every election is a hard-fought battle, and this one was no exception. For those of us who choose to be contenders and go into electoral contests, we go about it as a win-lose proposition.
We believe that only one person can emerge as the winner. And while it is true that only one person can be elected President, in reality, and certainly in a democracy such as ours, every election is an opportunity for the people of this nation to express their will, to have their say in who will lead them in the shaping of Ghana's future.
In this way, each victory belongs to the people. And the true winner is always Ghana.
It is precisely on account of my belief in Ghana and its future that notwithstanding the irregularities associated with this election, I have decided at this stage to congratulate the President-elect.
With this understanding, I would like to assure the people of Ghana of my commitment to the sustenance of our country's democracy and would work to ensure a smooth and peaceful transition to the incoming administration.
I remain committed to the unity and stability of our great nation.
I am profoundly grateful to the almighty God and the people of Ghana for the opportunity to serve in the high office of President.
As President, I have done my bit and made a contribution to the political, social and economic development of our country. I would have cherished an opportunity to do even more, but I respect the will of the Ghanaian people.
I would be remiss if I did not take a moment to express my deepest gratitude to the individuals who have made this journey with me.
I wish to thank all of the people who worked on my campaign for their dedication and tireless efforts."
And almost belatedly, on Friday, the EC Chair, Charlotte Osei, came out to confirm a deal already sealed.
Nana Akufo-Addo, a scion of a political and royal family was born in Accra, Ghana in 1944. His father was Ghana's third Chief Justice from 1966 to 1970, Chairman of the 1967-1968 Constitutional Commission and the President of Ghana from 1970 till 1972. He studied law in the UK and was called to the English Bar (Middle Temple) in July 1971, and to the Ghana bar in July 1975. He worked in France for several years before he co-founded the law firm Prempeh and Co. in Accra. His foray into politics started in the 1970s when he joined the People's Movement for Freedom and Justice, an organization formed to oppose the General Acheampong-led Supreme Military Council's Union Government proposals. In May 1995, Akufo-Addo helped to form the Alliance for Change, which opposed and organized demonstrations against the human rights violations of the Rawlings presidency.
Many were skeptical when in March 2014, Akufo-Addo announced his decision to seek his party's nomination for the third time. But he won his party's nomination by a wide margin -94.35% of the votes.
Nana Akufo-Addo and his vice focused their campaign on the economy, promising to stabilize the country's foreign exchange rate and reduce unemployment levels. He spent considerably less money that his main rival. He even refused to participate in the Presidential Debate.
The announcement of the president's conceding resulted in supporters of the NPP releasing eight-years of pent-up frustration with wild jubilations. Congratulations poured in thick and fast, from far and wide, as Ghana, once again, successfully prosecuted a major election with minimum mayhem.
Ambassador Johnnie Carson of the National Democratic Institute, an election observer, gushed: "I think Ghanaians should be extraordinarily proud of themselves. Ghana has distinguished itself in the last two and a half decades with integrity and transparency. It is a gold standard for democracy in Africa."
The European Union Election Observation Mission was more circumspect. While its statement acknowledged that Ghana "largely escaped the violence many had feared," it pointed to some areas of concern. "The misuse of incumbency, including unequal access to state media, and unaccountable campaign financing were areas Ghana could address in the future."
Akuffo-Addo's victory was assured and made possible because Ghanaians were fed up with poor economic performance, parlous service delivery, high cost of living, rampant and unbridled corruption, and arrogance by state and ruling party officials.
While Nana Addo's running mate, Dr. Mohamadu Bawumia robustly tore into the ruling party's economic performance, NDC officials responded only with abuse and insults. Dr. Bawumia even taunted the NDC with a long list of 170 questions. NDC officials replied by heaping more insults.
There is absolutely no doubt that Ghanaians groan under severe austerity measure. Citizens find it hard to make ends meet. Unemployment is very high and there are few prospects for job opportunities. Even those lucky to have a job find it difficult to pay ever-rising utility bills which skyrocket on almost monthly basis.
As citizens complain, officials continue to paint illusory picture of a booming economy. Citizens rightly asked if their rulers live in a parallel universe. They asked why a booming economy was forced to turn to the International Monetary Fund (IMF) in 2015.
President Mahama's touted massive infrastructural development was blighted by plenty unresolved cases of corruption. The most glaring was that of Financial Engineer, Alfred Woyome, who is widely believe to be a NDC financier. Mr. Woyome was ruled to have conned the government of some 54million cedis. For unfathomable reasons, the government refused to execute a Supreme Court ruling to make him pay the money back. And Ghanaians felt affronted when few days to the elections, it emerged that the same Mr. Woyome had received another major contract from his NDC pals in government.
An African adage says that pride goeth before a fall. Any post-mortem will show that the NDC fell because its officials were too full of themselves. Power definitely got into their heads. Politics is also about perception. It was not difficult for citizens to see how those that rule them appear to inhabit a different planet, not only by their insane display of opulence amidst extreme poverty, conspicuous capricious consumption, but also by their utterances.
As citizens sleep in darkness and groan under high cost of living, officials ask them if they are too blind to see the various infrastructures Mr. Mahama was building all over town. Many of the more arrogant officials started comparing Mahama to the Great Nkrumah. A sacrilege.
A noted commentator, Manasseh Awuni was forced to fire back: "Any idiot can borrow money and build schools. Any idiot can borrow money and build hospitals. Any idiot can borrow money and build an interchange. What an idiot might not be able to do is to buy a drone for Felix Kwakye Ofosu to take aerial shots of the projects and flood social media with them. That's the innovation here. Building infrastructure would have been an extraordinary achievement if the government had used innovative ways to raise funds on its own to build them.
Here is a common sense explanation of what is happening. Some of the loans will be repaid by our children and grandchildren. So it is like your grandfather borrowing money in your name to build a house, for which you will pay, and then your grandfather wants you to call him the best in the world. Because you need the house, you may praise him for the initiative, but there's nothing extraordinary about it. Governance is a much more serious business than borrowing money to build."
Nana Akufo-Addo inherit an economy that is in serious comatose. There is very high unemployment, especially among the youth. Various initiatives for youth employment became avenue for looters to seriously pilfer the national kitty. According to a report by a board of enquiry, between 2009 and 2012, about 80% of the nearly one billion cedis pumped into the Ghana Youth Employment and Entrepreneurial Development Agency (GYEEDA). was stolen by ministers, government officials and their accomplices in the private sector.
Another veritable source for treasury-looters was the Savannah Accelerated Development Authority (SADA), which was meant to bring much needed development to the deprived Northern part of Ghana. Corruption and mismanagement brought SADA to its knees.
The case of Zoomlion, a garbage collecting firm, and other service providers under the GYEEDA also revealed reckless financial malfeasances, with state officials colluding with private firms to swindle the government.
According to a report, government's contract with Zoomlion allows the company to retain GH¢ 400 as management fees while it pays workers GH¢100, only. Given the number of beneficiaries managed by Zoomlion, the company retains over GH¢ 15 million every month as management fees. The same company continue to get paid even when the it was ruled that its contract with the government was void.
Despite all the noises officials made, electricity blackout (Dumsor in local parlance) still plague the country. The countries main rivers have been destroyed by activities of illegal gold miners – so-called Galamseys.
Ghanaians are patient and very tolerant. They also appear to have infinite capacity to endure hardship, if they can see that their leaders are doing their best to solve basic challenges. What they cannot stomach is to see arrogant officials telling them barefaced lies
Ghanaians will welcome their new president with enthusiasm, but Nana Akufo-Addo should not forget that he inherits a country with battered economy, whose citizens expect immediate cure to all their ailments.
About the Author
Femi Akomolafe is a passionate Pan-Africanist. A columnist for the Accra-based Daily Dispatch newspaper and Correspondent for the New African magazine. Femi lives in both Europe and Africa, and writes regularly on Africa-related issues for various newspapers and magazines.
Femi was the producer of the FOCUS ON AFRICANS TV Interview programme for the MultiTV Station.
He is also the CEO of Alaye Dot Biz Limited Dot Biz, a Kasoa-based Multimedia organisation that specialises in Audio and Video Production. He loves to shoot and edit video documentaries.
His highly-acclaimed books ("Africa: Destroyed by the gods," "Africa: It shall be well," "18 African Fables & Moonlight Stories" and "Ghana: Basic Facts + More") are now available for sales at the following bookshops/offices:
Freedom Bookshop, near Apollo Theatre, Accra.
The Daily Dispatch Office, Labone – Accra
WEB Dubois Pan-African Centre, Accra
Ghana Writers Association office, PAWA House, Roman Ridge, Accra.
African Kitchen in Amsterdam Bijlmer
Where to buy them online:
On Lulu Books:
18 African Fables & Moonlight Stories https://goo.gl/Skohtn
Ghana: Basic Facts + More: https://goo.gl/73ni99
Africa: Destroyed by the gods: https://goo.gl/HHmFfr
Africa: It shall be well: https://goo.gl/KIMcIm
Africa: it shall be well
on Kindle books: https://www.createspace.com/4820404
on Amazon books: http://goo.gl/QeFxbl
on Lulu Books: https://goo.gl/SQeoKD
Africa: Destroyed by the gods
on Kindle books: https://www.createspace.com/4811974
on Amazon books: http://goo.gl/1z97ND
on Lulu Books: http://goo.gl/KIMcIm
My Lulu Books page: http://www.lulu.com/spotlight/FemiAkomolafe
Get free promotional materials here:
Africa: it shall be well: http://alaye.biz/africa-it-shall-be-well-introduction-in-pdf/
A FREE Chapter of 'Africa: It shall be well' could be downloaded here: http://alaye.biz/africa-it-shall-be-well-a-free-chapter/
Africa: Destroyed by the gods (How religiosity destroyed Africa) http://alaye.biz/africa-destroyed-by-the-gods-introduction/
A FREE Chapter of 'Africa: Destroyed by the gods' could be downloaded here: http://alaye.biz/africa-destroyed-by-the-gods-free-chapter/
Contact Femi:

Femi's Blog: www.alaye.biz/category/blog
Website: www.alaye.biz
Femi on Amazon https://www.amazon.com/author/femiakomolafe
Twitter: www.twitter.com/ekitiparapo
Facebook:https://www.facebook.com/alayeclearsound;
Gmail+: https://plus.google.com/112798710915807967908;
LinkedIn: www.linkedin.com/in/femiakomolafe
Email: fakomolafe@gmail.com
Kindly help me share the books' links with your friends and, grin, please purchase your copies.
Comradely,
Femi Akomolafe





by

Alayedotbiz, Blog, interview, News, Polemics Akufo-Addo, articles by Femi Akomolafe, femi akomolafe, ghana politics, john dramani mahama, President Akufo-Addo