Posted by By Akogun Akomolafe at 6 February, at 05 : 18 AM Print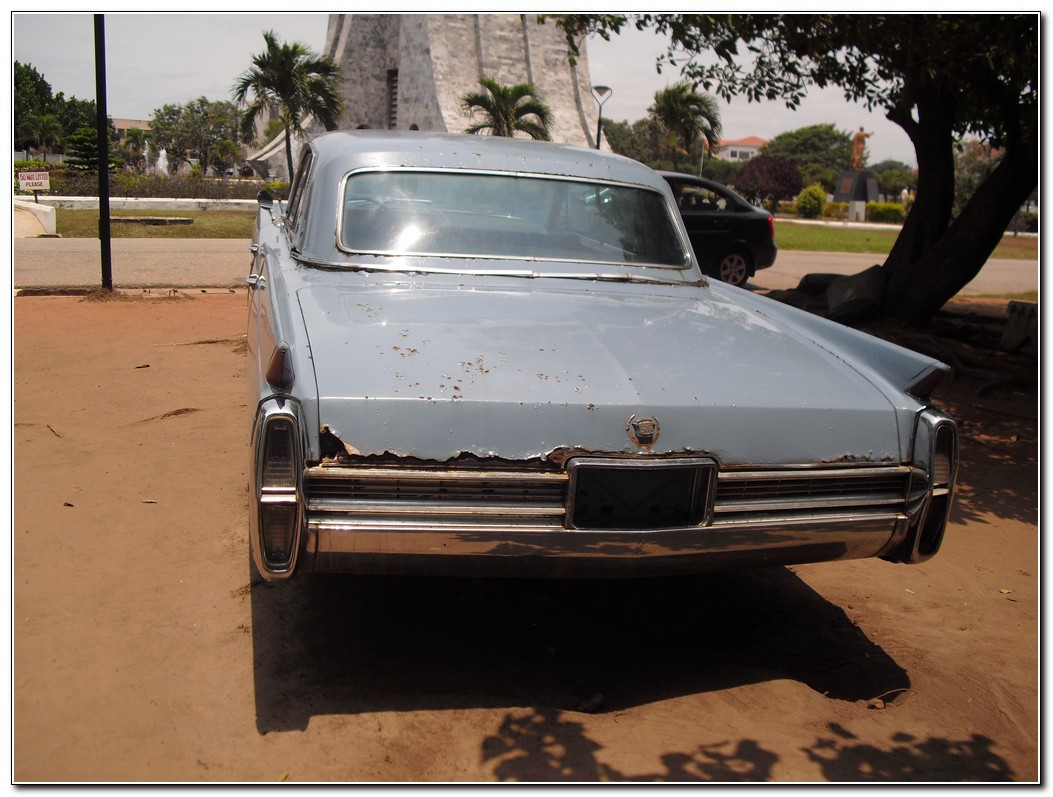 by

A recent visit to the Nkrumah's Mausoleum (NM) in Accra brought tears to my eyes. The woebegone look of the place is enough to dishearten any patriotic African. Many of the landmark trees planted by world figures are lean, shriveled and dying. The grass is brown, shaggy, and ill-kept. The walls are badly in need of fresh paint.
Dry, dusty, dirty, and beggarly, the whole place looks like an abandoned project in dire need of care and attention. The NM is simply an eyesore that should embarrass those that are charged with its maintenance.
It is a crying shame that this unkempt national edifice remains on top of Ghana's tourist attractions list.
Ok, ok, it is harmattan time in West Africa and everything is dry and dusty, but should it be beyond the competence of those in charge of the mausoleum to dig a borehole and use it to keep the place green, lush and healthy-looking all year round?
Without a doubt, Nkrumah is the greatest brand name in Ghana. And it shouldn't be too difficult to get funding to keep his resting place in a very decent condition.
It shouldn't require a degree in marketing to come up with marketing strategies to make the Nkrumah Mausoleum a viable and very profitable commercial entity. Some of the companies that the Osagyefo set up are still in business, and they could be solicited for the fund to help in maintaining his mausoleum. To supplement the stipends from the government and entrance fees, souvenirs could be sold and even a restaurant and bar opened at the place to generate funds for its upkeep.
During my visit to the USA, I saw how Americans deified one of their great presidents, Abraham Lincoln, at the Lincoln Centre (LC), in a hallowed, almost shrine-like edifice – truly a sight to behold.
Thousands of tourists pay good money to visit the LC. The American capital, Washington, is dotted with several monuments that are all well-kept and continue to generate good money to the authorities.
If the wretched ambiance of the NM elicited tears in me, I was truly distressed when I saw the official car used by Ghana's first president.
For Christ's sake, anything belonging to Nkrumah should be a treasured national asset. But sadly, the authorities display the car in open space without any ceremony and absolutely no shelter at all. The old car clearly shows the abandon it has suffered over the years.
The NM is located very close to the Atlantic Ocean and we all know that seawater and breeze contains elements that easily wrecks havoc on cars. I find it difficult to believe that any sane person will approve the open display of such an important national treasure.
I hope that the publication of these pictures will spur the authorities to build a befitting garage where this singular national treasure could be displayed, and not left to the vagaries of the elements.
(c) Femi Akomolafe, 2012
Luckily, our efforts yielded some very positive results. Read this:
Glass House For Storage Of Nkrumah's Vehicles Complete
Date: 22-Sep-2012
The construction of a glasshouse to accommodate the two vehicles of Ghana's first President, Dr Kwame Nkrumah, is complete.
The glasshouse, which is located at the Kwame Nkrumah Memorial Park in Accra, currently houses one of the vehicles of Dr. Nkrumah. Dr. Nkrumah left behind a Cadillac and a Rolls Royce.
The Rolls Royce is under the custody of State Protocol but the refurbished Cardillac is in the glasshouse.
When Vice President, Mr. Kwesi Amissah-Arthur, paid a brief visit to the project site, Thursday morning, he described the project as a good one.
He said the facility was an important piece of history and stressed the need for a research team to come out with information on the driver of the vehicle to be attached to the facility.
The Member of Parliament for Ellembelle and Deputy Minister for Energy, Mr. Emmanuel Armah Kofi Buah, who accompanied the Vice- President, said his constituency was organising a 2012 Founder's Day Celebration at Nkroful.
"This year, the youth of Nzema, through their voices and sporting activities, will celebrate the First President of the Republic of Ghana and our own native hero, Osagyefo Dr. Kwame Nkrumah," he said.
Mr. Paul Boateng, a marketing consultant who was instrumental in the construction of the facility, which was funded by Getfund under the supervision of the Ministry of Culture and Chieftaincy Affairs, said Ghana must do everything possible to uphold the legacy of Dr. Kwame Nkrumah.
About the Author
Femi Akomolafe is a passionate Pan-Africanist. A columnist for the Accra-based Daily Dispatch newspaper and ModernGhana, and Correspondent for the New African magazine, Femi lives in both Europe and Africa and writes regularly on Africa-related issues for various newspapers and magazines.
Femi was the producer of the FOCUS ON AFRICANS TV Interview programme for the MultiTV Station.
He is also the Man and Machine Coordinator at Alaye Dot Biz Limited, a Kasoa-based Multimedia organisation that specialises in Audio and Video Production. He loves to shoot and edit video documentaries.
His highly-acclaimed books ("Africa: Destroyed by the gods," "Africa: It shall be well," "18 African Fables & Moonlight Stories" and "Ghana: Basic Facts + More") are available for sales at the following bookshops/offices:
Freedom Bookshop, near Apollo Theatre, Accra.
The Daily Dispatch Office, Labone – Accra
WEB Dubois Pan-African Centre, Accra
Ghana Writers Association office, PAWA House, Roman Ridge, Accra.
African Kitchen in Amsterdam Bijlmer
Where to buy them online:
On Lulu Books:
18 African Fables & Moonlight Stories https://goo.gl/Skohtn
Ghana: Basic Facts + More: https://goo.gl/73ni99
Africa: Destroyed by the gods: https://goo.gl/HHmFfr
Africa: It shall be well: https://goo.gl/KIMcIm
Africa: it shall be well
on Kindle books: https://www.createspace.com/4820404
on Amazon books: http://goo.gl/QeFxbl
on Lulu Books: https://goo.gl/SQeoKD
Africa: Destroyed by the gods
on Kindle books: https://www.createspace.com/4811974
on Amazon books: http://goo.gl/1z97ND
on Lulu Books: http://goo.gl/KIMcIm
My Lulu Books page: http://www.lulu.com/spotlight/FemiAkomolafe
Get free promotional materials here:
Africa: it shall be well: http://alaye.biz/africa-it-shall-be-well-introduction-in-pdf/
A FREE Chapter of 'Africa: It shall be well' could be downloaded here: http://alaye.biz/africa-it-shall-be-well-a-free-chapter/
Africa: Destroyed by the gods (How religiosity destroyed Africa) http://alaye.biz/africa-destroyed-by-the-gods-introduction/
A FREE Chapter of 'Africa: Destroyed by the gods' could be downloaded here: http://alaye.biz/africa-destroyed-by-the-gods-free-chapter/
Contact Femi:

Femi's Blog: www.alaye.biz/category/blog
Website: www.alaye.biz
Femi on Amazon https://www.amazon.com/author/femiakomolafe
Twitter: www.twitter.com/ekitiparapo
Facebook:https://www.facebook.com/Femi Alaye;
Gmail+: https://plus.google.com/112798710915807967908;
LinkedIn: www.linkedin.com/in/femiakomolafe;
YouTube Channel: https://www.youtube.com/user/fakomolafe
Email: fakomolafe@gmail.com
Profile on New African magazine: http://newafricanmagazine.com/tag/femi-akomolafe/
Kindly help me share the books' links with your friends and, grin, please purchase your copies.
Comradely,
Femi Akomolafe





by

Blog, News, Polemics alaye dot biz, alayewebtv, articles by Femi Akomolafe, Books by Femi Akomolafe, femi akomolafe, Femi Akomolafe books, femi akomolafe on kwame nkrumah, ghana monuments, ghana tourism, kwame nkrumah, nkrumah masoleum, Nkrumah's Car