Posted by By Akogun Akomolafe at 14 November, at 20 : 08 PM Print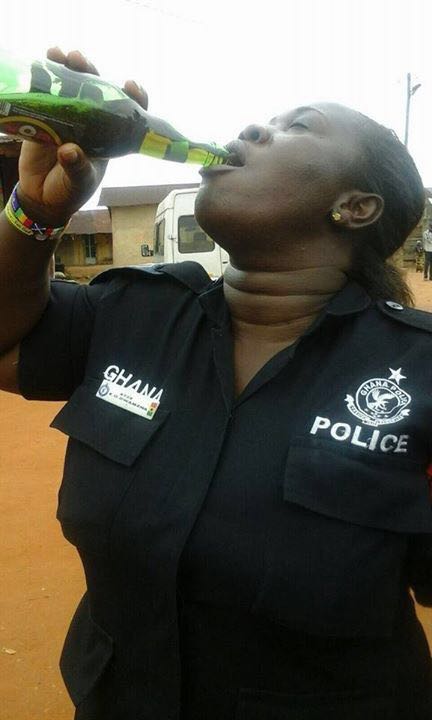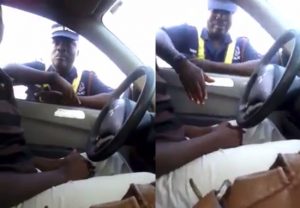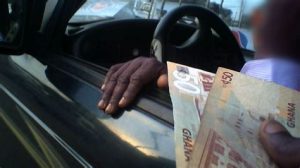 Hardly a day passes without a report of a police sleaze being mentioned here or there. In order to find out why the reputation of our men in blacks have suddenly nose-dived so badly, I went to look for some answers at the Police headquarters in Accra.
The Public and Corporate Affairs department of the Ghana Police is housed in an ultra-modern office complex. It has enough modern amenities to rival the best in any of the multi-national companies operating in the country. Thirty-something year-old ACP Ben Yawson heads this image-making outfit. I met him early last week and we had the following chat.
"How concerned are the police authorities on the newly-acquired notoriety of the police?" I believe in the shoot-straight-from-the-hip type of journalism.
Ben Yawson took offense. His dark Ashanti face registered profound anger: "How dare you? What notoriety. Look, here…" He boomed in a heavy baritone that resonates across the vast room.
I raised my hand in mock surrender. "Ya Abotare," I said, trying to placate the fuming PR man. "You don't have to shoot the messenger!"
"Ya abotare, my foot! Messenger, some messenger you are!" He sneered disdainfully. "What effrontery! Coming here to start casting ugly aspersions on the integrity of the fine men and the women who are, literally, putting their lives at stake so that you and I can sleep well on our fine beds. No, we would not accept it. We are not going to tolerate these stupid lies." He cried and pounded his fists on the table flamboyantly.
He walked to a side cabinet, ruminated inside and produced a bottle of Mandigo and one of Castle Bridge. He fished a glass from somewhere, blew the dust away and poured generous portions of his poisons into the glass. He gulped the whole concoctions down in one neat swallow. He belched contentedly and wiped his Spanish moustache with the back of his hand. "That's better!" He announced and beamed a beatific smile in my direction. His dark Ashanti face gleamed with satisfaction. He returned his drinks to the cabinet without offering me a drink; I was intrigued – very un-African.
"I am just a poor journalist doing his best to earn his paychecks. I'm here to find out why if you ask the average Ghanaian to name the most corrupt organization in the land; the Police consistently top the charts. You guys are supposed to be at the forefront of fighting vices like corruption…"
"Look," ACP Yawson bellowed like an affronted Imam, "I don't believe the nonsense you newspaper people call opinion polls. Many of you have big trouble keeping a fair complement of competent staff, and you come here to bandy your nonsensical opinion polls in my face." He was obviously in a combative mood; his face smoldered in fury.
"I don't deny the fact that many newspaper houses are struggling, but we are here to talk about the public perception of the police being the most corrupt outfit in the country. Every Abena and Kwabena in Ghana knows that our police are corrupt beyond redemption. Even a child born today knows about policemen collecting bribes from taxi and trotro drivers. And let's not forget policemen threatening to shoot to kill because of five thousand cedis bribes. And what about reports of exhibits literally growing wings and flying out of police custodies? And how about the latest reports of seized cocaine magically turning into Kokonte at police stations, and of remanded suspects being allowed to escape on their way to courts? These are very serious image problems for the police and we are just trying to find out what the police authorities are doing about it."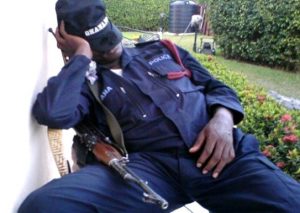 "Please, please, enough of the ill-founded outrageous mendacities about the police. Who told you about cocaine turning into Kokonte in police custody?"
"It was widely reported that the police authorities have indicted some officers in connection with a cocaine haul at Tema that miraculously turned into Kokonte in their custody.
"You see where the problems lies, Mr. reporter, Our people are fond of mixing their facts with their fictions, and our lazy reporters just blare the whole made-up concoctions of the front pages without bothering to check the veracity or otherwise of what they are publishing. And they expect us to waste our times responding to their silly little lies."
"Are you denying that the story, as published, is untrue?"
"I am not here to dignify rumours and innuendoes with comments. We have better employment for our time here, unlike some people that I know."
"Are you, in effect, saying that properly informing the public does not form a part of your purview?"
"I am not saying anything of such. And please stop trying to put words into my mouth." ACP Yawson snarled.
"The trouble is, sir, if you'll pardon me, you're not saying anything at all."
"Couldn't the trouble have been that you were not listening?" He countered with gusto.
"In all fairness, sir, I've done everything possible to get you to tell us your own side of the story, in order for us to produce a balanced story. The public have inundated us with stories of corruption in the police force; before we go to print we are here to find out what the police authorities are doing about this general perception of the police as the most corrupt agency in the country."
"Now, you're not being fair to me," the PR retorted sharply. "I have gone out of my way to be as helpful as humanly possible. What I strongly object to is the sweeping generalization portraying the fine men and women of the Ghana Police Force as capricious drug pushers and smarmy criminals."
"Can you tell us what the police authorities are doing about policemen extorting money from commercial vehicle drivers…"
"There you go again with your wild accusations. Did any driver ever tell you that a policeman forcibly took money from him?"
"No, but…"
"You see," ACP Yawson smiled one of his adorable smiles, "You see what I mean? All you're basing your so-called story upon are hearsays and outright lies."
"With all respect, sir, that's not true. The commercial drivers are complaining that members of your force daily mount illegal roadblocks in the morning, afternoon and in the evening ostensibly to check vehicle particulars. But according to them these roadblocks are nothing but illegal toll gates, where police officers make fortunes from hapless drivers. They even give the figures as five thousand cedis for taxis, and ten thousand cedis for trotro and tippers. And everyone in Ghana knows what the drivers put in the license before they give it to the police officer."
"Arrggghhh." ACP Yawson erupted into laughter and his dark Ashanti face creased into a beautiful map of hilarity. "For your information, Mr. reporter, the police authorities keep close taps on all its personnel. No officer of the Ghana Police can, on his or her own volition, decide to go out and man roadblock. All roadblocks are authorized and are properly monitored. Wherever you see a roadblock, be assured that it's authorized and that the officers on duty are on authorized assignment."
"Are you denying that drivers put money in driving license?"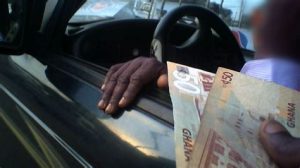 "You see how misconception can turn into perception? If our drivers forget some money in their license and hand it over the officer, and the officer hands it back. In most cases the grateful driver simply asks the officer to keep it. And in other cases the money simply fall down and as the vehicle moves off, the officer sees the money on the ground, what's he or she supposed to do, throw it away?"
"Immmmm, I see," I said, shaking my head. "It is also said that top police officers collect their share of the illegally collected toll, and that officers who do not deliver their assigned quota are simply re-assigned to other, mostly clerical, duties."
"Said by whom?" The police spokesman wanted to know.
"Are you denying the fact that many police officers are living way beyond their legitimate salary?"
"I decline to comment on rumours and wrongly-formed perceptions. It's not a secret that most Ghanaians are not living on their salaries alone? Many officers are also moon-lighting as security guards, some are into other trades like masonry, fitters etc, etc.
"What about cocaine turning into Kokonte and all that?"
"The trouble with you newspaper people is that you expect a grossly under-resourced agency like the Ghana police to perform like their counterpart in the more developed countries. How can we when we are still saddled with resources that have not been updated since the British left our shores?"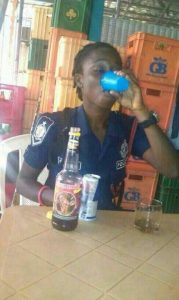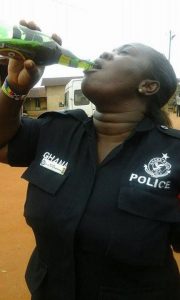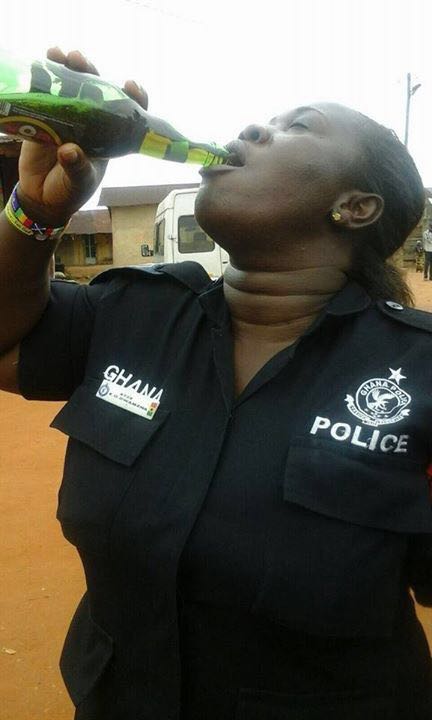 "I get the point." I said in sympathy.
"It is true. Many officers sometimes use their own money to buy locks and keys in order to safeguard exhibits."
"But don't your men know the difference between cocaine and Kokonte?"
"Do you know the difference? The truth is that most of our men and women know next to nothing about narcotic crimes, which unhappily is now a phenomenon in our country. About the only thing they know is that cocaine is a whitish substance. So when they go on search and arrest mission, they simply haul in any substance that look whitish to them. And when this happens, you newspaper people go to town to denigrate the image of the police.
Just then ACP Yawson mobile phone vibrates and chimes a melodious tone. The PRman coolly pick it up and listen up. He suddenly jerks up and sits straighter in his chair. He mutters a lot of 'yes, sirs,' and shot out of his seat like a launched rocket.
"Bossman wants to see me in a jiffy." He donned his cap and re-adjusts his uniforms as he unceremoniously ushered me out of his office.
About the Author
Femi Akomolafe is a passionate Pan-Africanist. A columnist for the Accra-based Daily Dispatch newspaper and ModernGhana, and Correspondent for the New African magazine, Femi lives in both Europe and Africa, and writes regularly on Africa-related issues for various newspapers and magazines.
Femi was the producer of the FOCUS ON AFRICANS TV Interview programme for the MultiTV Station.
He is also the Man and Machine Coordinator at Alaye Dot Biz Limited, a Kasoa-based Multimedia organisation that specialises in Audio and Video Production. He loves to shoot and edit video documentaries.
His highly-acclaimed books ("Africa: Destroyed by the gods," "Africa: It shall be well," "18 African Fables & Moonlight Stories" and "Ghana: Basic Facts + More") are available for sales at the following bookshops/offices:
Freedom Bookshop, near Apollo Theatre, Accra.
WEB Dubois Pan-African Centre, Accra
Ghana Writers Association office, PAWA House, Roman Ridge, Accra.
Where to buy them online:
On Lulu Books:
18 African Fables & Moonlight Stories https://goo.gl/Skohtn
Ghana: Basic Facts + More: https://goo.gl/73ni99
Africa: Destroyed by the gods: https://goo.gl/HHmFfr
Africa: It shall be well: https://goo.gl/KIMcIm
Africa: it shall be well
on Kindle books: https://www.createspace.com/4820404
on Amazon books: http://goo.gl/QeFxbl
on Lulu Books: https://goo.gl/SQeoKD
Africa: Destroyed by the gods
on Kindle books: https://www.createspace.com/4811974
18 African Fables & Short Stories: https://goo.gl/s9tWAf
My Amazon Page: https://goo.gl/SPFYVE
on Amazon books: http://goo.gl/1z97ND
on Lulu Books: http://goo.gl/KIMcIm
My Lulu Books page: http://www.lulu.com/spotlight/FemiAkomolafe
Get free promotional materials here:
Africa: it shall be well: http://alaye.biz/africa-it-shall-be-well-introduction-in-pdf/
A FREE Chapter of 'Africa: It shall be well' could be downloaded here: http://alaye.biz/africa-it-shall-be-well-a-free-chapter/
Africa: Destroyed by the gods (How religiosity destroyed Africa) http://alaye.biz/africa-destroyed-by-the-gods-introduction/
A FREE Chapter of 'Africa: Destroyed by the gods' could be downloaded here: http://alaye.biz/africa-destroyed-by-the-gods-free-chapter/
Femi's Blog: www.alaye.biz/category/blog
Website: www.alaye.biz
Femi on Amazon https://www.amazon.com/author/femiakomolafe
Femi Akomolafe's Lulu Books page: http://www.lulu.com/spotlight/FemiAkomolafe
Twitter: www.twitter.com/ekitiparapo
Facebook: https://www.facebook.com/FemiAlaye
Gmail+: https://plus.google.com/112798710915807967908;
LinkedIn: www.linkedin.com/in/femiakomolafe;
YouTube Channel: https://www.youtube.com/user/fakomolafe
Email: fakomolafe@gmail.com
Profile on New African magazine: http://newafricanmagazine.com/tag/femi-akomolafe/





by

Blog, Polemics, Random Musings, Satire, Short Stories articles by Femi Akomolafe, Books by Femi Akomolafe, femi akomolafe, Femi Akomolafe books, Ghana Police Farce