Posted by By Akogun Akomolafe at 4 September, at 15 : 28 PM Print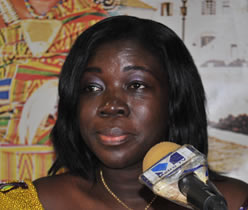 What exactly is wrong with us in Ghana / Africa?
At a press conference, former Dutch Football coach, Louis van Gaal, was so exasperated by the stupidities he saw around him that he exclaimed: "Am I so clever, or are you people so stupid?"
Of course, the press descended on the coach like ton of bricks, but the point has been made.
Some things make you so angry that you wondered how you come to inhabit the same space with some of your homo-sapiens fellow beings.
The type of arrant clowning and outburst of some people in our dear republic, makes you wonder if they are endowed with the same thinking capacity that should be native to any human being.
You also wonder what exactly they do with the thing they called brain in their skull.
It is difficult for us sometimes to imagine if some of our people have any brains at all.
We have wailed, we have lamented, we have pontificated, and we have done everything possible with this column to point out some of our short-comings as a people.
We have said, several times, that given our God-given mineral resources, we have no business being poor. But for our inability to employ our brains in the right directions, there is absolutely no reason why we should not be competing with the best of the human species, instead of wallowing in self-induced poverty engendered by our nescience.
Where possible, we have also offered some ideas on how we believe things can be done to improve our situation in Ghana/Africa.
It is not that we know too much or that we have too much time on our hands. We also do not claim to be better than everyone else, but only because we have lived in other societies and have the experience that we believe could be of benefit.
We have also observed how other people go about building their decent, disciplined and efficient societies where things simply work.
We never pretend to have all the answers, but we intend to encourage people to start to use their brains to generate ideas, without which we will remain in the quagmire of poverty and ignorance.
Given the lack of seriousness or urgency we see on the part of those that govern us, it is oftentimes very difficult to imagine what type of cuckoo land our elite live.
Or is there something in our institutions that makes the inhabitants bereft of ideas?
What type of schools did our officials attend? What type of education did they receive? What type of books do they read, if any at all? Where do they get their information from? From where\what did they generate their ideas?
All these are necessary and important questions, because some of the banalities and hare-brained ideas we hear from our officials cannot be attributed to any process of deep-thinking.
What are we to make of the idea from the Minister of Tourism to promote pilgrimage to her so-called Holy land, Israel?
How on earth do we have a Minister in the Republic of Ghana promoting pilgrimage to Israel?
How come that the President has not deemed it fit and proper to fire this imbecilic Minister?
How do we sit down as people and allow our paid official get away with these types of ill-considered, ill-thought jejune ideas?
Why do our elected officials easily forget that Ghana is, constitutionally, a secular state and that our officials, elected and appointed, should not make it their business to promote their brand of piety?
When would those that govern us learn that their religion is their private affairs, and that they have no power to force on us their ideas of god or of holy land?
According to the report, still undenied: "The Minister of Tourism, Culture and Creative Arts, Elizabeth Ofosu-Agyare, has launched One People Travels, a tour operating agency which is organising a nine-day pilgrimage to Israel to enhance the faith of Christians in Accra.

The pilgrimage to Israel which is a spiritual journey would enable Christians to trace the footsteps of Jesus Christ.

Speaking at the launch, the tourism minister expressed the hope that after Christians had returned from their pilgrimage to Israel, they would also cultivate the habit of visiting some tourist attractions in Ghana.

She said Ghana was a preferred tourism destination, given its peculiar location in the centre of the world. She therefore advised One People Travels to endeavour to fulfil all the promises it had made and also ensure that there were no hidden costs in the package it offered.

The Israeli Ambassador to Ghana, Sharon Bar Li, on her part said pilgrimage was a pure and spiritual leapfrog that helped to reinforce one's faith, adding that Israel is an island of safety and stability in the Middle East, and invited Ghanaian pilgrims to her country.

The nine-day pilgrimage to Israel starts from November 2013, to January 2014. The all-inclusive package of $2,500 comprises flight, airport taxes, visas, accommodation, meals, entrance fees to all sites, transportation in Israel, assistance by licensed tour guides and insurance materials.
http://news.peacefmonline.com/travel/201309/173348.php
God have mercies.
So, this pretty Minister (she is beautiful, I tell no lies), sits in the cabinet of the government of Ghana and tell the President that she is going help sponsor pilgrims to Israel!
Honest, were I the president, I won't have slapped her (a la Arkaah) but would have fired her on the spot.
And to the important question of where our officials get their information/ideas from, we wondered if the Minister read this piece of important (at least for us in Africa) about how Israel plans to deport thousands of Africans to Uganda.
See here: http://www.theguardian.com/world/2013/aug/30/israel-plan-deport-african-migrants-uganda
"Israel confirms plan to deport African migrants to Uganda:
Israel plans to soon begin deporting migrants from Eritrea and Sudan, who number more than 50,000, back to Africa via Uganda, officials said.
Israel regards most of the Africans as illegal visitors in search of jobs, and largely rejects the position of human rights groups that many fled their countries in search of political asylum.
A statement late on Thursday from interior minister Gideon Sa'ar said Israel would soon begin a staged process of deporting the migrants, most of whom have crossed the border with Egypt since 2006.
Sa'ar said an agreement had been reached with Uganda to absorb the "infiltrators", who would soon be urged "to leave of their own free will".
Sa'ar said the prime minister's special envoy Hagai Hadas had obtained Uganda's consent, Haaretz reported.
The chairwoman of parliament's committee on foreign workers, Michal Rozin, speaking by phone, said there were "rumours" that Uganda may have agreed to the arrangement in exchange for a deal for money and weapons.
There was no immediate comment from officials in Kampala.
"In the first stage, we will focus on raising awareness within the population of infiltrators while helping them with the logistics of their departure, including costs, airfare and dealing with the possessions they accumulated while they were in Israel," Sa'ar said.
Later the state would set a deadline by which "certain sectors within the infiltrator population" would be asked to "willingly" leave the country.
Once the deadline passed, the state would stop issuing extensions on visas and would begin enforcing laws that prohibit the employment of illegal migrants, the minister said.
Rozin urged the government to expose more details of the plan, including whether there were assurances that the migrants would not be forcibly repatriated to Sudan or Eritrea, saying that in these countries "we know many would be at risk of their lives".
Human rights groups say Israel has jailed hundreds of African migrants and taken other steps to get them to agree to leave the country.
A few thousand are believed to have left Israel in the past year since a law enacted in 2012 authorising migrants who lack any official residence permits to be jailed for up to three years, said Sigal Rozen, policy co-ordinator for Hotline for Migrant Workers (HMW), an Israeli human rights group.
In July, a group of 14 Eritreans were repatriated after receiving $1,500 each from Israeli authorities, in what HMW denounced at the time as a "grave human rights violation", citing Eritrea's poor human rights record.
At least one group of Africans was flown out of Israel to South Sudan in the past year and other migrants have been offered cash to leave. Some 2,000 Africans are being held in the southern detention centres."
It is pretty sad that our nation is saddled with officials who appear totally oblivious to what happens in the international fora.
No properly educated, conscious and patriotic African will do anything to promote anything to do with a rabidly racist state like Israel.
The racism of the State of Israel is so pervasive and so well-documented that it beggars belief that a Minister in the Republic of Ghana can claim blissful ignorance.
Or do we now have situations whereby officials allow their personal religion to becloud their sense of propriety?
To begin with, a minister of tourism should be more interested in how to invite people to come and spend money looking at our tourism sites than in looking for ways to send our people to foreign lands to go and spend money.
Or pray, how does a pilgrimage to Israel promote tourism in Ghana?
I won't like to think that the Minister is in the pay of the Israeli authorities.
So, we have a Minister of the republic of Ghana, promoting the idea of making our people go to spend US$2, 500 in Israel. And this minister collects salaries from us, get a free accommodation and car to boot, and we keep on wondering why we remain poor!
Tchaah!
About the Author
Femi Akomolafe is a passionate Pan-Africanist. A columnist for the Accra-based Daily Dispatch newspaper and Correspondent for the New African magazine. Femi lives in both Europe and Africa, and writes regularly on Africa-related issues for various newspapers and magazines.
Femi was the producer of the FOCUS ON AFRICANS TV Interview programme for the MultiTV Station.
He is also the CEO of Alaye Dot Biz Limited Dot Biz, a Kasoa-based Multimedia organisation that specialises in Audio and Video Production. He loves to shoot and edit video documentaries.
His highly-acclaimed books ("Africa: Destroyed by the gods," "Africa: It shall be well," "18 African Fables & Moonlight Stories" and "Ghana: Basic Facts + More") are now available for sales at the following bookshops/offices:
Freedom Bookshop, near Apollo Theatre, Accra.
The Daily Dispatch Office, Labone – Accra
WEB Dubois Pan-African Centre, Accra
Ghana Writers Association office, PAWA House, Roman Ridge, Accra.
African Kitchen in Amsterdam Bijlmer
Where to buy them online:
On Lulu Books:
18 African Fables & Moonlight Stories https://goo.gl/Skohtn
Ghana: Basic Facts + More: https://goo.gl/73ni99
Africa: Destroyed by the gods: https://goo.gl/HHmFfr
Africa: It shall be well: https://goo.gl/KIMcIm
Africa: it shall be well
on Kindle books: https://www.createspace.com/4820404
on Amazon books: http://goo.gl/QeFxbl
on Lulu Books: https://goo.gl/SQeoKD
Africa: Destroyed by the gods
on Kindle books: https://www.createspace.com/4811974
on Amazon books: http://goo.gl/1z97ND
on Lulu Books: http://goo.gl/KIMcIm
My Lulu Books page: http://www.lulu.com/spotlight/FemiAkomolafe
Get free promotional materials here:
Africa: it shall be well: http://alaye.biz/africa-it-shall-be-well-introduction-in-pdf/
A FREE Chapter of 'Africa: It shall be well' could be downloaded here: http://alaye.biz/africa-it-shall-be-well-a-free-chapter/
Africa: Destroyed by the gods (How religiosity destroyed Africa) http://alaye.biz/africa-destroyed-by-the-gods-introduction/
A FREE Chapter of 'Africa: Destroyed by the gods' could be downloaded here: http://alaye.biz/africa-destroyed-by-the-gods-free-chapter/
Contact Femi:

Femi's Blog: www.alaye.biz/category/blog
Website: www.alaye.biz
Femi on Amazon https://www.amazon.com/author/femiakomolafe
Twitter: www.twitter.com/ekitiparapo
Facebook:https://www.facebook.com/alayeclearsound;
Gmail+: https://plus.google.com/112798710915807967908;
LinkedIn: www.linkedin.com/in/femiakomolafe
Email: fakomolafe@gmail.com
Kindly help me share the books' links with your friends and, grin, please purchase your copies.
Comradely,
Femi Akomolafe
[paypal_donation]





by

Alayedotbiz, Blog articles by Femi Akomolafe, Books by Femi Akomolafe, femi akomolafe, Femi Akomolafe books, What exactly is wrong with us in Ghana / Africa?