Posted by By Akogun Akomolafe at 5 February, at 07 : 10 AM Print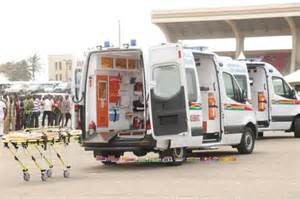 My Books on Amazon

Africa: it shall be well: https://tinyurl.com/sn64ocd
Africa: Destroyed by the gods: https://tinyurl.com/vglfk7w
18 African Fables & Moonlight Stories: https://tinyurl.com/s7qrp4p

Try and get your copy. And, please, help me share the links.

Kind regards,

Femi Akomolafe

---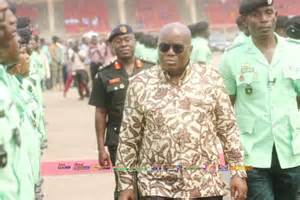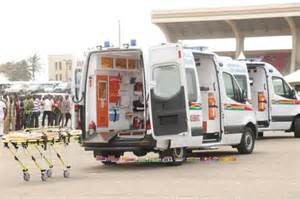 © February 3, 2020
Background: It beggars belief that the Cabinet of an important country like Ghana met, sat, deliberated and agreed that the country's CEO, Mr. President himself, should launch some imported ambulance, probably bought with loans or donated funds. With all the pomp and the pageantry that befits his office, the president duly launched them on January 28, 2020. The Heads of some Districts Assemblies also decided to follow suit, and re-launch the launched ambulances in their wards. We are yet to ascertain whether the Heads of the receiving hospitals will also do their own Christening.
Femi
Yes.
Femi, are you there?
Obviously, I am here. How else will I be chatting with you?
Sorry, the line is not very clear. Are you there?
Sure, I am here. Shoot? What noise do you have in the background? I am hearing some heavy highlife music. Can you try to lower the din?
Lower what, you! We are having a big party and you want me to go and lower the music. Lower what? Anyway, why are you not here?
Hey! You are confusing me. What are you celebrating? What is the occasion?
You! Where have you been? Where are you? We are here painting Kasoa red, lots of drinks, eatables, fine fine women with enough good news to make you dizzy with desires. You don't want to know what you are missing…
We? Who, please?
The Kasoa Vanguards of our great party, The New Patriotic Party. Ghana's Best award-winning party?
Award-winning? Which award have you won? What is the occasion?
You are not up to date, my friend. No one, no other party comes even close to our great party. Our Visionary president, Nana Dankwa Akufo-Addo has done what no president in the history of Ghana, no, make that Africa, has ever done. Talk about sheer visionary. Talk about Revolutionary. Talk about compassion. Talk about political sagacity cum economic erudition cum social interactivity…
Wow! That is a load of potent grammar. Sorry, I have not been listening to the news, what did he do?
Wow! My friend, try to stay current. Mark the date, January 28th, Twenty-twenty. The day that will go down in history as one in which a president in Africa single-handedly launched over 300 ambulances!
Ambulances?
Where have you been, Femi Akomolafe. Our noble, energetic, revolutionary, visionary, and glorious president, the Magnificent Akufo-Addo, is keeping one of his campaign promises to the good people of Ghana – One District, One ambulance. Let all the naysayers, all the critics go and hug the nearest transformer!
Please did I get you right that you and your party folks are joining the president to celebrate the launch of ambulances?
And what is wrong with that? Why do you sound so crestfallen?
Sorry, but I find it difficult to believe that I am hearing this from a person like you? Who bewitched us in Africa?
What do you mean by that?
Something dastardly must have happened to our brains to see people like you, with all your education and exposure, and after sixty years of self-governing ourselves, coming out to dance on the streets because our president is launching imported ambulances, probably procured through foreign donations or loans. I feel sad! Our contemporaries in China are wowing the world with the speed with which they built a 1,000-bed hospital, and we are here jubilating over imported ambulance! Why can't we find better employment for our time? Why can't we, in the word of Shakespeare, make our ambitions of sterner stuff? Why do we also find joy in the abysmally mediocre things? Why are we thrilled by middling things? Why should the president of Ghana, or any president for that matter, be involved in the launch of ambulances? Why should even a Minister waste his time on such inane matters? Pray, why did the man find the time for such mundane stuff? It would be a different matter were the ambulance to have been built, even assembled in Ghana…
I should have known better than to tell you; you are truly a Killjoy…
No! Damn it, I am not a killjoy or kill anything? I just find it insane that the launch of imported ambulances is enough to send us into a frenzied rhapsody of celebrations. We went to town to lambast Mr. Trump for calling us the SH word, but here we are behaving in manners that will make the rest of humanity question out sanity…
Which humanity are you talking about, my friend? Because some people are too cold-blooded to know how to celebrate or dance for joy is no reason for us to follow them. We are the Sun people; we are born to enjoy ourselves…
Oops. No one will begrudge you if you were to be having your stupid merriments at your own expense, my friend. The problem is that the rest of humanity, those you so glibly dismissed as cold-blooded do their best to help you balance your national budget, they donate every manner of donations to our governments and institutions, and they also make possible the financial facilities that allow you to party like there is no tomorrow. When do we wake up in this land and learn that there is more to life than rolling out the big drums in celebration on every occasion? Have you ever asked yourself what will happen if the rest of humanity were to have our lackadaisical approach to life where everything is about celebration and zero production?
That is totally unfair; who told you that we are not productive?
Are you?
Of course, we are. See, we have our own ways of doing things but that is no reason for your generalization and reason for you to compare us to other people. We are different.
Of course, we are different, but we live in a world where we must abide by the same economic principles as the rest of the world. We cannot have our cake after eating it…
Does that mean that we must be all work and no play?
You are being funny. Where is the work? All I see are celebrations and merriments on an insane scale…
That is totally uncalled for and grossly unfair. Because Killjoys like you refused to see it does not mean that we are not working…
Don't make me laugh, my friend. If we are working, we will not still be struggling with the basics of life that other human beings take for granted. I talk of basic things like generating and distributing electricity to light our homes and the few disarticulate industries we have. I talk about treating and piping water to homes so that our people can stop sharing drinking water with cows…
There you go again with your sweeping generalisations. Is it every Ghanaian that drinks water with cows, and is it every house in this country that lacks electricity…
You are getting it wrong, my friend. The very fact that a single citizen of our blessed republic drink water from the same stream with cows, that a single citizen sleep in darkness should be something that causes us great shame in this age and time! We live close to the Equator and we should be able to get enough electricity form all the energy that is being wasted around us. I don't consider it a generalization to question why, after sixty years of independence, we cannot supply our people with potable water…
Do you argue that you will find a society, a country without its own challenges? Even today, mighty China is struggling with the Coronavirus?
Wow! You certainly know how to compare Apple with pepper! Of course, every country faces its own peculiar problem. I do not argue that there is a country without a problem. What I say is that few countries struggle with providing their people with water and electricity, not to mention food and shelter. I argue that we spend more time in celebration than in production…
Says who?
Says you, yourself. Today is January the 28th 2020, a Tuesday, and dancing away with your fellow party colleagues to celebrate with the president who is in faraway Accra to commission imported ambulance. I am sure that many party diehards like you in other parts of the country will also be dancing and drinking away in solidarity with the president. Says the fact that we declared a public holiday for Farmers when a good chunk of our budget goes into food import. By the way, I thought you were a hardcore CPP stalwart, when did you join the NPP?
You! Get out of there! Na CPP man go chop?
Wow! What happened to your ideological convictions…
I beg leave me alone. Ideology dey put garri for table? Man must eat, oooo.
Femi Akomolafe, a passionate Pan-Africanist, was one of the PCs Pioneers and ran a Computer Consultancy firm in Amsterdam, the Netherlands for several years, where he also set up the first African Bulletin Board System (BBS), the precursor to the Internet. He also established the first Black Newspaper, The African, in the country.
Femi has been very active in the Pan African Movement since the early 1990s.
A columnist for ModernGhana and a Correspondent for the London-based New African magazine, Femi lives in both Europe and Africa and writes regularly on Africa-related issues for various newspapers and magazines.
Femi was the producer of the FOCUS ON AFRICANS TV Interview programme for the MultiTV Station.
He is also the Man and Machine Coordinator at Alaye Dot Biz Limited, a Kasoa-based Multimedia organization that specializes in Audio and Video Production. He loves to shoot and edit video documentaries.
He is currently engaged in vegetable farming.
His highly-acclaimed books ("Africa: Destroyed by the gods," "Africa: It shall be well," "18 African Fables & Moonlight Stories" and "Ghana: Basic Facts + More") are available for sales at the following bookshops/offices:
Freedom Bookshop, near Apollo Theatre, Accra.
WEB Dubois Pan-African Centre, Accra
Ghana Writers Association office, PAWA House, Roman Ridge, Accra.
Where to buy them online:
On Lulu Books:
18 African Fables & Moonlight Stories https://goo.gl/Skohtn
Ghana: Basic Facts + More: https://goo.gl/73ni99
Africa: Destroyed by the gods: https://goo.gl/HHmFfr
Africa: It shall be well: https://goo.gl/KIMcIm
Africa: it shall be well
on Kindle books: https://www.createspace.com/4820404
on Amazon books: http://goo.gl/QeFxbl
on Lulu Books: https://goo.gl/SQeoKD
Africa: Destroyed by the gods
on Kindle books: https://www.createspace.com/4811974
18 African Fables & Short Stories: https://goo.gl/s9tWAf
on Amazon books: http://goo.gl/1z97ND
on Lulu Books: http://goo.gl/KIMcIm
My Lulu Books page: http://www.lulu.com/spotlight/FemiAkomolafe
Get free promotional materials here:
Africa: it shall be well: http://alaye.biz/africa-it-shall-be-well-introduction-in-pdf/
A FREE Chapter of 'Africa: It shall be well' can be downloaded here: http://alaye.biz/africa-it-shall-be-well-a-free-chapter/
Africa: Destroyed by the gods (How religiosity destroyed Africa) http://alaye.biz/africa-destroyed-by-the-gods-introduction/
A FREE Chapter of 'Africa: Destroyed by the gods' can be downloaded here: http://alaye.biz/africa-destroyed-by-the-gods-free-chapter/
Contact Femi:

Femi's Blog: www.alaye.biz/category/blog
Website: www.alaye.biz
Femi on Amazon https://www.amazon.com/author/femiakomolafe
Femi Akomolafe's Lulu Books page: http://www.lulu.com/spotlight/FemiAkomolafe
Twitter: www.twitter.com/ekitiparapo
Facebook:https://www.facebook.com/Femi Alaye;
Gmail+: https://plus.google.com/112798710915807967908;
LinkedIn: www.linkedin.com/in/femiakomolafe;
YouTube Channel: https://www.youtube.com/user/fakomolafe
Email: fakomolafe@gmail.com
Profile on New African magazine: http://newafricanmagazine.com/tag/femi-akomolafe/
Kindly help me share the books' links with your friends and, grin, please purchase your copies.
Comradely,
Femi Akomolafe





by

Blog Akufo-Addo ambulance, Books by Femi Akomolafe, femi akomolafe, Ghana Ambulance service