Posted by By Akogun Akomolafe at 19 June, at 14 : 26 PM Print
Interview with Omoyele Sowore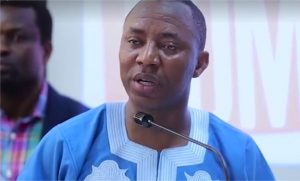 Nigerians are a case study in paradoxes. Back home, the 180 or so millions of them can hardly agree on anything. They bicker over almost everything from religion to ethnicity to revenue sharing to appointments of state officials. Agitators for restructuring the country appear hell-bent to tear it apart with Old-Testament fury. However, put a few Nigerians together outside the shores of their huge country, they become Patriotic Unity Personified. Very enterprising and with a go-getter mentality, Nigerians passionately love their country and they are obsessed with how they can make their country get back its lost allure.
Sadly for Nigerians, the history of their country is littered with broken promises by visionless leaders who through the years have reduced a once-great country (it used to be called The Giant of Africa) to a lawless, semi-failed state where life is short and brutish.
The latest menace to hit the country is rampaging Fulani Herdsmen who continue to cause mayhem across the land with the government of President Muhammadu Buhari increasingly looking incapable of stopping the violence. This has led to calls for States to be allowed to have their own police forces.
Ironically, Buhari came to power largely on his track record as a no-nonsense dictator during his first stint at the presidency from 31 December 1983 to 27 August 1985. His campaign promise anchored on the twin pillars of fighting corruption and beefing up national security which the Boko Haram insurrection had all but shattered.
To be fair, Boko Haram no longer controls swathes of Nigerian territory like it did in the past. The group has splintered into two and has been reduced to hit-and-run bombing campaigns. This is not to suggest that the group is no longer capable of shaming the government as it spectacularly did on February 15 2018 when it kidnapped 110 students at a school in Daapchi, Yobe State. Negotiations led to the release of some of the girls a few weeks later.
Nigerians who complained that Buhari's fight against corruption was mere cosmetics have very strong points as hardly a day passes without Nigerians being shocked with one case of gargantuan corruption or the other.
Some even bordered on the pure farcical. A sales clerk with the Joint Admissions and Matriculation Board, JAMB, in Makurdi, the Benue State capital, Philomina Chieshe, stole N36 million cash and claimed that the money was swallowed by a spiritual snake.
Eternally optimistic Nigerians, who continue to hope for a better tomorrow, voted for the elderly Buhari in the 2015 elections because he promised them CHANGE. To be sure, Nigerians were totally fed up after 16 years of inept rule by the People's Democratic Party (PDP). The last PDP president, Goodluck Jonathan appeared to be a man totally out of his depth as he attempted to navigate the affairs of state. The insane corruption of Jonathan's government made people decide on a change and vote for Buhari, who headed an amalgam of parties under the umbrella of the All Progressives Congress (APC).
Sadly, the APC failed to deliver on most of its campaign promises. Unemployment is still intolerably high. The country managed to emerge from recession but growth is still anemic.
Nigerians will go to the polls in 2019 and there is already a great cry for CHANGE. This time, the youth are agitated and have launched various initiatives to get themselves actively involved in how their country is governed.
Omoyele Sowore, an activist, and publisher of Sahara Reporters, an online newspaper, was believed to be among Buhari's supporters. Like many Nigerians, Omoyele remembers Buhari, the austere, taciturn General who brooked no nonsense when he ruled the country. They remember how Buhari managed to bring a semblance of discipline to a very lawless society. Sowore used his influential Sahara Reporters to sway young voters.
It, therefore, came as surprise to many Nigerians when he announced his intention to contest the 2019 presidential elections against the man he helped into office.
In an interview he granted in late February, Omoyele gave his reason: "I've always offered Nigerians a platform for amplifying their concerns and dreams for Nigeria. I am continuing that struggle. Yes – we will be part of a coalition of parties. These will all be progressive parties – committed to nothing other than the advancement of the Nigerian nation. It is Nigeria's moment to see revolutionary politics in action."
To find out more about his programme, our Correspondent, Femi Akomolafe, spoke with Omoyere Sowore in an interview. Excerpts:
Let's start with an introduction, please. Who is Omoyele Sowore?
Omoyele Sowore is a 47-year-old Nigerian who for the last thirty years has dedicated himself to the cause of moving the Nigerian nation forward.
I became a student activist while I was an undergraduate student at the University of Lagos. I was President of the University of Lagos Students Union in 1992-194 during the June 12, 1993, crisis. I am a pro-democracy activist, a publisher, a lecturer, citizen journalist.
Since 2006, when I founded Sahara Reporters, I have led the organization as its CEO. Under my leadership, Sahara Reporters has grown to become a globally acclaimed brand and media platform that has helped to advance the democratic agenda not just in Nigeria but across the African continent.
2. You recently announced your intention to contest for the presidency of Nigeria in 2019, what motivated you?
For the last 30 years, I have dedicated myself to the cause of advancing the Nigerian nation. As an activist, I fought alongside others for the restoration of democratic rule in 1999.
Since 1999, my efforts have been dedicated to safeguarding the democratic process, shining a light into the darkest recesses of Nigeria's political processes and ensuring that our leaders are held accountable.
After watching successive leaders fail to deliver on the promise for a better Nigeria, I have become convinced that the next stage of my journey will be to offer myself as a candidate for the president. I am tested and proven. It is time to stop using borrowed voices, borrowed robes, and borrowed hands to fight for change. When your trust in others fails to deliver on the expected change, that is a clear message that it is time to get into the arena and fight for what you believe.
3. In a recent interview, you accused successive governments of running Nigeria down, can you expatiate?
It is a fact that in almost 58 years of existence as an independent nation, Nigerians must always look backward to the years between 1957 to 1963, to find what could arguably be called the country's golden years. We have been bogged down by a succession of leaders that have failed to inspire the Nigerian nation to growth and development.
The last 20 years, since the restoration of the democratic process in 1999, has been particularly damaging to the nation. What tangible thing can we point to as a people that we can say has been uplifting to the Nigerian people?
Today, we are more impoverished than we were in 2015. Our lives are more insecure. Our schools are worse off. Our hospitals are more broken down, that includes the Aso Rock Clinic that should be taking care of Mr. Buhari's health. The evidence for the ruinous actions of past governments is all around us. You see it in the breakdown of morals and the celebration of corruption. Our youth – many of them graduates of higher institutions – walk around without jobs. We are the only member of OPEC that still imports petrol. We do not have reliable power – an issue that countries like Rwanda and Ghana have long solved. We still import almost everything we eat in a nation that is blessed with fertile soils and clement weather. Of course, past governments and the current one have run Nigeria down.
4. Nigeria is without a doubt a very complex country, why do you think that you can succeed where steely men like Buhari failed?
Nigeria is not as complicated as we might be led to believe. We are not the only nation with a multi-ethnic or multi-religious society. We are not the world's most populous country. We are not the richest, nor the poorest. We are not the only nation with a terrorist problem. If we look dispassionately at the matter, we will find that there is nothing that makes us any more complex than nations like India, Russia, China, Indonesia, Rwanda or South Africa.
What we have had more than our fair share of, is a succession of spineless leaders. Leaders whose moral complex is a blank canvas.
The problem of Nigerian leaders is three-pronged. They lack a clear vision for where they want to take Nigeria. They allow sentiments and prejudice to cloud their judgment when pulling their teams together. Finally, they lack the political will to see their initiatives through.
5. Apart from few politicians like the late Chief Obafemi Awolowo, Nigerian politicians rely on Party Manifestoes without any other concrete plans. Can you tell us what your programmes for salvaging Nigeria are?
I have a clear set of objectives and programs that are aimed at growing the economy & creating jobs, overhauling security, stabilizing the energy sector, ensuring food security, closing Nigeria's massive infrastructure gap, providing housing and enhancing healthcare. And then, of course, I will be working hard to eradicate corruption, once and for all.
My economic program will focus on the creation of jobs across a wide variety of sectors. I have told everyone that cares to listen that I will turn Nigeria into a construction and manufacturing site on day one. According to the government's own records, unemployment stands at about 20%. When combined with underemployment, a staggering 40% of Nigeria's labor force is impacted. How can we explain this state of affairs, when we have massive housing and infrastructure deficits? How can we be complaining of unemployment when we import most of our food, yet we have millions of acres of fertile lands that can be cropped and farmed? Only 7% of Nigeria arable land is cultivated. How can we complain about unemployment when we know that we have graduates that have remained unemployed for years, yet we have schools across the country that have no teachers?
Within my first four years of being in office, I aim to have put at least 5 million Nigerians to work. That would bring unemployment down to about 14%.
Energy sector: For the last 20 years, Nigeria has struggled to grow beyond a 4,000 – 5,000 MW base. Our problems range from Generation to transmission, distribution – and now more recently, to the supply of gas to the various gas-fired power plants across the country. Nigeria requires about 20,000 MW of capacity to meet its energy needs immediately, meaning we have a shortfall of about 15,000 MW. This is not just something that's good to have – it is critical to economic growth. I will work to fix these issues.
We need to expand our energy mix. Renewables like Solar, Wind, and Biogas must be added to the energy mix. I am even open to exploring all forms of energy. Niger – our neighbor to the North is one of the leading exporters of nuclear grade uranium but we must not enter a nuclear race without a clear agenda on how to manage waste or output. We must also work to ensure that our power infrastructure is insured from collapse due to terrorism. Today, many of our power plants are gas-fired. If militants decide to blow up a section of pipe – every plant that relies on that pipeline must shut down until the pipeline is repaired. We can protect ourselves against such disruption by developing a virtual pipeline comprising of trucks and rail cars that can transport LNG to some strategic power plants.
Finally, I will drive for the decentralization of power generation, transmission and distribution assets. We will rapidly roll out a series of modular 10-50- MW power plants that will allow us to power communities all over Nigeria, quickly and efficiently.
Agriculture and Food security: We import much of what we eat. For a nation that is blessed with arable lands and excellent weather, we need to see agriculture as a strategic growth platform. I will ensure that farmers can source fair loans. Land use laws will be modified to ensure that farmers and others who add value to land will be able to capitalize the lands they farm. I also believe that a key part of the solution for the Herdsmen – Farmer crisis will be the promotion of commercial farming operations.
Infrastructure & Housing Deficits: Nigeria has a massive infrastructure deficit. Our road, rail and inland waterways must be extended to enhance connectivity and open the pathways to markets. In housing alone, we have a deficit of about 20 million housing units. That's why I say I will turn Nigeria into a massive construction site – because closing these gaps will require lots and lots of work and workers.
Health care is another area that needs to be urgently addressed. Life expectancy for Nigerians is currently just 53 years. Even our president is unable to get quality health care in the country. We need to change this narrative by putting the appropriate investments in equipment and people, in place.
6. Chief Awolowo was also noted for his painstaking planning. He will not only announce his cardinal programmes, but he will also give the breakdown of the cost involved and how he was going to fund them. Have you got such a programme?
For each program area, my policy team has produced a detailed programme – you can find it on our website: www.sowore2019.org I have criticized past leaders for having no plans beyond their campaign slogans, and the production of such detailed policy initiatives is what will stand my campaign and my government apart.
For instance, if you look at the policy initiatives I laid out earlier, to address the power deficit of 15,000 MW will cost about $100 billion, however, these are investments that will quickly generate a return on investment like it did in the mobile telecoms sector. Solving the housing crisis will require about $50 billion for 20 million affordable housing units. Infrastructure will require even more investments. We can leverage PPP to build our interstate highway systems. I am linking every region by dual carriageway that will facilitate the movement of citizens, goods, and services.
Some programs will actually generate funds. For instance, we project that the introduction of commercial ranching for Nigeria's 20 million cows will lead to the creation of about 250,000 jobs, while the manure can be used to generate about 1,000 MW of power and about 40 million tons of organic fertilizer with a value of about $4 billion per year.
Solving the problem of corruption will help free up some funds and reduce wastage. However, we will need to leverage Public-Private Partnerships for funding some of these projects as well. I will also be establishing bond programs that will be used to fund some of these projects. I will tap into a successful Nigerians in the diaspora for skilled manpower and also bonds to finance capital projects. These guys already send $35 billion to Nigeria every year. They can't wait to help and ultimately move home to physically contribute.
In due course, we will roll out the details of each of what each of my policy initiatives is intended to address and how it will be paid for.
7. In the interview where announced your candidature, you also promised to hit the ground running. To many disappointed Nigerians who have heard that so many times, what do you intend to do differently?
Anyone following our campaign will recognize that we are doing things differently. We are engaging with Nigerians in new and different ways. Traditionally politicians would spend the time before their party primaries, bribing delegates and running around to find godfathers and godmothers that will support their efforts.
I'm spending my time building a movement and working on a grand coalition of progressive parties, activist groups, market associations, unions, artisans, religious and ethnic organizations, that are committed to the cause of moving Nigeria forward.
8. Nigerian politics is notorious for the influence of Godfathers who see politics as safe investments, how do you intend to escape their clutches?
In thirty years of activism, I have never needed a godfather. In fact, I have established a reputation as a tireless and fearless fighter against those who have forced themselves upon Nigerians as godfathers and godmothers
As President of the University of Lagos Students Union government in 1992-1994, I was one of the student and youth activist leaders that led the fight against the military godfathers of that era. Along with other pro-democracy groups, we chased out godfathers like Babangida, Shonekan, and Abacha.
Since 2006, I have used Sahara Reporters as a platform to fight against the politics of godfatherism. It is abhorrent to me.9
9. Two factors, religion, and ethnicities are very potent equations in Nigerian politics, how do you intend to surmount them?
I have been part of the Nigerian political process since I became a student activist almost thirty years ago. For the last three decades, I have been building alliances and coalitions across Nigeria. Activism has taught me that there are more things that unite us than those that divide us.
I will surmount these issues and challenges the same way that I have done over the last thirty years of successful political activist involvement in Nigeria – by focusing on the common goals that we share as a people and justice is key, listen most Nigerians have mentally seceded from Nigeria due to the violence perpetrated by the Nigerian state against its citizens. The only thing Nigeria does very well is the administration of pain and punishment. We will create a great nation. We want to see jobs created. We want our children to have access to good schools and well-equipped hospitals. We want to have a fair access to opportunities. These aren't things that only one ethnicity or one religion wants more than the other. These are shared values. I often ask myself why the South Eastern part of Nigeria hasn't had a second Niger-Bridge and a third one combining a dual carriage bridge and dual gauge rail line for effective haulage of goods and services. We have the entire African market right in our face but we will rather have our citizens crawling everywhere.
10. Finally, what makes you think that Nigeria is ready for the type of revolution you want to lead?
As someone who has been an activist for three decades, I have always had a clear view of the revolutionary tendencies of the Nigeria people.
Nigerians are a dynamic people. And when we get fed up and we say enough is enough, we can get things done.
We chased away soldiers and forced a return to civilian rule with street protests in the 1990s. We forced a cabal to turn over power to Goodluck Jonathan in 2010 through principled opposition. And in 2015, Nigerians staged a political revolution by kicking an incumbent government out of power. These are momentous political events – that have all happened within a short space of about two decades.
I am confident that the tireless drive for a better nation will inspire Nigerians to be part of this movement for change. I am certain that like others before him, the frustrations that Nigerians have with a president and a government that has abdicated its responsibilities and has failed to deliver any results in growing the economy, creating jobs, dealing with the herdsmen – farmer crisis, or securing lives and property will motivate Nigerians to sweep out the APC from power in 2019.
I am not only doing this for Nigeria but for the African continent because if Nigeria gets it right the pride and dignity of Africans and all black people will be restored again.
About the Author
Femi Akomolafe is a passionate Pan-Africanist. A columnist for the Accra-based Daily Dispatch newspaper and ModernGhana, and Correspondent for the New African magazine, Femi lives in both Europe and Africa and writes regularly on Africa-related issues for various newspapers and magazines.
Femi was the producer of the FOCUS ON AFRICANS TV Interview programme for the MultiTV Station.
He is also the Man and Machine Coordinator at Alaye Dot Biz Limited, a Kasoa-based Multimedia organization that specializes in Audio and Video Production. He loves to shoot and edit video documentaries.
His highly-acclaimed books ("Africa: Destroyed by the gods," "Africa: It shall be well," "18 African Fables & Moonlight Stories" and "Ghana: Basic Facts + More") are available for sales at the following bookshops/offices:
Freedom Bookshop, near Apollo Theatre, Accra.
WEB Dubois Pan-African Centre, Accra
Ghana Writers Association office, PAWA House, Roman Ridge, Accra.
Afia Beach Hotel, Accra
Where to buy them online:
On Lulu Books:
18 African Fables & Moonlight Stories https://goo.gl/Skohtn
Ghana: Basic Facts + More: https://goo.gl/73ni99
Africa: Destroyed by the gods: https://goo.gl/HHmFfr
Africa: It shall be well: https://goo.gl/KIMcIm
Africa: it shall be well
on Kindle books: https://www.createspace.com/4820404
on Amazon books: http://goo.gl/QeFxbl
on Lulu Books: https://goo.gl/SQeoKD
Africa: Destroyed by the gods
on Kindle books: https://www.createspace.com/4811974
18 African Fables & Short Stories: https://goo.gl/s9tWAf
on Amazon books: http://goo.gl/1z97ND
on Lulu Books: http://goo.gl/KIMcIm
My Lulu Books page: http://www.lulu.com/spotlight/FemiAkomolafe
Get free promotional materials here:
Africa: it shall be well: http://alaye.biz/africa-it-shall-be-well-introduction-in-pdf/
A FREE Chapter of 'Africa: It shall be well' can be downloaded here: http://alaye.biz/africa-it-shall-be-well-a-free-chapter/
Africa: Destroyed by the gods (How religiosity destroyed Africa) http://alaye.biz/africa-destroyed-by-the-gods-introduction/
A FREE Chapter of 'Africa: Destroyed by the gods' can be downloaded here: http://alaye.biz/africa-destroyed-by-the-gods-free-chapter/
Femi's Blog: www.alaye.biz/category/blog
Website: www.alaye.biz
Femi on Amazon https://www.amazon.com/author/femiakomolafe
Femi Akomolafe's Lulu Books page: http://www.lulu.com/spotlight/FemiAkomolafe
Twitter: www.twitter.com/ekitiparapo
Facebook: https://www.facebook.com/FemiAlaye
Gmail+: https://plus.google.com/112798710915807967908;
LinkedIn: www.linkedin.com/in/femiakomolafe;
YouTube Channel: https://www.youtube.com/user/fakomolafe
Email: fakomolafe@gmail.com
Profile on New African magazine: http://newafricanmagazine.com/tag/femi-akomolafe/





by

Blog alayewebtv, articles by Femi Akomolafe, femi akomolafe, Femi Akomolafe books, Femi Akomolafe writings, Interview with Omoyele Sowore