Posted by By Akogun Akomolafe at 23 June, at 20 : 00 PM Print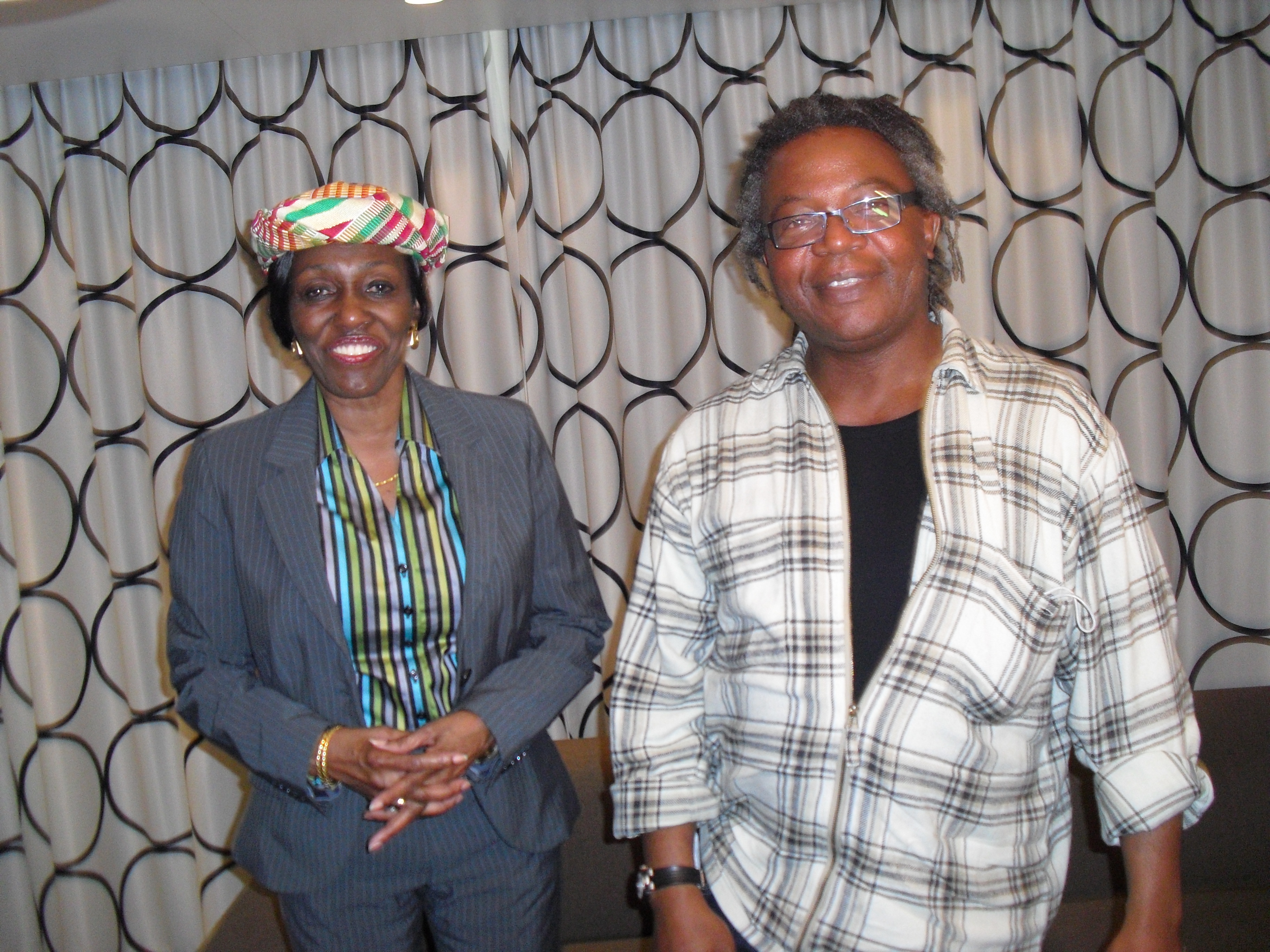 Interview with Nana Konadu Agyemang-Rawlings
Amsterdam (22 May 2011)
Ghana's former First Lady, Nana Konadu Agyemang-Rawlings is one of the two leading members of the ruling National Democratic Party (NDC) who have challenged incumbent President John Atta Mills for the party's presidential slot for the 2012 elections.
Following a protracted internecine battle, Ghana's ruling party announced that the party's Congress will take place on 8 July 2011 at the Brong Ahafo capital, Sunyani. Although the congress will discuss other matters, election of the presidential candidate tops the list.
Former President John Jerry Rawlings, a man known for expressing his mind on national and international issues, however vexatious, led the attack on the leadership style of his chosen successor.
According to Mr. Rawlings, a former military strongman later turned civilian president, the performance of the Mills government betrays the hopes and the aspirations of party's supporters, who worked assiduously to ensure that the party scraped a razor-thin victory in the 2008 elections – the margin of victory was just 40,000 votes!
President Rawlings partisans gave as example of incompetence the string of judicial defeats the Mills government has suffered, including the famous fiasco in the Ya-Na murder and the throwing out of all the corrupt cases the government has initiated against officials of the former New Patriotic Party (NPP) government.
The rising cost of living, widespread corruption and the deteriorating state of water and electricity provision in the country are also cited as examples of the ineptitude of the Mills' government.
President Mills supporters countered that his collegiate and non-combative leadership style is the best to build consensus and foster in a country that is highly polarized along ethnic religious and political lines. They argued further that rather than go on wholesale prosecution of former officials, they believe that their energies is best utilise to implement what they call their Better Ghana Agenda.
The quarrel, which was rumored for several months, finally blew open. Party supporters pitched camps with either Rawlings or Mills. Bitter accusations and insults were freely traded by NDC cadres who less than three years ago pride themselves as a united family of Akatosomanians (meaning?).
Ghanaians are not amused to watch their ruling party in such open disarray. They feel short-changed that a ruling party could expend so much energy in internal bickering whilst national problems cry for attention. They also worried about investors' confidence in their fragile economy.
Attempts to reconcile the warring parties apparently failed as Mrs. Nana Konadu Agyemang- Rawlings resigned her Vice-Chairmanship position in the party, and went on to pick the presidential nomination form on 3 May 2011.
Three days later, President Mills partisans supporters pulled out all the stops as they escorted their candidate to the NDC office to pick his own form.
Traffic in the capital, Accra, was snarled up for hours as the president's supporters turned the occasion into one giant street party.
Then followed a spectacle that would have brought tears of joy to the faces of die-hard communists of the old Soviet Union: In a performance broadcasted live on Ghana national television for six (6) hours, ministers of state and party hacks took turns to pledge fidelity to President Mills with many using the opportunity to castigate their party's Founder, former president John Jerry Rawlings.
It was an unedifying spectacle and an expensive one at that. The GTV bill for the jamboree alone was reported to have cost GH₵18,000.
Nana Konadu was recently in Amsterdam to address a conference held on 21st May 2011 by the Amsterdam branch of the NDC dubbed 'Ghana's National Interest First.'
Femi Akomolafe met with her (on 22 May, 2011) to find out, among other things, the reasons for her seeking her party's presidential mantle. Here is extract from the interview.
1. Thank you Nana for taking time from your busy schedule to talk with us. Can you tell us something about yourself?
Ans: I am Nana Konadu Agyemang-Rawlings, Ghana's former First Lady and, hopefully, the next president of the republic of Ghana. I was born in the Ashanti Region of Ghana into a part of the very large Asante Royal family. It is a very extensive family.
2. In which part of Ghana did you grow up?
Ans: I grew up in various parts of Ghana, Sierra Leone and Nigeria. My father worked with the United African Company (UAC) and he was constantly on the move. Naturally, we went along with him.
3. Given such an almost nomadic life, what type of upbringing did you have?
Ans: Ah! It was not such a nomadic as we stay a while in the places my father was posted. It was like we will stay a few years in a place, and then he will get posted again. To their credit, my parents did their very possible best to create normalcy in our family. I had the best parenting a child could ever hope for. And you must also remember that in almost all the places we lived, there were always sizable Ashanti communities, so it was not altogether totally alien environment. I felt no cultural alienation because there are always people around with whom I could relate.
4. What are some of the things you remember from your youth?
Ans: I remember quite a lot. I remember that our house was always full of people. My parents are always taking care of different kinds of people all the time – both family members and total strangers. Being relatively well-off entails a lot of social responsibility in our culture. At any given time, my parents were paying the school fees of several people, taken care of hospital bills of indigents, those sorts of things. My parents cannot stand the sight of suffering people. Of course, that imbued in us deep sense of empathy with the down-trodden. My parents made us realize that it was purely the circumstance of birth that made our own privileged position possible. It was a lesson you don't forget.
5. You are a wife and mother; tell us something about your family life?
Ans: I have a very close family. I have a loving and a caring husband and we have children all of whom we love very dearly. I tried to create the same caring family I grew up in – loving, caring and with deep sense of responsibility and social justice. We care and we share.
6. Of course, you are the wife of the famous JJ. Your husband is many things to many people; what sort of husband and father is he?
In short a great man. It is difficult not to love my husband once you got to know him. He is a man with the deepest sense of social justice. He relates easily to people because he does not believe or care about all the things that divide people – ethnicity or tribalism. He is a totally detribalized person. He cares very deeply, perhaps too deeply about the common people. He's also very unpretentious and is the most unmaterialistic person you can ever find. It gives me great joy when I travel across Ghana and see the tremendous affection the ordinary people have for him. Ask yourself, how many leaders in Africa, in the world, have the same touch with common people. He is equally well loved across Africa; wherever we go, the common people relate very well with him.
7. You and your husband seem to be very close, can you tell us the areas where you have differences of opinions and how you resolve them.
Ans: You don't expect me to come and wash my family dirty linen in public (laughs). But seriously, Femi, we do have our differences but we discuss them like matured adults and we reach compromises. On the family level, he has ideas about how to bring the children up and I have mine. We sit down, consider the interests of the children and based our decisions on what we think is the best for them. On the political level, we share a lot in common. Ideologically, we are both appalled by the level of poverty we see around us and we always like to do something about it. We believe that people should be at the center of any development, be it social, economic or political.
8. Apart from your husband whom you obviously adore, which other people have inspired you; who are your role models?
Ans: My parents had the profoundest influence on me. I drew my inspiration from them. I remain grateful for the upbringing they gave me.
9. Your husband has the distinction of being Ghana's longest-serving head of state, what to you are his most important legacies?
Ans: I don't feel like blowing my husband's trumpets; but his record in office clearly speaks volume for themselves. The best way to judge him is to compare the Ghana he met in 1978 and the Ghana he left in the year 2000. We should judge leaders by their accomplishments and on this, in fairness, he did very well. Whatever our political disagreements, people should not forget that in 1978, Ghana was a collapsed state; a laughing stock. By the time he left in 2000, the country has rebounded. Of course not all the problems were solved, but Ghana has regained its lost luster and Ghanaians were once again proud of their country. The economy has been transformed beyond recognition. Gone were the empty shelves, the unpaid workers, the queues for essentials, including for agbelemo (cassava dough). My husband left a Ghana that was consistently adjudged the least corrupt in West Africa. Those are very important legacies.
10. After almost twenty years in power, your husband is retired but appears not to be tired. He continues to make what many consider incendiary statements on national issues. Why do you think that he finds retirement a difficult thing to deal with like, say, former President Kufuor?
Ans: Of course, quiet retirement would have been the easy option. But you must try to recognize and appreciate the tremendous efforts invested in bringing the nation back from the brink. It was a titanic struggle and no one who participated would like the country to slide back into those bad old days. That explains why he occasionally voices his concerns. Naturally, because of the way he relates to the ordinary people, they came to him to voice their concerns about the direction the country is going, and he tries to articulate these frustrations. Initially he tried to use the party's internal communication systems to voice his concerns, but no one listened to him.
That explains why he went public. If some things in the country are going terribly wrong, we do no one a favor by burying our heads in the sand and pretend otherwise. The country will pay very dearly if we do not collectively let our leaders know the true position of things. We have come a long way, and we should do our best not to allow the situation deteriorate to the bad old days.
11. Let's move to your own politics; you recently announced your candidacy for your party, the National Democratic Party (NDC), presidential slot. To many people, this is an aberration. The question is why are you challenging an incumbent president who represents your own party?
Ans: Femi, this is among the most difficult decisions I ever took. We have to begin by understanding that in our system of government, people vote for political parties and not individuals. Since people are elected on the platforms of their parties, it is only right that they remain faithful to the party's ideals and guiding philosophy.
Our party, the great National Democratic Congress (NDC) came from a social democratic tradition. Our philosophy is guided by a desire to represent the down-trodden and ensure that citizens are not deprived of a reasonable life because of the circumstances of their birth. You also have to note that the NDC came from a revolutionary background, so we frown heavily on corruption in both party and state affairs.
The people of Ghana voted for the NDC based on the programmes we presented to them. We promised to effect a recognizable change in the governance of the country. We promised to fight corruption among other things. The people trusted us and we should try not to betray that sacred trust.
It became quite clear soon after our party narrowly won the 2008 elections that the new leaders were deviating from the party's core principles. We tried all possible best to solve them using the party's internal organs. This was not possible. I thought I could help the party by contesting and winning one of the Vice-presidential slots, but unfortunately, party executives continue to be marginalized. Party matters were left unattended and there is a great deal of despondency among our rank and file. Every attempt to thrash out the intra-party disputes was thwarted.
For the first time in the history of this country, members of the ruling party were defecting to opposition party. Something has to be done.
12. There is also the question of dynastic rule being impose in Ghana. How would you counter this?
Ans: This question ought not to arise because I am standing on my own merits. I am touting my own accomplishments. I should be judged on my own merits.
13.Whichever spin we try to put on it, the internecine warfare is not a good advertisement for your party. Elections are less than two years away, do you think that you will manage to patch things up or is the NDC on self-destruct mode?
Ans: Sorry, but I don't like that self-destruct word you used. The NDC was built on the foundation of trust, accountability, probity and social justice. These are principled ideals to which we expect members to adhere. The NDC is for all those that subscribe to its philosophy and believe in its publicly espoused ideals.
14. Politics in Ghana, or in Africa I should say, have been reduced to gutter levels where insults are freely traded, are you going to do things differently? What are the issues you are going to address in your campaign?
Ans: The politics of insults is alien to the NDC culture because we have always seen ourselves as a united family where every member is treated with the utmost respect. I have not traded insult with anyone and I am not going to do it. The issues at stake are far bigger than individual egos; they concern the fundamental values of our party and of our nation.
There is a great despondency not only in the party but across the country. We got elected because we promised people that we are going to do things differently; that we are going to stop the corruption and provide them with amenities to make decent living possible.
The people have not seen any improvement in their lives and there is massive corruption all over the place. As I speak to you, Accra is experiencing acute water shortages and the electricity situation has worsened. Our party members are bitterly complaining about the direction the party and the country is taking and no one listen to them. The party structure has collapsed from the constituency to the national level. Officials and ministers are today calling the foot-soldiers that got us elected nuisance.
15. We have a woman elected in Liberia; do you think that Ghana is prepared and ready for a woman president?
Ans: And why not, Femi?
16. Unlike Liberia, Ghana has a sizable Muslim population some of whom believe, rightly or wrongly, that women should not be leaders. How do you address their concern?
Ans: I honestly don't believe that the issue of gender is something that should agitate us in this age and time. Islamic countries like Turkey, Bangladesh, Indonesia, Pakistan have all elected or appointed women into high positions, so why are we debating my gender in Ghana?
17. Apart from the gender card and the famous Rawlings name, what is Nana Konadu bringing to the table?
Ans: I am bringing my vast experience to the table (laugh). Femi, I have a track record that no Ghanaian politician, male or female, can match. No president or
Minister have visited more places in Ghana that me. I have been to every nook and corner of Ghana. Through our movement, we have directly impacted the lives of several Ghanaians than any other organization. Through thick and thin, we struggled against all odds to empower women throughout the land. I have had several occasions to meet and share ideas with the best brains in the world.
The President John Jerry Rawlings name is definitely big; but Nana Konadu is a woman of substance on her own.
18. Across Africa, people have become disillusioned because of the many unkempt promises by their politicians, what are you going to do differently?
Ans: Again, I will answer that our track records clearly shows that we could be different. Do you know what; wherever I go in Africa, people come to express their appreciation to how we managed to transform Ghana for the better.
We did it before and we clearly can do it again. I am not claiming exclusive credit for my husband and me, but we managed to assemble the best available brains in the country to help deliver quality services to the people.
We also make Ghanaians part of the development agenda. You see, part of the problem I see in Africa is that leaders sit in the capital cities and make big pronouncements about development. I think this is wrong – leaders should go to the people and get them involved in whatever developmental project is being implemented Any development plan that fails to carry the people along is bound to fail.
You don't sit in Accra and plan projects for Walewale. No, you have to go the people of Walewale and sit down with them to draw up the plan. That is the only way you can bring the people on board. And once you fail to get them on board and make them part of the project, you will never get their full support. Of course, they will come and clap when you come around but they won't feel that they are part of it. Don't plan over people's head.
19. Naturally, you are going to the Congress with the hope of winning, but in case you lose, would it be possible for you to make a volte face and ask your supporters to support a man you deemed and have called incompetent?
Ans: I don't like hypothetical questions. But you should know that the easiest thing for me would have been to stay aloof and join the Chorus boys.
20. And in case you win, do you expect president Mills partisans to support you?
Ans: Again, I don't see this as a personality contest. I expect loyal party members to support whoever emerges as the candidate.
21. Let's suppose that you win your party's congress and the national elections, what type of Nana Konadu presidency should we look forward to?
A presidency, in which Ghanaians will, once again, be very proud. A presidency that will fight corruption, ensure accountability and probity at every level of government. Mine will be a presidency that trusts Ghanaians enough to carry them along in all its developmental efforts. My presidency will strive to ensure that no child's future is jeopardise by the circumstance of her birth. Mine will be a presidency that will promote and ensure social justice.
About the Author
Femi Akomolafe is a passionate Pan-Africanist. A columnist for the Accra-based Daily Dispatch newspaper and Correspondent for the New African magazine. Femi lives in both Europe and Africa, and writes regularly on Africa-related issues for various newspapers and magazines.
Femi was the producer of the FOCUS ON AFRICANS TV Interview programme for the MultiTV Station.
He is also the CEO of Alaye Dot Biz Limited Dot Biz, a Kasoa-based Multimedia organisation that specialises in Audio and Video Production. He loves to shoot and edit video documentaries.
His highly-acclaimed books ("Africa: Destroyed by the gods," "Africa: It shall be well," "18 African Fables & Moonlight Stories" and "Ghana: Basic Facts + More") are now available for sales at the following bookshops/offices:
Freedom Bookshop, near Apollo Theatre, Accra.
The Daily Dispatch Office, Labone – Accra
WEB Dubois Pan-African Centre, Accra
Ghana Writers Association office, PAWA House, Roman Ridge, Accra.
African Kitchen in Amsterdam Bijlmer
Where to buy them online:
On Lulu Books:
18 African Fables & Moonlight Stories https://goo.gl/Skohtn
Ghana: Basic Facts + More: https://goo.gl/73ni99
Africa: Destroyed by the gods: https://goo.gl/HHmFfr
Africa: It shall be well: https://goo.gl/KIMcIm
Africa: it shall be well
on Kindle books: https://www.createspace.com/4820404
on Amazon books: http://goo.gl/QeFxbl
on Lulu Books: https://goo.gl/SQeoKD
Africa: Destroyed by the gods
on Kindle books: https://www.createspace.com/4811974
on Amazon books: http://goo.gl/1z97ND
on Lulu Books: http://goo.gl/KIMcIm
My Lulu Books page: http://www.lulu.com/spotlight/FemiAkomolafe
Get free promotional materials here:
Africa: it shall be well: http://alaye.biz/africa-it-shall-be-well-introduction-in-pdf/
A FREE Chapter of 'Africa: It shall be well' could be downloaded here: http://alaye.biz/africa-it-shall-be-well-a-free-chapter/
Africa: Destroyed by the gods (How religiosity destroyed Africa) http://alaye.biz/africa-destroyed-by-the-gods-introduction/
A FREE Chapter of 'Africa: Destroyed by the gods' could be downloaded here: http://alaye.biz/africa-destroyed-by-the-gods-free-chapter/
Contact Femi:

Femi's Blog: www.alaye.biz/category/blog
Website: www.alaye.biz
Femi on Amazon https://www.amazon.com/author/femiakomolafe
Twitter: www.twitter.com/ekitiparapo
Facebook:https://www.facebook.com/alayeclearsound;
Gmail+: https://plus.google.com/112798710915807967908;
LinkedIn: www.linkedin.com/in/femiakomolafe
Email: fakomolafe@gmail.com
Kindly help me share the books' links with your friends and, grin, please purchase your copies.
Comradely,
Femi Akomolafe





by

Blog, Interviews articles by Femi Akomolafe, Books by Femi Akomolafe, femi akomolafe, Femi Akomolafe books, Interview with Nana Konadu Agyemang-Rawlings